Bold Leaders
Leadership
Tracy Austin Reflects on Her Improbable Tennis Victory at 16
Youngest Woman Ever to Win Says It Helped to Be a Naive Teen
By
Danielle Elliot
Posted: 05/29/15
Updated: 11/10/17
On September 9, 1979, with her hair pulled back into pigtails, a high-school student named Tracy Austin became the youngest person to ever win the US Open, defeating four-time-defending champion Chris Evert.
She was only 16 years old, but today, on the eve of another US Open, Austin says her young age helped make that 1979 victory possible.
"Being so naive about how important winning a Grand Slam was, was actually helpful," she says. "If I had known the importance and the value and the life-changing opportunity that was presented, I might have been overwhelmed by the situation."
She keeps a photo in her office of her victory, a reminder of the moment that altered the course of her life. Yet she remained determined to keep life as normal as possible. Shortly after defeating Evert, she returned to Rolling Hills, California, to start her junior year of high school. She skipped the Australian Open and the French Open, because they would have interfered with her classes.
"At the time I remember feeling very strongly that I needed to go back to high school to have some balance," she says, "At the time you think, 'Okay, I'm going to play for another 14 years so it won't matter,' but looking back I was No. 1 in the world at 17 and didn't play those tournaments. That's kind of silly."

Lifelong Love of the Sport
The next summer, she and older brother John claimed the Wimbledon mixed doubles title, the first brother-sister pair to win a Grand Slam doubles event. Austin says her success had a lot to do with being the youngest of five siblings in a family that loved the game. She jokes that she started dragging a racket behind her as soon as she learned to walk, spending much of her free time at the tennis club where her mother worked six days a week.
"Tennis was available to me at a younger age, and I loved it from the get-go," she says.
While tennis was a huge part of her life, it was not her entire life. Her mother told the New York Times in 1983 that growing up, Tracy had just one half-hour tennis lesson each week. She also played softball and soccer. She appreciates that her parents let her pursue multiple sports, and she has done the same with her three sons.
"It's important for parents to allow their children to play a lot of different sports so that they can pick the sport that they love," she says. "I find too often these days that parents are picking a sport for their children, and at the end of the day, for a child to enjoy the process and for a child to be successful in it, they have to have their heart in it."
In 1981, shortly after graduating from school, Austin defeated Martina Navratilova in a third-set tiebreaker to claim her second US Open title. At 29, Austin achieved another first: she became the youngest player ever inducted into the International Tennis Hall of Fame. She has since built a career in broadcasting.
More than 30 years after her first US Open title, Austin remains the youngest woman to have ever won the tournament. Experts say that record may stand for years to come because the game has become more physical, meaning a player may need to be 21 or 22 years old to win.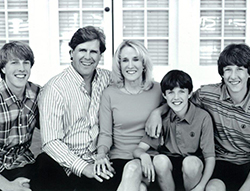 Today's Up and Comers
Regardless of how young they are if - or when - they win their first Grand Slam event, Austin has her eye on several young Americans.
"I think Sloane Stephens, although she's 21, she's not even close to her peak. She's very much on the rise. Madison Keys is another one. CiCi Bellis," she says. "On the boys side, I cannot remember another era, another group of young men where there are so many who have such tremendous potential. We have seven or eight young men who are 17 or 18 who have tremendous potential, probably four or five years we're going to see great results from them."
This year, though, the ones to watch are two long-time favorites.
"If nothing else, watch Roger Federer and Serena Williams. I'm not sure there will ever be anybody else who plays the way Federer plays," she says. And regarding Williams' quest to tie Steffi Graf's record of 22 career Grand Slam titles, Austin is excited to see what happens. "To try to do that at 33, with the career that she has had, to cap it off with that, to do it in the United States, I think it would be wonderful and well deserved for her and great for tennis."
Read more about the players in this year's US Open and the experience for fans on the Chase US Open site.
Illustration: Charles Williams | Danielle Elliot is a freelance journalist based in New York. She has written features for National Geographic, The Atlantic, Grantland, Vice Sports, Yahoo Sports, and other outlets. She has produced for NBC, Fox Sports, and others.