Community
Developing Communities
USTA Foundation, Chase Show Love to Thousands More Kids
Return the Serve Program Supports Classes and Courts
By
Bryan Armen Graham
Posted: 01/28/16
Updated: 06/15/17
JPMorgan Chase is celebrating 35 years of partnership with the US Open.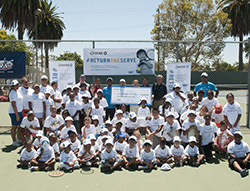 Rayleen Esparza learned the benefits of tennis firsthand last summer as a 13-year-old from East Los Angeles.
Her tennis skills and academic performance earned her a once-in-a-lifetime chance to fly to New York and hit tennis balls with Serena Williams on the US Open courts. It was part of the Return the Serve campaign, now in its third year through the teamwork of Chase and the charitable foundation of the United States Tennis Association.
"It felt amazing getting a hug from the best player in the world," Rayleen said. "I'm going to remember this forever."
Rayleen and her mother also enjoyed an incredible weekend around New York, thanks to Chase.
Creating a spark
For 2016, Chase has pledged $110,000 to support USTA Foundation initiatives in 10 cities around the country. This includes coinciding clinics in each city on July 15th.
"We believe that creating a spark for so many children will help them for a long time in areas far beyond tennis," said Barbara Paddock, Managing Director at Chase.
"Not only is Chase investing in the mission by giving these grants," says Dan Faber, the foundation's executive director, "it's also helping to build awareness about the efforts of the Foundation."
Opening doors through tennis
Faber sees tennis as a powerful vehicle for improving lives and opening doors for underserved communities.
"Our mission is to bring tennis and education together to change lives," says Faber, who has spearheaded Return The Serve to provide tennis, education and health lessons to kids in need.
The USTA Foundation has some grand (slam) ambitions.
"If we can raise $15 million in three years, we can get an additional 50,000 under-resourced children active through tennis," Faber says.
The network behind that includes more than 500 tennis and education programs that help 250,000 kids. The strategy includes serving up tennis to communities that face the most dire needs in terms of health, wellness and education — shortcomings he classifies as national epidemics.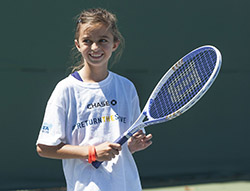 Advantage: Good choices
"Every 26 seconds a child is dropping out of high school," Faber says. "Tennis provides character development. [Children] are learning to have perseverance, sportsmanship, an opportunity that they wouldn't have. Between 3 p.m. and midnight, they're less likely to make bad choices."
There's also organizational development training for nonprofit professionals and college scholarships for high school participants. Plus, USTA -- the national governing body for tennis -- is investing more than $50 million to increase participation, renovate public tennis facilities and provide tennis equipment and training to schools.
"The greatest thing about tennis is that you can play it anywhere," Faber says. "We have shortened courts and portable nets that can be set up in lots, gyms and city parks."
A future US Open champ?
Return the Serve has been a rousing success for the last two years, Faber says. It may also create future professionals by introducing the sport to talented athletes who might never have picked up a racket otherwise.
"The tennis and education chapters supported by the USTA Foundation are good at identifying talent," Faber says. "If we provide the infrastructure, there's going to be a US Open champion coming out of this."
To learn more, check out the USTA Foundation.
Read more about Chase at the US Open.
Photos: Cynthia Lum | Bryan Armen Graham is a sports and culture writer based in New York. He has contributed to Sports Illustrated, The Guardian, The Atlantic, Esquire, The Village Voice and Boxing News.