Bold Leaders
Leadership
Rebecca Minkoff: Knowing What Millennial Women Want
In-Store Technology, With a "Magic Mirror," Changes the Shopping Experience
By
Heather Freiser
Posted: 09/03/15
Updated: 11/10/17
Imagine you're trying to squeeze into yet another pair of jeans that don't fit. Half dressed, you peek out of the dressing room door in search of a sales associate who can grab you a bigger size. You can't find anyone. You're in a rush. You get dressed and leave feeling defeated — and without a new pair of jeans.
Now, imagine a screen in the dressing room that displays an image of those jeans and asks if you need another size. It also suggests a matching shirt, and offers you a bottle of water. You pick your size and a sales associate brings it to you. The jeans fit; you make your purchase right there in front of the dressing room (no waiting in line) and you're out the door with time to spare.
For Rebecca Minkoff customers, this is reality. In partnership with eBay, Minkoff is merging e-commerce with brick-and-mortar retailing to create a customized experience for the millennial woman.
"As a millennial, I feel like I know how to talk to her and I can always, hopefully, put myself back in her shoes," Minkoff said at a recent Chase marketing event. Putting herself in her customer's shoes is how Minkoff, with her brother, Uri, created the retail store of the future.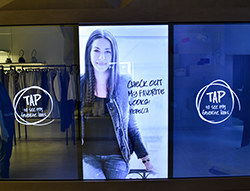 Understanding the Customer
She gained notoriety when actress Jenna Elfman, a family friend, wore a Minkoff-designed "I Love New York" shirt on The Tonight Show after the 9/11 terrorist attacks in 2001.
Several years later she launched her first big success, the Morning After Bag. She said it took the last of her savings to create and market it, but the risk paid off when the widely-read newsletter Daily Candy wrote about it in a post titled "The Catwalk of Shame."
At a time when designer brands may have considered it taboo to talk directly to their consumers and ask what they wanted, Minkoff went out of her way to engage in conversation with bloggers, to listen to consumer feedback and to respond accordingly.
Then, in 2008, when the recession hit, Minkoff lowered the price of her bags by nearly 20 percent. She says it was scary at first, but ultimately important in growing brand loyalty and customer appreciation. By understanding the needs and financial constraints of the women buying her brand, and adapting accordingly, she says was able to profit as other designers struggled.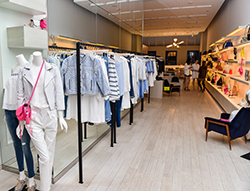 A New Kind of Store
The Rebecca Minkoff store experience may be the ultimate expression of catering to customers of all kinds, knowing what they want, and using technology to make them happy.
"It was really all about the customer pain points," Minkoff said. "What does she not like when she walks in a store? For me, I don't want you to talk to me. I want to have my own path that I want to shop. Some people want to be treated like a VIP. So we wanted to be able to service all those types of people and anywhere in between."
Walk into a Rebecca Minkoff store and you'll see a large wall that Minkoff and her employees refer to as "the magic mirror." Here you can begin your shopping experience by selecting a beverage, deciding what you want to try on, or browsing Minkoff's recommended looks. Once you make your selections, a sales associate prepares your room. If there's a wait, the store will text you when your fitting room is ready.
In the fitting room, another "magic mirror" lets you order more sizes, shop for looks and text your choices to yourself or someone else (perhaps as a hint to a significant other).
Minkoff says she's not interested in "technology for technology's sake," but is instead responding to the ways her millennial consumer wants to communicate.
Since 2005, Minkoff has grown from a five-item collection to a thriving global brand. "The mentality [when I started was that] designers needed to be far away from the consumer. And tell her what she wants. Department stores said 'you're dirtying yourself by talking to consumers.' And we were like 'Why? She's happy. She wants to weigh in on this experience.'"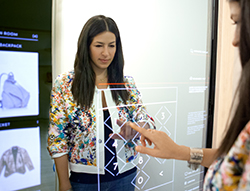 Expanding Beyond Clothing
Minkoff says this philosophy drives her brand's goals and product development, giving women what they want while bridging the gap between fashion and technology. In a new partnership with Case-Mate, she just released a line of wearable tech products for the woman on the go.
"I didn't want to do something that looked like a piece of technology," Minkoff said.
The first products include a gold bracelet that vibrates when your smartphone receives a notification and a battery-equipped bracelet that can charge a phone.
Minkoff says her brand will evolve as customers' needs change.
"We talk about our brand as sort of the brand of firsts. It's your first job, your first date, your first marriage, your first second marriage, your first affair, your first baby. ... As my needs might be evolving as a mother and a wife, I still have to remember the girl who wants to go out and meet someone great or go out with her friends."
With the magic mirror, that girl will get in and out of the store — and out meeting people — faster than ever.
Photos: Courtesy of Rebecca Minkoff | Heather Freiser is an editor for Chase News & Stories. She was formerly a producer for Bloomberg Television and Fox Business News.