Small Business
Start Your Business
How David Chang turned his dream into a food brand
A winning recipe of irreverancy and ramen
By
Rebecca Dalzell
Posted: 07/22/16
Updated: 12/11/17
Before David Chang opened Momofuku Noodle Bar in 2004, many Americans considered ramen college dorm food—not the province of serious chefs. But Chang was obsessed with the Japanese staple and wanted to elevate it.
In Manhattan's East Village neighborhood, Chang cooked in a small open kitchen, with diners watching from bar stools. He made rich broth from roasted pork bones, chicken, and bacon dashi, and filled bowls with noodles, pork belly, pork shoulder, and poached eggs. Reviews drove buzz—and, ultimately, helped Momofuku become a 15-restaurant global empire.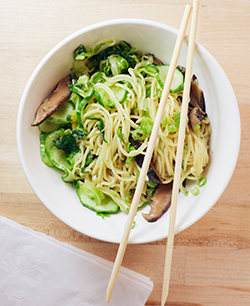 Though it was a small restaurant with limited resources, "I wasn't going to skimp on ingredients, quality, technique or passion," Chang said during a recent interview at JPMorgan Chase. "We were going to strive to be the best." In doing so, he built what Bon Appétit has called "the most important restaurant in America" and a brand synonymous with deliciousness.
An Unconventional Path to the Kitchen
Chang's success—the Michelin stars, James Beard awards, magazine covers—was hardly a foregone conclusion when he graduated from college with a religion degree. His Korean father had spent 30 years in restaurants and discouraged Chang from becoming a chef. A former competitive golfer, the younger Chang had no idea what he wanted to do, teaching English in Japan and working briefly in finance. He hated sitting at a desk all day.
Then he enrolled in the French Culinary Institute and got a job at Jean-Georges Vongerichten's Mercer Kitchen, in New York. Having been "allergic to work," Chang says, "there I was working seven days a week, and I couldn't get enough of it." He loved the camaraderie of the motley crew of cooks, who insulted each other while keeping their knives perfectly sharp. "You could act like a buffoon all day long," he says, "but simultaneously be dead serious about completing a project."
At 26, Chang borrowed money from his father and opened Noodle Bar, a restaurant across the street from his apartment. Chang admits it was a gamble. A restaurant, he says, is "the dumbest business in the world to invest in." Chang spent three years in survival mode, working constantly, and rarely leaving the neighborhood. "I was terrified," he says. "I viewed it as life and death."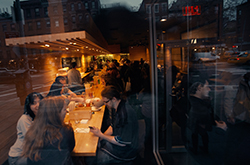 At the 600-square-foot Momofuku Noodle Bar, Chang brought the punk-rock irreverence of the kitchen to the front of house. Even the company's name—which means "lucky peach" in Japanese—sounds like a vulgarity. There were no substitutions, and few vegetarian options. At Momofuku restaurants, the customer was not always right. "Oftentimes," Chang says, "they were wrong."
After a slow start, Momofuku Noodle Bar's commitment to excellence, a fun vibe and affordable prices—around $30 for two (a bargain in New York City culinary circles)—attracted other chefs and won critical praise. It's been consistently packed ever since, as have its successors, which include Ssäm Bar, the Michelin-starred Ko, Ma Pêche, and Momofuku's first restaurant on the west side of Manhattan, Nishi. Momofuku now has restaurants in Toronto, Washington D.C. and Sydney, Australia.
Building a Global Brand
Chang insists he's never created a formal business strategy, even as Momofuku has expanded globally. How does he choose his next move? "Paranoia," he says half-jokingly. He diversifies his risk, studies the market and tries to anticipate shifts in the industry, such as the effect of mobile technology on food.
"It's not a bad bet to assume that your phone is going to change how you eat," Chang says. He hopes to lead the way with Momofuku's newest venture, Ando, a food delivery service that launched in Midtown Manhattan this past May. He views it like any other restaurant, minus the storefront, with his signature commitment to details and ingredients.
Beyond the drumroll of inventive restaurants, Momofuku also sets itself apart with a devotion to its staff. Chang views his company as a platform to exalt members of his team, such as chef Christina Tosi, who spun off the celebrated Milk Bar.
"My goal is put Momofuku at a trajectory where a lot of people are going to benefit," Chang says. "And those people are my employees."
Well, plus the rest of us. Chang has changed the way we eat—and forever turned us into ramen aficionados.
You can visit Fuku in New York City's East Village or Madison Square Garden, where Chase is the Marquee Partner level sponsor.
Photo: Gabriele Stabile | Rebecca Dalzell is a journalist and historian. Her writing has appeared in The Washington Post, New York magazine, Travel + Leisure, Time Out and other publications.