Small Business
Growing Your Business
Challenging Your Small Business to Grow: Mel Robbins' 31-Day Challenge
You're One Month Away from Growing Your Business
By
Rebecca Dalzell
Posted: 07/22/16
Updated: 11/10/17
As a small business owner, you're often inundated with emails, distracted by multiple tasks, and struggling to manage your time.
Mel Robbins wants to change all of that.
"It's way too easy to let your day get hijacked as soon as you start checking email," says the motivational speaker and CNN commentator. Instead, you need to focus and be proactive, she says.
This 31-Day Challenge, which Robbins developed for Chase for Business, offers a list of do-able steps anyone can take. Each is simple enough— such as clean out your inbox or reach out to colleagues—but together they create a powerful structure to achieve goals.
"You don't change your life or your business by thinking about it," Robbins says. "You do it by taking action."
Here's how and why these kind of challenges pay off:
Make Time To Think
Robbins preaches "30 before 7:30," encouraging owners to set aside time to focus each morning. This could be finishing a spreadsheet, researching new markets or reading case studies in your industry.
"Before you go to work, before you answer your first email, before you take that first phone call, spend 30 minutes—or if all else fails, two or three minutes—every single morning working on things that will grow your business."
The brain does its best thinking in the first two hours after waking, research shows. So, transform your company by harnessing this window for strategic thinking, if only for a few minutes, Robbins says.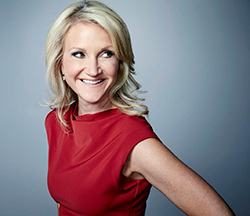 Act On Impulse
Like everyone else, business owners second-guess themselves, Robbins says. They'll shrug off a great idea or stay silent when it's time to speak up.
Robbins has a simple solution: Act on an idea within five seconds. Don't let your brain go into risk-avoidance mode and temper your enthusiasm.
If you feel hesitation, count down from five; five...four...three...two...one. "By counting backwards, you distract yourself from your nerves, wake up your prefrontal cortex and tell your brain that you are about to do something," says Robbins.
See Opportunities That Are Right In Front of You
A little bit of courage can reap tangible rewards.
At a recent Chase for Business seminar in Chicago, Robbins got attendees -- reluctant or not -- to describe their company. The owner of Wild Goose Chase, which uses border collies to keep Canada Geese off properties, landed four business leads on the spot.
"There are business opportunities all day long," Robbins says. That's why networking is a crucial component of the 31-Day Challenge. Even though many small business owners feel isolated, being open to those around them can reveal insight and ideas, she says.
Among one of Robbins' suggestions: Take full advantage of existing relationships, such as with a personal banker who might be aware of opportunities in the area that would be of value to small business owners.
"Too many of us don't talk to our bankers until we're in trouble," she says.
"If you're aware and willing to push yourself when normally you would hesitate or think it's not a valuable use of time, you'll see additional opportunities," says Robbins.
Take the 31-Day Challenge starting today (PDF) by following @ChaseForBiz on Twitter and join the conversation using #DisruptYourBiz!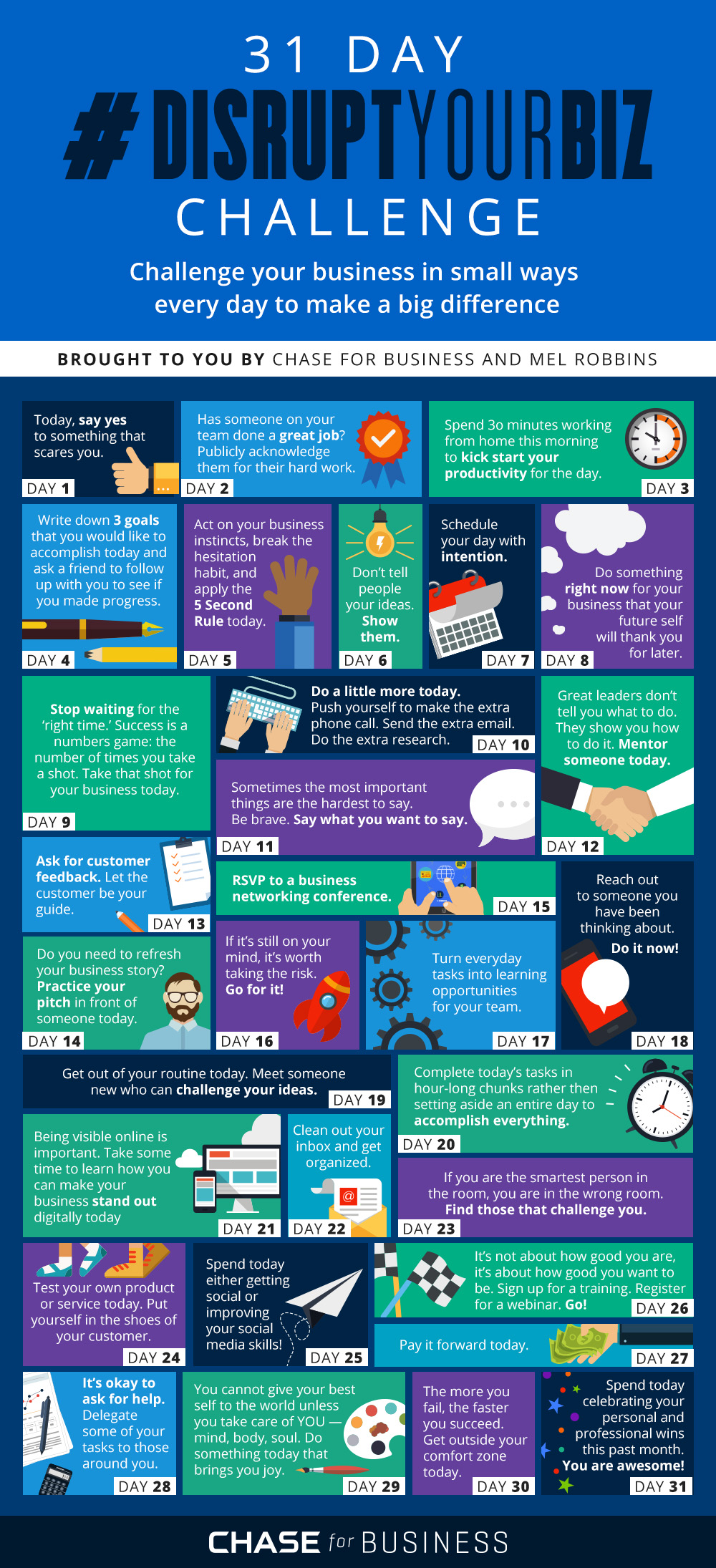 Rebecca Dalzell is a journalist and historian. Her writing has appeared in The Washington Post, New York magazine, Travel + Leisure, Time Out and other publications.