Community
Giving Back to Community
Model and Tsunami Survivor Petra Němcová's Journey to Purpose
Rebuilding Schools in Disaster Zones, Long After the First Responders Leave
By
Caitlin M. O'Shaughnessy & Jennifer Bryer
Posted: 07/16/15
Updated: 11/10/17
Petra Němcová, a supermodel who has graced many magazine covers, didn't find fame the easy way.
"We grew up with very little," she says of her childhood in Karviná, in what was then Czechoslovakia. "We had meat only once a week on the table. We grew up under communism, and the thing about communism is that you have to be part of the system. If you had a dream to travel, you couldn't travel. If you had a dream to become something, you couldn't do that."
She did manage to follow a dream, launching a successful career in Milan after winning a Czech modeling competition in 1995. But that wasn't the last hurdle she would face on the way to becoming a philanthropist, turning tragedy into a source of strength and courage.
The Importance of Letting Go
In December 2004, while on vacation in Thailand with her fiancé, British fashion photographer Simon Atlee, Němcová faced the unimaginable. Triggered by a 9.1 magnitude earthquake off the coast of Indonesia, a deadly tsunami ravaged Khao Lak, the tourist village where she was staying.
She clung to a palm tree for more than eight hours, surviving the catastrophe that killed more than 200,000 people, including Atlee. She suffered a shattered pelvis and internal bleeding, but she says she also learned the importance of letting go.
"I was drowning and trapped under a layer of debris. I was drinking a lot of black water and I couldn't breathe. I was trying to get out to catch a breath, but I couldn't, and I said to myself, 'If I'm meant to go then I'm meant to go,' and I let go and I surrendered. I didn't try to go anywhere, and in that very moment I felt incredible bliss and at peace and I was able to catch a breath."
She says her experience is a metaphor for important turning points in life. "We try to change things we cannot change, and when we let go, we end up where we need to be," she says. "We go through difficult times in life, losing loved ones, being sick, some kind of hardship, but we have a choice to focus on the positive, and through that you become stronger and everything starts to change."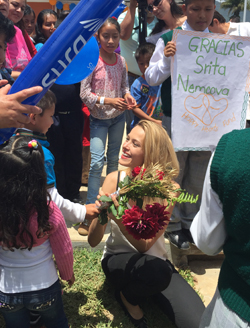 The Journey to Purpose
After her recovery, Němcová created the Happy Hearts Fund, a nonprofit organization dedicated to rebuilding schools in areas destroyed by natural disasters.
"We focus on creating schools to sustain communities after the initial aid response, and we come in when it's not popular to be there, Němcová said. "The first few weeks [after a disaster], it's sexy to be there and everyone is paying attention. Once the first responders leave, in six to twelve months the public has lost interest and nobody really cares anymore. So that's when we come in. … If you want to really save that child, you can't just create a first response; you must create a sustainable response and a proper plan."
The organization has rebuilt 118 schools in the last 8 years and has plans for 23 more, she says. It has raised more than $14 million and provided schools for more than 50,000 children in disaster zones.
Why rebuild schools? Perhaps it was in her blood.
"My mom is a schoolteacher, and my father was a construction worker, and I'm building schools," she says, laughing. "The universe can be so funny."
She's also a natural leader for the Happy Hearts Fund, according to its director of development, Ellie Manko Libby. "I've been doing development nonprofit work for 20 years now and I'm constantly learning from Petra," Libby says. "She could be a professor of nonprofit development. She asks the hard questions, she's always prepared, detail-oriented, very focused."
Němcová says her motivation comes from within.
"If you're true to yourself, you can be happy and grow on your own path and life journey. … The main thing about being true to yourself is, it's the only way to grow. It's not always easy, but I would choose that life every day rather than one in which I'm not connected to my true self. That's not living to me. That's surviving but not living."
To learn more about the Happy Hearts Fund and how to help, visit http://happyheartsfund.org.
Caitlin M. O'Shaughnessy has edited fiction and non-fiction at Penguin and worked as a freelance food writer for CHOW. Jennifer Bryer is a Senior Marketing Strategy Associate on the Corporate Brand Team at JPMorgan Chase.