Your Money
Understand Your Finances
Savings Diaries: How I balanced saving with living fearlessly
By
Mary Sauer
Posted: 07/12/18
Updated: 08/22/18
This is part of Savings Diaries, an original series in which people share how they try to reach key savings goals during 2018. It is part of a broader Chase initiative to encourage more Americans to save money.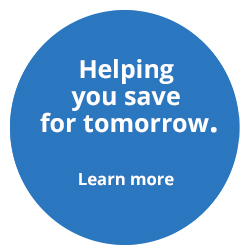 This year has been good for our family's finances—we've been sticking with our savings goals, and sticking to our debt payoff strategy. I was able to pick up more work, and my husband and I even got to take a long-planned trip to San Francisco.
Most days, I feel really awesome about our finances, but I also have times when I feel unsure and fearful, and find myself second-guessing our spending decisions. This month, I'm working on confronting my money fears.
Growing past learned fears
Our travel fund is slowly growing. I'm proud of the progress we've made—there are so many expenses that come with having a home and three kids, and our plans could easily have derailed.
But, while our fund was growing, I started to question our travel plans. Our original goal was to save enough money to fly to Europe. We've been dreaming about it for years, but it also seems frivolous, and I worry about my ability to confidently move forward when the time comes to spend the money we've saved. Big fears arise when I think about letting that money go. What if something catastrophic happens in our lives? What if we need that cash for an unexpected medical expense? What if one of us loses a job?
I trace these fears back to my childhood. While I've taught myself a lot about money, my husband and I both were taught that, when it comes to spending money, it's better if you don't. Deep down, I still believe that being responsible with money requires you to stash it all away. I feel like preparing for the future means preparing for the worst case scenario. This belief is giving me serious anxiety over the idea of spending several thousand dollars on travel.
Reconnecting with my values
My worries almost convinced me to cancel our trip to Europe and put the money into our emergency fund. After some self-reflection, though, I realized that my husband and I are making good, responsible choices with our money. We're budgeting wisely, saving for the future and quickly paying off debt.
Ultimately, we are trying to align our financial decisions with our values. We are passionate about experiencing what life has to offer and introducing our kids to new places and new experiences. While anything could happen, living in fear of the future doesn't align with what is most important to us. We're not going to let fears about the unknown dictate our decisions about money.
Letting go of fear...every day
While it was good that we reached the decision to put our fears aside, it isn't possible to make a quick switch and let all of your worries go. I've had to be intentional about the way I think about the future each and every day.
This means I've had to make a daily decision to let go of fear. When I feel the worries catching up with me, I remind myself of the truth: Our kids are well taken care of; we're preparing for our futures.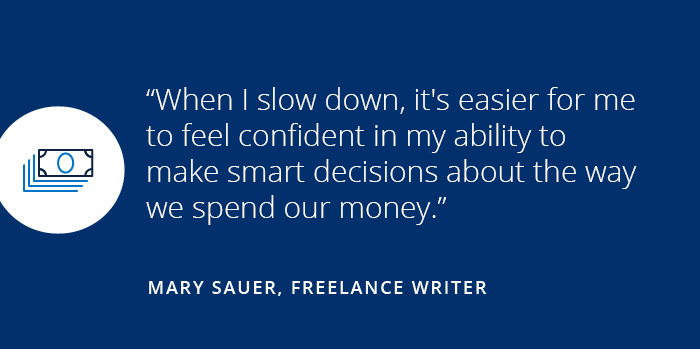 I've also had to slow down a little when it comes to making money decisions. If I get caught up in worries, it's easy for me to make a snap decision that lets fear drive our finances. When I slow down, it's easier for me to feel confident in my ability to make smart decisions about the way we spend our money.
Mary Sauer is a Chase News contributor. Her work has appeared in The Hairpin, and Romper, among other media outlets.