Small Business
Managing Your Business
Sibling Entrepreneurs Launch Innovative Startups
Brothers and Sisters Work Side By Side as Entrepreneurs
By
Marcia Layton Turner & Katie Calautti
Posted: 07/10/15
Updated: 11/10/17
Amid the rush to embrace the latest tech gadgetry, it's easy to lose sight of time-honored techniques for creating meaningful products. Yet some artisans thrive by shunning ultra-modern methods of production and rediscovering traditional skills. We call them gamechangers.
Meet three companies, each run by a pair of brothers or sisters, focused on artisan-crafted products.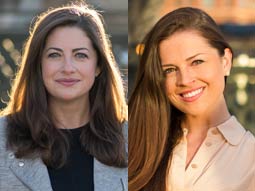 Betsy and Emily Núñez, Co-Founders of Sword & Plough: Recycling Military Surplus into Usable Gear
Home Base: Denver
Background: Sisters Betsy and Emily Núñez grew up as daughters, nieces and cousins of people who served in the military. Emily was so inspired by their stories that she became one of only three students at Middlebury College enrolled in the Army ROTC program.
Their Inspiration: At Middlebury's Center for Social Entrepreneurship, Emily heard venture capitalist Jacqueline Novogratz speak about converting waste into something beautiful. That became Emily's mission, as she looked for everyday items that could be made out of recycled military gear. The idea to turn old military materials into backpacks came as she eyed the ubiquitous bags on college students' shoulders. The idea earned kudos – and money – in Middlebury's business plan competition, which led to space in the Dell Social Innovation program and the development of a prototype bag the sisters' mother painstakingly sewed together.
Repurposing with a Purpose: Crowdfunding seemed like the best shot at raising the $20,000 they needed for their first production run. "Within the first two hours we had hit our goal," says Betsy. Thirty days later, they had raised more than $312,000 from 1,500 backers on Kickstarter. Sword & Plough, named after a biblical verse about converting weapons into tools of peace, launched with a tote bag, a messenger bag and the backpack – all made from military surplus by veteran-run or owned manufacturers in Denver, Oklahoma City and Los Angeles. Last year, the company repurposed more than 20,000 pounds of military surplus and supported 38 jobs for American veterans. The company donates 10 percent of its profit to organizations that support veterans.
Next Move: In addition to ramping up sales, the company plans to expand its product line. "Repurposing for a purpose is just the beginning for Sword & Plough," says Betsy.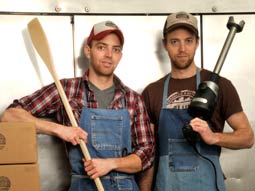 Joe and Bob McClure, Co-Owners of McClure's Pickles: Producing Snacks the Way Grandma Did
Home Base: Detroit
Background: Brothers Joe and Bob McClure grew up enjoying spicy pickles made from their great-grandmother Lala's recipe. It was a summer tradition to help her brew a batch from fresh cucumbers and then enjoy them the rest of the year.
Their Inspiration: Joe, a Ph.D. student at Wayne State University, and Bob, a New York actor, decided during the summer of 2006 to test-market their artisanal pickles. They made a larger batch than usual and handed out samples to potential customers in Detroit and Brooklyn. They were a hit. Coverage in the The New York Times and Detroit Free Press ensued, along with rising demand. Soon batches were being made weekly rather than annually.
Keeping it Simple: "People want something simple," says Joe. "Our garlic dill pickles have only five ingredients. They're all natural, no sorbates, and we keep the salt low."
Fresh vegetables are key. During the summer, cucumbers are bought from local farms. As the temperature drops, the McClures rely on hand-selected growers in Florida and Mexico for their raw materials. Initially selling at farmer's markets, the pickles are now available through retail grocery chains like Whole Foods and Kroger. The McClures used to recommend that customers use their leftover pickle juice to make a Bloody Mary, which eventually led to the inspiration of McClure's Bloody Mary mix. Other products include potato chips and relishes, along with three original pickle varieties: spicy, garlic and sweet and spicy.
Next Move: "We're looking into a greenhouse to grow cucumbers year-round here in Detroit," says McClure. Expanding the brand is also on the agenda. Now that McClure's has a distilled spirits permit, the company is rolling out the premixed Bloody Mary drink en masse and a craft Michelada – beer with a shot of McClure's Bloody Mary. "Our goal is to be a leader in the specialty foods category," he says.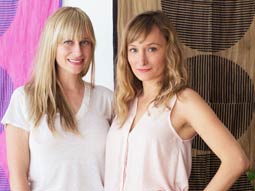 Lily and Hopie Stockman, Co-Founders of Block Shop: Building a Modern Business on an Ancient Indian Craft
Home Base: Los Angeles and Bagru, India
Background: Combining craft and commerce is a family tradition for sisters Lily and Hopie Stockman, whose great grandparents made a living as fine arts painters. As youngsters, the siblings turned their parents' Hopewell, N.J., garage into an art studio where they designed and sold their own line of artsy greeting cards. Each woman went on to earn degrees in visual arts and business. Lily attended Harvard, then earned an MFA in painting from New York University. Hopie graduated from Brown University before getting her MBA from Harvard Business School. Block Shop, their two-year-old textile manufacturer, takes the sisters' watercolor sketches and turns them into hand-carved wooden blocks that are used to print colorful cotton and silk accessories.
Strategic Sisterhood: In 2010, Lily was living in Jaipur, India, on a painting apprenticeship. Her research on hand block printing led her to Bagru, a small town outside of Jaipur that is renowned for its centuries-old block-print textiles. A local master printer who collaborated with Lily during her apprenticeship told her that demand for his designs had dwindled because of global competition.
As the siblings learned how modern manufacturing was hurting the local industry, they decided to create a company that would help resurrect it and improve the quality of life in Bagru. Block Shop commits 5 percent of its profit to increasing local access to healthcare there, and its first initiative funded a mobile healthcare clinic. In 2014, in order to cut down on widespread waterborne illnesses, the sisters began installing filtered water tanks for families. This year, the health initiative is focused on improving obstetrical and gynecological care for women and babies.
At the heart of this charity is the craftwork based on the sisters' creations. "We design together, market together and make all of our strategic decisions together," Hopie says. "It sometimes feels like we share a brain." Once a pattern is made, it takes two to three days and at least a half dozen people to create a single scarf, from the dobi wallah (cloth washer) to the block carver. "Our textiles are the result of craftsmanship passed down over many generations within a few families," says Hopie.
Next Move: The sisters plan to expand into home textiles this year, with all lines carrying the hallmark Bagru block printing. "Our goal is, and always will be, to make the most luxurious handcrafted textiles, while upholding the highest ethical standards in every step of our process," says Hopie.
Katie Calautti writes about film, fashion, fitness and food for VanityFair.com, MTV, The Village Voice, Vulture and Glamour UK. Marcia Layton Turner is a bestselling business writer and has authored, co-authored or ghosted more than 30 books on business or entrepreneurship.