Your Life
Giving Back to Community
Hardworking and Hungry: The Faces of Food Insecurity
For Many Working Families, Hard Choices Among Life's Essentials
By
Heather Freiser
Posted: 07/07/15
Updated: 11/10/17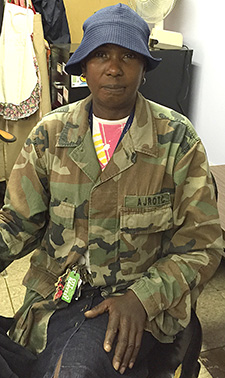 Once a week, Patricia Seino walks from her apartment on 12th Street in Long Island City, New York, to get groceries. She's nearly 50 years old and has been out of work since 1999, when an injury forced her to take time off.
As the head of her household, Seino says she'll do whatever she can to put food on the table for herself, her 80-year-old father and her 30-year-old son.
That sometimes means waiting in the rain outside of Hour Children, a food pantry that gives her the option to select her own food instead of a pre-packaged bag, something that was important to her.
"I like variety," Seino says. Pantry operators say that allowing clients to select food adds some dignity to the process, enables people to better meet their dietary needs and reduces the amount of food that goes to waste.
Working, But Hungry
Seino is one of 1.4 million New Yorkers dealing with food insecurity — a term used by the U.S. Department of Agriculture to describe the state of being without reliable access to a sufficient quantity of affordable, nutritious food -- according to a study by the New York Coalition Against Hunger based on data collected from 2011 through 2013.
"It's a horrible term, but it's better than any others," says Joel Berg, the group's executive director. "The reason why it is useful is that it helps people understand hunger in the American context. What food insecurity does is create a scale of suffering. You don't need to be starving to be debilitated."
In fact, about 55 percent of those struggling with hunger actually have incomes above the federal poverty level, according to the U.S. Department of Agriculture's Economic Research Service.
"Most of the people we see here at the pantry are working poor," says Abigael Burke, food pantry and outreach coordinator at Hour Children.
The Effects of Hunger
Being hungry affects kids in school and adults at work, Berg says. "Malnourished kids are less likely to do well in school. Hungry workers are going to be less productive. To be well read, you must be well fed."
Food insecurity also leads to difficult choices. Feeding America, a coalition of food banks, says that many of the households served by its network have had to choose between buying food and paying utility bills, between food and medical care, or between food and education.
Seino says she has had to choose among all four. Two years ago, she was diagnosed with breast cancer, and while she is covered by health insurance, she has co-payments and additional bills from specialists that she sometimes puts to the side so that she can put food on the table. She says she pays utilities last, or when they're close to being turned off.
Seino also would like to finish school. She started a program through Hour Children to complete her education so that she could get a job caring for children of those who are incarcerated. "I have 18 credits," she says. "I need 60 to finish, but I can't afford it."
She now volunteers at the pantry that she's been coming to for years. It's harder for her to put in as much time as she once did, but she doesn't let that stop her. "I can't complain. The food pantry's still here. I'm still here," she says with a smile.
To learn more about food insecurity and how you can help, see the websites for Hour Children, HungerVolunteer.org and Feeding America.
Illustration by Ken Orvidas | Heather Freiser is an editor for Chase News & Stories. She was formerly a producer for Bloomberg Television and Fox Business News.