Your Money
Celebrate Life Moments
HGTV stars on how to create your forever home
Drew and Jonathan Scott help families decide what matters most
By
Amanda Reaume
Posted: 07/07/17
Updated: 11/10/17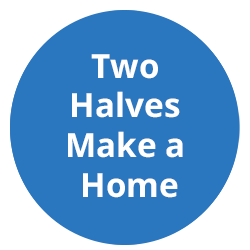 If you've ever fantasized about transforming a fixer-upper into your forever home, then you might have found yourself binge watching HGTV® while dreaming of knocking down walls and putting in breakfast nooks.
In that case, you might have also stumbled across Drew and Jonathan Scott of HGTV® "Property Brothers." A real estate expert and a licensed contractor, respectively, they've helped families find and create their ideal homes for over 10 seasons.
After buying and renovating their first home at 18 years old, the twin brothers never look back. On the show, Drew gets families to share their home wish list and finds them several fixer uppers on the market. Jonathan then helps the family renovate the house they choose to make it a perfect fit—while sticking to their budget.
Now, Drew and Jonathan have teamed up with Chase Home Lending to share advice and guide your home buying and lending needs through our Two Halves Make a Home campaign.
In the following interview, Drew and Jonathan discuss how to find or create your forever home, what hot new design trends you should know about, and why it's important to dream big when designing your space.
Q: | How much of a home renovation can homeowners tackle themselves?
The Scott Brothers: You do not always have to call a contractor when improving your home, however, be honest with yourself as to what is outside of your capability. Value the quality of the finished work and definitely use professionals for projects like electrical, plumbing and roofing.
Q: | What are some simple tweaks that quickly transform a space?
The Scott Brothers: Everyone's dream home is different. Try to incorporate pieces that mean something to you. Lighting fixtures are also an easy way to add a show stopping feature and brighten up the space, which always makes a room feel more beautiful.
Q: | What's your definition of a fixer-upper?
The Scott Brothers: A fixer-upper is a home that has been "previously enjoyed!" Whether it's really worn down, hasn't had updates in a long time or is practically condemned...it needs work. These can sometimes be the diamonds in the rough that can turn into a dream home.
Q: | What should homebuyers look for in a fixer-upper that they're hoping to turn into their dream home?
The Scott Brothers: When looking for a dream home the things to consider are the things you can't change—location, size of lot and typically size of home, as well as distance to schools, transit and amenities that are important to you.
Q: | What advice do you have for homebuyers debating between the city or the suburbs?
The Scott Brothers: Many people feel it's more important to have the space to really enjoy a home. If that means moving a little further out, then that's what they should do. However if proximity to work, school or some other locale is crucial for your situation, then possibly location should be your top choice.
Q: | What are some hot new design trends that you're loving?
The Scott Brothers: Trends will come and go but some are worth the comeback. Mirrored surfaces are back and so is color. Avocado green is hot, however with any of these trends use them in small doses. Overdoing it can just make your space feel dated and gaudy.
Q: | How do you make sure that a renovation doesn't end up feeling dated in a few years?
The Scott Brothers: Inevitably style will change over the years, but that's fine. As long as you think of how to maximize the function in the space you will continue to enjoy the home for years to come.
Q: | What did you guys incorporate into your dream home?
The Scott Brothers: We wanted to create a dream home where our family could get together and truly enjoy every moment. For this, it was important to incorporate features within the home that all of our family would enjoy. My dad loves movies, so we put a 15 foot movie screen in our backyard entertainment space. My mom loves to cook, so we made sure that our kitchen had all the prep space, top-of-the-line appliances and storage that she would need. Lastly, our brother JD is a gamer, so we added a couple game consoles and a pool table. Let the party begin!
Q: | Where do you get your inspiration?
The Scott Brothers: We travel the globe for inspiration. Castles in Scotland, cafés in Paris, historic homes in New Orleans. Anywhere you look you can find inspiration!
Q: | How do you suggest homeowners prioritize the things on their dream home wish list?
The Scott Brothers: We actually ask our clients to think big. We don't want them to limit their dream because of cost or any other reason. If they want an Olympic-size swimming pool, a golden toilet or a heart shaped master bed that revolves...we'll add it to the list. Once we have added all the features to the list, we start to look at what are the must-haves and what are the things they can live without. We will then adjust the list to fit their budget. But, this is also why we like working with fixer uppers because you can typically get more bang for your buck if you do the work yourself.
HGTV is a trademark of Scripps Networks, LLC. Property Brothers is a trademark of Cineflix Media, Inc. Used with permission; all rights reserved.
Amanda Resume is a Chase News contributor. Her work has appeared in Time, and she is the author of "Money is Everything: Personal Finance for the Brave New Economy.