Community
Giving Back to Community
A Cavalier who's anything but: how LeBron James lifts Akron's kids
Foundation seeks long-term impact, guiding kids through childhood
By
Brandon Castel
Posted: 07/16/15
Updated: 01/29/20
There was a time before anyone would call him "The Chosen One," a time before he was known as the king.
It was long before anyone cared whether LeBron James would deliver the first sports championship in four decades to Northeast Ohio.
It was before he rose to meteoric fame as a four-time NBA Most Valuable Player, and before he was called the most physically dominant athlete of his generation.
As he told fans in a 2014 letter in Sports Illustrated, it was before anyone cared where he would play basketball.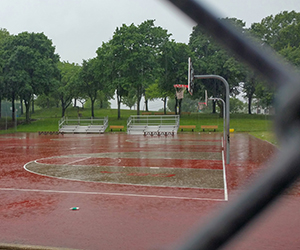 He remembers being a lanky 8-year-old hitting half-court shots at Summit Lake Community Center. It's what motivates and inspires him. It's what ties him to home.
"For me, it's all about these kids. Seeing them succeed in school and in life is my passion," James says. "When I was a kid growing up in Akron, I didn't always have the resources and guidance to get to school every day, and now that I'm older, I realize the importance of education."
A product of Akron Public Schools — and later St. Vincent-St. Mary High School — James says he knows the odds are stacked against children who grow up in the inner city. James and his mother, Gloria, say it's the struggles of these children, combined with memories of their own challenges, that inspired them to start the LeBron James Family Foundation (LJFF).
"Everyone sees the successful superstar basketball player, but it was those early struggles that really instilled in him the passion and drive to give back," said Michele Campbell, who joined LJFF as executive director in 2010.
The city that raised him
James never knew his father, who was in jail by the time he picked up his first basketball. His mom struggled to find a stable environment.
"LeBron could have gone down two roads when he was young," said Campbell. "He chose the one with his mentors, who helped him be successful. He could have chosen the wrong route and stopped going to school."
In fourth grade, his life was at a crossroads. He missed 82 days of school and might have been another inner-city kid swallowed by the streets if a series of coaches hadn't stepped into his life.
Victoria McGee, a family friend and member of the LJFF Community Advisory Board, watched as James thrived under his newfound support system and the structure provided by organized athletics.
"Akron is really a close-knit community. You have layers of support and layers of foundation," said McGee, whose brother-in-law played with James for most of his childhood.
"When you build those relationships, you remember where you came from."
Nothing is given
On the corner of Hickory Street and Overlook Place, across from an unmarked and rundown warehouse, sits an empty lot. The grass has grown tall, and overgrown brush wilts above the sidewalk. The heavily wooded area outside Akron's downtown is filled with oak trees and railroad tracks. Worn-down wooden fences are marked with barbed wire, and "NO TRESPASSING" signs line the driveways, which stretch further and further apart as the road dips and weaves through dense forestry, away from the concrete jungle a mile down the road.
Two decades ago, the house that once stood at 439 Hickory Street was home to James, his mother Gloria and her mother Freda. When Freda James died of a heart attack in 1987, the house fell into disarray. The city of Akron condemned it, and the only place little LeBron James had ever called home was torn down.
"I remember that day like it was yesterday," James said in a behind-the-scenes video about a commercial he made in 2014. "It was a rough time for me. I didn't know how we were going to be able to recoup from that."
For the next six years, James and his mother lived couch-to-couch, wherever they could find a hot meal and a roof over their heads. They moved a dozen times, sometimes in the middle of the night, with James taking nothing but his backpack as they continued their journey together.
Despite his circumstances, McGee said, James never seemed to give up. "He always had that look of determination on his face. You just knew he was going to succeed because he was going to make it happen. He's a hard worker. Nobody has given LeBron anything; he's working for it. And he's giving back."
LeBron's promise
In the year 2021, the first graduating class of his Akron I PROMISE Network mentoring program will walk across the stage.
"Reaching goals is what he's all about," said Patty Burdon, the admissions counselor at St. Vincent-St. Mary High School who was assigned to handle the media frenzy as James' public relations manager. "It will be emotional. I think he will hold that first class up to the next group and say, 'they did it, you can do it.'"
Now, the mentoring program has ballooned to more than 800 students. It enrolls students while they're in elementary school and is designed to provide mentorship and guidance all the way through high school.
The program began as the "King for Kids Bike-A-Thon" in 2008, featuring celebrities like Dwayne Wade, Kenny Lofton, and Troy Smith. More than 2,000 people participated in the charity ride, and the LJFF handed out 400 bikes to Akron kids in need.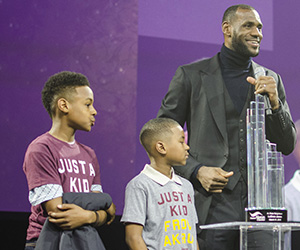 But the foundation wanted to create a more long-lasting effect.
"We would do community events and it was one and done," Campbell said. "It was a great event, but we didn't know what happened to those kids after they left. Were they in school? We really didn't know where they ended up."
Wheels for education
James decided to engage elementary school children through his Wheels for Education program, which feeds into I PROMISE as the kids get older. In 2011, 342 Akron Public Schools third graders made a promise to their hero: They would go to school, be respectful to others, stay active, and give back to the community. In return, James promised to be the best role model he could be, on and off the court.

He also promised to support them on the path to a better life.
"Each of those kids believes in their heart Mr. LeBron loves them and they're going to get that support," McGee said. "That's going to give them that extra edge to motivate them and push them to do the right thing."
The heart of it all
Early indicators show that Wheels for Education is working. Children in the program are missing fewer days of school and reading at a higher level, organizers say.
"Everything we do in the program is because it's authentic to LeBron," said Campbell, who worked as an assistant dean at the University of Akron. "That's what makes it real. He's kind of raising the children of this city."
Campbell adds: "The model we have is working with one child and their parents to bring a whole community together for something bigger. That is the mold to make real, long-lasting change. I can change a child's week by writing a check and making sure they don't go hungry for a week. But what he does is focused on how it is going to be long-lasting."
James also brings partners into his community efforts. His foundation teamed up with JPMorgan Chase on a project to renovate local families' lawns and renovated one student's home on the HGTV show "Rehab Addict."
"As big as he is, there's still a lot of kid in him," said Burdon, who met James when he was a high school freshman. "He's a big gentle lamb and they feel his love. It's genuine. He needed those broad shoulders because he has a big heart."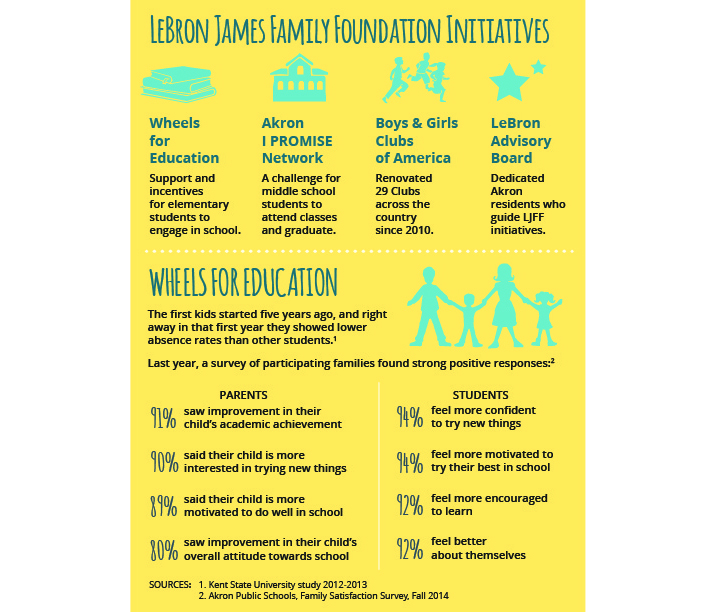 Photos by Ben Schlea | Brandon Castel is a freelance journalist who has worked as a reporter and columnist for Yahoo, Rivals, Sporting News, Reuters, and the Associated Press. He is the author of the Survival Guide for Coaching Youth Football.