Your Life
Share Inspirational Activities
The art of getting paid—while getting away
By
Laura Shin
Posted: 07/07/17
Updated: 05/23/19
Miloš Tirnanić, of Vrsac, Serbia, began learning graphic design at 11 years old. At 14, he got his first job, from a US-based client. By 20, he was on a life-altering journey to Geneva, Switzerland, which forever changed his definition of "work environment."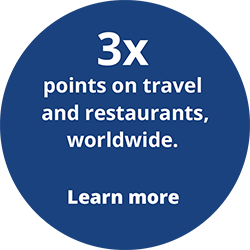 On that trip, Tirnanić brought along his laptop to take advantage of any work opportunities that might arise. When they did, Tirnanić found that being away on vacation created a sense of urgency that helped him work much faster than normal—after all, he wanted to get out and explore, too. Blending travel and work proved to be a good model for how to live his life.
"Those who worry so much about thinking outside of the box often forget they should live outside the box too," says Tirnanić. "People ask me, 'Why don't you get a job in New York? You could live there.' I'm just not interested. Why should I settle for one place when I can visit all?"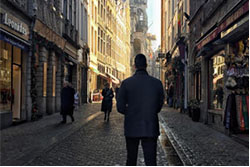 Mostly landing clients through freelance sites like Upwork, Tirnanić visits approximately 10-15 countries a year, frequently spending two weeks at home and then anywhere from five days to two weeks in a chosen destination. On the road, Tirnanić wakes at 5 a.m. to respond to emails and work, then he'll sightsee for a few hours, work again, check out another monument, work again, then go out for the evening. He also makes it a point to meet up with clients if he's in their city.
"I'm more efficient than when I work back at home," he says, noting that he spreads his work out over three or four timed sessions a day in between explorations of his vacation spot.
Tirnanić represents a larger trend—according to the research-based firm, Gallup, the percentage of workers who put in hours remotely at least part of the time has increased from 10 to 43 percent over the past four years. And a World Economic Forum survey of senior executives found that they find flexible work to be the biggest driver of change in employment (44 percent) due to the rise in co-working, the ease of remote work, and teleconferencing capabilities.
Tirnanić's job is becoming less unique by the day: The Unsettled, Remote Year, Flexpat and Journey Away sites all offer different variations on the work/travel environment. Some offer month-long stints and others yearlong ones. Others pay you a salary when you accept the assignment through their platform or allow you to maintain your full-time job while on your adventure.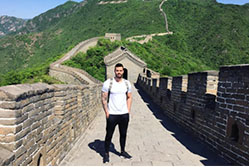 Tirnanić, who has been to the Netherlands, Miami, Japan, New York, Italy, China, Sweden and other countries, usually spends about 50-100 euros a day in Europe, and $50-$100 a day in the US. The rewards he earns from traveling so often help him to keep costs down.
Loving what he does also helps motivate Tirnanić to commit to his work even while a new city or culture beckons. "I implement something in my designs from every trip I have—from colors to backgrounds," he says.
For Heather and Pete Reese, the southern California-based family behind the blog It's a Lovely Life, travel is what generates income.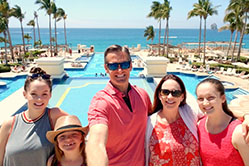 The family—including their 7-, 14- and 16-year-old daughters who take independent study courses while traveling—is on the road more than 150 days a year, chronicling their travels on the blog Heather started 10 years ago.
Increased interest in blogging about travel prompted Heather to think that her family should do the same. She began looking for good travel deals—and realized she might occasionally nab a lower media rate to cover hotel room costs.
A 2012 conversation with the Las Vegas travel bureau about Sin City's surprising number of kid-friendly activities led to a family trip in which the bureau paid for the Reese's activities and meals in return for coverage on their blog.
At that time, It's a Lovely Life had 80,000 monthly visitors. Now, with anywhere from 600,000 to one million visitors a month, the setup is different: "Destinations and resorts email us and invite us on the trips," Heather says. "We don't pay anymore. Actually, we get paid to go and cover it."
The family is paid to produce brand-friendly videos, blog posts, photography, and social media posts that serve as word-of-mouth marketing for the destinations and resorts.
The Reeses earn about $30,000 a month while traveling to places like Jamaica, Hawaii, Cancun, Cabo San Lucas, New York, Colorado Springs and Florida.
"I used to identify home as being my house," says Heather. "I realized that your home is just where your people are."
Laura Shin is a Chase News contributor. Her work has appeared in the Wall Street Journal, New York Times and Forbes magazine.