Small Business
Understand Your Finances
Working for ourselves supercharged our savings
By
John Schneider and David Auten
Posted: 06/27/18
Updated: 07/13/18
This is part of Savings Diaries, an original series in which people share how they try to reach key savings goals during 2018. It is part of a broader Chase initiative to encourage more Americans to save money.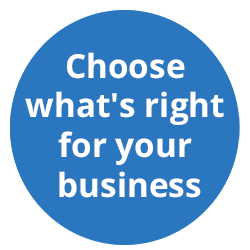 My husband John and I are celebrating a happy mistake. Years ago, when we first started contributing to our retirement, we assumed that Roth IRA accounts were the way to go. But now that we're self-employed, we've discovered that our retirement planning needs an upgrade.
A new business, a new retirement
The big difference is that, as the owners of our own business, we are required to pay ourselves a "reasonable" salary—which means that we can't pay ourselves $1 (to avoid taxes), or inflate our salaries. We also have to pay both the employee and employer portions of our FICA, or social security tax. That's a whopping 15.3 percent of our income!
This hit particularly hard when I considered our retirement savings. Our pay comes in waves—some months the money floods in, and other months are dry. Before I quit my job, we lived primarily off of my salary, and when money came in from our business, we treated it as a windfall, tucking it away in a separate account to help us out in the dry months.
Now that we're living off our business income, I carefully budget every time we get paid, setting aside 25 percent for taxes, 25 percent for retirement, 25 percent for business expenses and 25 percent to pay us.
Going solo together
Early this year, when the money rolled in, I put $4,000 in our Roth accounts. Then our accountant reminded me that we now are an S-Corp. And that's where I discovered our mistake: as self-employed people, we qualify for a Solo 401(k), which gives us far more options than our Roth IRAs.
To begin with, Roth contributions max out at $5,500, while Solo 401(k)s can go up to $18,500, which means we can pay ourselves a lot less now and pay ourselves a lot more later. I don't know if we're going to go for the full limit, but it's nice to have the flexibility. Also, since we are now working as both employer and employee, the Solo 401(k) lets us ratchet up our employer contribution amount even more.
And that's only the beginning. Here are some other benefits to the Solo 401(k):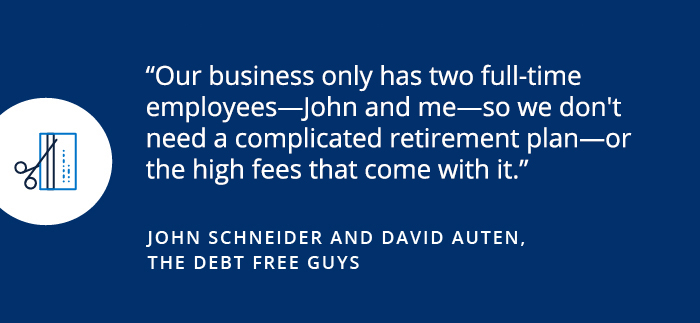 It's simpler
Our business only has two full-time employees—John and me—so we don't need a complicated retirement plan—or the high fees that come with it. Many brokerage firms offer Solo 401(k) plans that don't have opening and maintenance fees. So, instead of paying fees to a company, we get to keep the money in our account—and watch it grow!
Tax benefits
As we're both employees and employer, John and I decide how much to contribute to our Solo 401(k) accounts. As employers, the matching funds we put into the account are considered a business expense, which means that, instead of paying ourselves a high salary, paying taxes on it, and investing the leftovers, we can give ourselves a higher employer match, which is not taxed to us or our business.
As employees, the money we put into our solo 401(k)s is tax-deferred, which means we won't pay taxes on it until at least age 59.5, when we can start to withdraw.
Employers have higher contribution limits
In addition to the $18,500 that we can contribute as employees, we have much higher contribution limits as employers. Most employers match 3 to 4 percent of their employee IRA contributions, but, we can match up to 25 percent of the total gross income of our business, giving us the freedom to put away far more money.
Our recap
Despite some ups and downs this year, we're still on track to meet our savings goals. The decision to switch to the Solo 401(k)s has enabled us to kick our savings into high gear, moving us much further along on the track to our retirement goal. Being able to rely on an employer to help us with our retirement goals is nice, but the opportunities we have as our own employer for an even more secure retirement is more appealing. Nothing's guaranteed, but it's a promising start—and something we can definitely take pride in!
John Schneider and David Auten are Chase News contributors who focus on finance and whose work has appeared in Business Insider and Forbes.