Your Life
Real Estate
How Technology is Changing the Way We Buy Houses
By
Mai Nyguen
Posted: 06/23/16
Updated: 01/29/20
The truth is that money can be difficult to talk about and many financial issues are complicated to tackle. That's why Chase and Vox Creative created the Five Essentials series, found here and distributed through the Vox Media Network, to explore financial fitness issues that are relevant to you. We're breaking it down to what's really essential to know about a topic. This month, we're taking a look at homebuying and mortgages.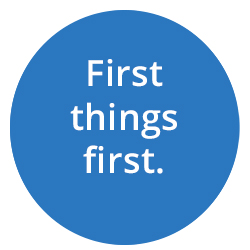 Technology has changed the way we shop, eat, and travel and it is changing real estate, too. Today, 45 percent of future homebuyers begin their search on a computer, while 13 percent start with a smartphone, according to a recent national survey from Chase. Only 11 percent still peruse the listings of a newspaper.
New ways to house-hunt
Not so long ago, homebuyers were stuck with flyers and phone calls to real estate agents. Today, a wide range of online services provide listing information — and most will even alert you when a home hits the market that meets your must-have criteria, like size or location or granite countertops or a nearby beach. "When I started in this business, all the listings were on index cards," says Long Island real estate broker Diane Saatchi. "Buyers are more hands-on now, and love being the first one to know something." Online listings can provide easy links to information on communities, school, taxes, and transportation.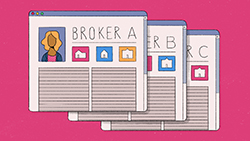 The way we view properties has changed in even more dramatic fashion, as simple photos have yielded to things like 3D virtual tours. "When you look at a regular image, it's very different from when you are experiencing something in an immersive media," says Bill Brown, chief executive officer of Matterport, a Silicon Valley company that produces these interior mapping cameras. "You get a physical sense of the place and it creates an emotional feel." They're produced by robust cameras that capture 3D pictures of homes to give homebuyers an immersive walkthrough of the space. This is all available on computers and mobile devices — but the most advanced versions employ virtual reality headsets, which lets you look up and down and side to side.
Whether you're across the world or just can't stand traffic, these enhanced viewing options let you get a good sense of what a home looks like from your couch. Brown knows at least a dozen cases of homebuyers who have bought properties yet have never stepped foot in the space. However, the majority of home buyers opt to see houses in-person, using these tools instead to help them narrow down their choices, says Nela Richardson, chief economist at real estate brokerage Redfin.
New ways to find and compare mortgages
Buyers have to cull and compare not just homes but mortgages too. The Consumer Financial Protection Bureau created the Know Before You Owe mortgage disclosure rule last year, so that buyers can easily compare loans without being surprised by any undisclosed costs. This has prompted a flurry of online comparison tools that take the headache out of the process by letting you assess multiple loan estimates to ensure you're getting the best possible deal for your financial situation. You can apply for mortgage pre-approval online to speed up the process. And even before you start thinking about applying for a mortgage, online home tools like this Affordability Calculator from Chase can quickly assess how much home you can afford based on your monthly income, debts, and how much money you plan on putting down for your home.
Even as everything goes digital, documents still accumulate. To cut down on all that paper, some realtors have opted to go completely paperless thanks to the ESIGN Act, established in 2000, which makes electronic signatures legally binding in real estate deals. "When you've got a competitive real estate market and there are multiple offers on a property, technology helps decrease the time it takes to close," says Doug Devitre, author of Screen to Screen Selling.
New ways to work with your agent
In an era when consumers are obsessed with online reviews, homebuyers can find real-estate agents who they'll work best with, whether because of interests or experience or just being as tech-savvy as their client. People once relied solely on referrals or a yard sign, but these days they can look up any agent and sift through a barrage of first-hand feedback. "Real estate is about trust and now you can quantify that trust with reviews," says Richardson, the Redfin chief economist. Redfin publishes all of its agents' reviews, good and bad.
So, where do agents fit into the mix with the advent of technology that has made buyers more self-sufficient than ever? It actually seems that the transparency provided with these tools has actually deepened face-to-face relationships in the homebuying journey. More than 70 percent of people surveyed by Chase say that they prefer to speak to a mortgage professional when it comes to this major life moment.
Mai Nguyen is a freelance writer in Toronto who covers business and personal finance.