Your Life
Arts & Culture
James Bay Enjoys His Quick Rise
By
Ilana M. Kaplan
Posted: 06/23/16
Updated: 11/10/17
Even as artists struggle to get listeners to buy music, fans are happy to pay for the experience of sharing live music with their friends and several thousand strangers. Sound machine, found here and distributed through the Conde Nast Media Network in the New Yorker and WIRED, is an inside look at the people, places, and businesses creating some of the memorable weekends this summer and part of a broader series to inspire rewarding and fun summer activities following the recent launch of Freedom Unlimited.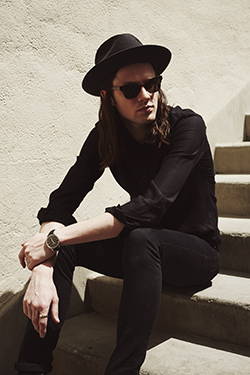 British singer-songwriter James Bay appears to have happened overnight. After picking up the Critic's Choice BRIT Award in 2015, Bay's first full-length album, Chaos and the Calm, debuted at number one in the U.K. The record was promptly nominated for three Grammys, where Bay performed alongside Tori Kelly. In April, his single "Let it Go" was certified platinum, with over one million sales in the United States. Bay is part of a soulful, bluesy wave of British singers that routinely competes with EDM- and hip-hop-flavored pop acts for the top spots on U.S. charts.
So it's little wonder the Hertfordshire native's passionate guitar playing, evocative lyrics and model cheekbones caught the eye of American industry leader Republic Records on YouTube. Today's multi-genre mega-festivals are like lighter fluid for internet buzz, exposing artists to new audiences and media attention—and Bay is no exception. He played at Coachella last month and before that performance, we discussed tour necessities, the challenges of life on the road, and his favorite songs to play live.
You've really risen as an artist throughout the past year. What's been the most memorable moment for you?
After a series of bizarre events, I was able to invite a Rolling Stones guitar player on stage at one of my three sold-out shows in London. I won an award from British GQ, presented to me by Ronnie Wood, who was a long-standing guitar player in the Rolling Stones. We started talking backstage and joked about him coming on stage and playing with me—which actually happened.
What are some of the essential items you need on tour?
It's like the most boring things that your mom would tell you not to forget on tour. It's always good to have music in all forms so I can stay in touch with new music. Keep music close—keep the ability to play and write. I catch myself starving and needing to eat all the time. Keep eating. Don't stop eating, and stay alive.
What's your go-to outfit on tour?
A good, steady pair of boots and really skinny jeans. Something like those skinny jeans right out of the wash feels great on stage. I've been known to wear a hat a time or two.
What's the most challenging part of being on the road all the time?
The most challenging thing is that is the tour bus which is a tiny, short-term version of a moving house every other day. You give yourself a little treat, four or five times in a long tour, which is to check into a hotel for a night or two. But you need to take all of the things into every corner of the tour bus out into a hotel room. Every other day you're changing places.
What's some advice you'd give to a band or musician doing their first festival or tour run?
It's like going on some sort of field trip for the first time, but it's the most fun version you can imagine. Don't hold anything back and enjoy every weird, ridiculous, or cliche aspect of it. I mean it when I say do that because when you come off of tour for the first time, it's kind of depressing. Being on tour is fantastic, but there will always be a comedown. Tour as much and as hard as you possibly can.
What's your favorite song to play live at a festival?
I love playing all of my (own) songs, but we do a cover once in awhile. For a while, we were covering "If I Ain't Got You," by Alicia Keys. I also really enjoy playing "Scars." It's a really fun song to play live because it's a really quiet song. The greatest audience will go pin-drop silent for that song. In the middle, they'll just chime in on the chorus. Its the most magical chorus.
Which festival that you're playing are you most excited for?
Well, I've never been to the great and wonderful Coachella, so I'm pretty excited for that one. I've gotten mixed reviews about it, so I'm keen to see what it's like. I'm interested to go to Pinkpop, which is in Holland. I've always seen cool video clips, so I'm looking forward to going to that one too.
Ilana M. Kaplan is a writer living in New York City. She has written about music for Rolling Stone, New York Magazine, Pitchfork and others.