Bold Leaders
Arts & Culture
How One Music Festival Stayed Relevant Over 20 Years
By
Ilana M. Kaplan
Posted: 06/23/16
Updated: 11/10/17
Even as artists struggle to get listeners to buy music, fans are happy to pay for the experience of sharing live music with their friends and several thousand strangers. Sound machine, found here and distributed through the Conde Nast Media Network in the New Yorker and WIRED, is an inside look at the people, places, and businesses creating some of the memorable weekends this summer and part of a broader series meant to inspire rewarding and fun activities following the recent launch of Freedom Unlimited.
Watching their explosive growth in recent years, it's easy to assume the producers of Coachella, Bonnaroo and Governor's Ball invented the music festival. But the Essence Festival, which is put on by Essence magazine and celebrates African-American music and culture in New Orleans each Fourth of July weekend, predates them all.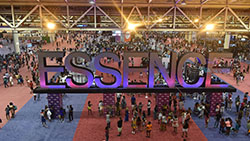 Founded in 1994, Essence Festival marries star power and substance—a reflection of the magazine's editorial mission of providing entertainment and empowerment to a black audience. In addition to ticketed concerts featuring musical superstars (this year: Kendrick Lamar and Mariah Carey), there's round-the-clock seminars and lectures from African-American luminaries, all of which are free. This year's keynote speakers include Misty Copeland and Tyra Banks.
The event draws a half a million people each year, and pumps about $200 million. into the local New Orleans economy. So it's little wonder Durban, a surf town in South Africa, signed up to host its own version of the event this November. Essence president Michelle Ebanks says America and South Africa share a history of racial prejudice and disparity that makes South Africa a natural fit for Essence's mix of empowerment and celebration.
With print advertising revenue flat industry-wide, many magazine publishers are creating events like Essence Festival, as well as panels, conferences and summits. As with music streaming services and music festivals, millennials are willing to pay for live experiences of content they're used to getting for free.
Essence parent company, Time Inc., demonstrated its commitment to the event business when it acquired inVNT last year.
In other words, Essence Festival is an early adopter in the music and publishing industries. Here, Essence editor-in-chief Vanessa DeLuca, explains how the Essence Festival has preserved its ethos in the face of two changing businesses.
Essence Festival has been around since before many music festival attendees were born. How has the festival changed business-wise over the past 22 years?
The core philosophy of the festival has remained the same, which is that it's a party with a purpose. When we started the festival, it was meant to be a one-time celebration of the magazine's 25th anniversary. The leadership team back then wanted to create an unforgettable experience and celebration in a city that has a rich, cultural, historical community, and heritage. The then-editor-in-chief Susan Taylor felt we couldn't just have these phenomenal concerts at night at the Superdome and then that's it. She wanted to make sure that the community had an opportunity to experience the festival during the daytime, so that was the impetus for the empowerment seminars, which I really think sets this festival apart from all others out there. It's designed to enrich and improve the lives of everyone who attends the festival.
At a certain point, Essence had to bring in outside producers. What are the benefits to that?
It's a collaboration. It has to always feel like Essence, but of course, because we're not based in New Orleans, we can't do all of the work. There have to be people on the ground that make it feel fun and a part of the culture. That's really the main reason.
How has Essence remained important in the exploding field of music festivals?
At a lot of festivals, the focus is solely on the music. For us, it's more than that, and it has to be more than that. We really think it's important to take this opportunity while we're bringing a community of people together. Last year, we had half a million people coming through New Orleans over the Fourth of July weekend and we anticipate that to be the same as well. When you have a half a million people showing up over the Fourth of July weekend, you want to give people more than they could even have hoped for.
The whole focus of the programming is to have a mix of information and entertainment. We want people to come to the daytime seminars and feel like they've heard from some of the most prominent voices and influential leaders in our community that gets to the heart of what's going on in our community. Since it's an election year, there will definitely be conversation around the election and what some of the most important issues are for the black community. This is really our opportunity to bring the conversations we see happening at Essence and online at Essence.com to light at the festival.
From a business perspective, it seems like millennials are much more interested in paying for a festival than a print magazine. Do you think this festival helps Essence reach a younger community?
I think that music is universal. It's multigenerational and multifaceted. It has great appeal across all different types and demographics. Certainly the programming at Essence Festival is designed for that. You'll have someone like Charlie Wilson who's very old-school R&B, but you'll also have someone like Kendrick Lamar or Andra Day, who had the most compelling performances at the Grammys this year and have been widely embraced across the millennial audience. We're making sure that every single demographic is recognized and they can find something that speaks to them at the Essence Festival.
How did you get these amazing performers? You have an incredible lineup every year.
Essence, having been around for 46 years as a publication and as a brand, has built some deep, long-standing relationships with people across different categories: musical artists, community activists, and influencers. We're all going for the same goal: we want our community to be as informed, honored and celebrated as they should be.
How have you seen the festival industry change since Essence Festival started?
There's certainly a lot more organizations in that space. People see the success, the interest, and appetite for this kind of content, so it makes sense that people would want to pursue that.
And there's room for everyone. The most successful ones, like ours, are bringing something unique to the table.
Ilana M. Kaplan is a writer living in New York City. She has written about music for Rolling Stone, New York Magazine, Pitchfork and others.