Small Business
Success Stories
Detroit's Small Business Revival
Startup Week Detroit's Attendance Records Signify Entrepreneurial Growth
By
Amanda Lewan
Posted: 06/23/16
Updated: 11/10/17
Small businesses are playing a leading role in the revival of Detroit, once known primarily as the home for the giants of the auto industry.
Give credit to affordable rents, high-quality talent and a blue-collar work ethic. There's also the recognition that small businesses are essential—and that they need support.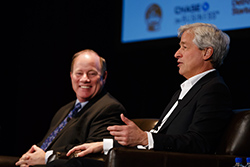 "Fifty percent of jobs are in small companies of five people or less," Jamie Dimon, CEO of JPMorgan Chase, told a Startup week audience in Detroit in late May. "Small companies work with big companies. It can be a symbiotic relationship."
Chase sponsored Detroit's first Startup Week, which hosted 150 free events for entrepreneurs across the city. More than 3,300 attended, interested in everything from retailing to technology, art to mobility.
These local attendees are influencers who are helping revive both the city and an entrepreneurial spirit.
"My great-grandfather owned a business," said Detroit Mayor Mike Duggan, who joined Dimon on stage. "For a long time, Detroit was the center of business. Education and innovation weren't valued for a couple of generations, but now we're getting by with our minds."
Providing Capital and Training
JPMorgan Chase has invested $100 million to support Detroit's comeback, which includes support for several small business growth efforts in the city to help fill a critical resource gap.
The Entrepreneurs of Color Fund is a $6.5 million program funded by JPMorgan Chase and managed by the Detroit Development Fund. It aims to assist Detroit small businesses owned by people of color that lack access to traditional forms of capital and credit. As of early 2016, the fund has awarded $1.3 million in financing to 15 Detroit entrepreneurs.
A collaborative community also can help set up Detroit's up-and-coming business owners for success, said Dimon.
"The entrepreneurs I met today were thanking each other," he said.
The Right Resources to Launch
Duggan cited Motor City Match, which pairs ambitious entrepreneurs with locations primed for business growth, as another way small businesses are being supported in Detroit.
More than 400 entrepreneurs applied, seeking design or technical assistance for space creation, and grants or loan-matching for construction and development. Nearly 70 percent of Motor City Match recipients are minorities who hail from the city of Detroit. Past recipients are now opening coffee shops, retail stores, restaurants and more.
"We're going to build a city where people who grew up here will have an opportunity to participate through programs like Motor City Match and Entrepreneurs of Color Fund," Duggan said.
Helping Small Businesses Thrive
Both Dimon and Duggan discussed the difficulties of fostering an entrepreneurial culture in any organization and offered the following leadership advice.
"Big organizations by nature are getting slower and more bureaucratic. But cut through it. Get it done," said Dimon. "You have to have entrepreneurship inside the business."
Cultivating an entrepreneur environment requires allowing for failure when testing new ideas.
"We don't punish people when something goes wrong; we tell them we're proud of the work they did," said Dimon. "Then, we roll up our sleeves and figure out how to get it done right," explaining that failure is often what spurs innovation and new ideas at Chase.
Duggan offered entrepreneurs specific advice for getting through the difficult times that every business owner faces: "The only way to get through tough times is complete honesty," he said. "I've been through several turnarounds. You have to tell the truth and face reality as is."
And in a city in turnaround mode, transparency and collaboration are keys these leaders cite as integral to Detroit's future.
"The people pulling together ... the sense that they're in it together—it's been remarkable," said Dimon.
Amanda Lewan is an entrepreneur and writer based in Detroit. She is co-founder of Bamboo Detroit, and editor of Michipreneur.com.