Your Life
Seasonal Trends
5 Best things to do on America's boardwalks
Renovations and Revamps Have Made Boardwalks Into Must-See Destinations
By
Elizabeth Millard
Posted: 07/06/16
Updated: 11/10/17
The following is part of a broader series meant to inspire rewarding and fun summer activities following the recent launch of Freedom Unlimited.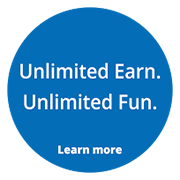 Although Sonia Enderle's job requires a lot of drive time, she still loves getting behind the wheel on her days off. That's because she can zip to boardwalk areas that offer entertainment, shopping, and dining options—with tranquil ocean views as a backdrop.
"There's something about being on the boardwalk that feels nostalgic but it's so vibrant now that it also feels like the future," she says. "We used to visit as a family, but the renovations have made it even better than when I was a kid."
Enderle isn't the only one showing love for America's revamped boardwalks. Many have seen plenty of updates and changes in the past couple years, offering great opportunities for families, couples and solo travelers to take in the ocean air and some top attractions, too.
Here are some to consider:
1. Enjoy Old—and New—Favorite Foods at Coney Island, New York
All along Coney Island's famous boardwalk are plenty of equally famous options when it comes to vacation fare. Check out historic haunts like Nathan's Famous Hot Dogs. The chain started on Coney Island in 1916 and has held an annual hot dog-eating contest there since the early 1970s.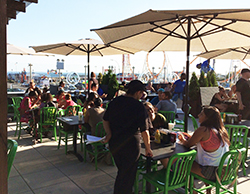 Or opt for the new and trendy Wahlburgers, a burger joint from actors Mark and Donnie Wahlberg and their chef brother Paul that boasts tater tots and mac and cheese, among other comfort foods. Its casual rooftop dining overlooking the boardwalk is another super summer draw.
2. Ride and Dance at Myrtle Beach, South Carolina
Located on the boardwalk of Myrtle Beach, S.C., the SkyWheel is 187 feet tall and has 42 glass-enclosed, temperature-controlled gondolas. So you can ride it in any weather, even year-round. Frequent visitor Joyce Smith of Minnesota says, "The view alone keeps me coming back. The boardwalk has a great energy to it, but once you're up high in the SkyWheel, it feels like the world just stops for you."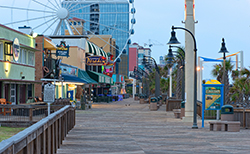 Another favorite Myrtle Beach boardwalk draw for Smith and thousands of other visitors is the Hot Summer Nights celebration that runs from the beginning of June through the end of August. There's plenty of live music, and Smith especially loves the roving boardwalk performers. "It's my favorite place to see Elvis," she jokes.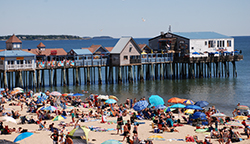 3. Walk the Pier at Old Orchard Beach, Maine
Built in 1898, the Pier at Old Orchard Beach in Maine is a historic gem that attracts numerous families for dining, shopping, and sunbathing. There's a mom-and-pop feel to the restaurants and stores, including Hurricane Raw Bar, Tequila Frogs, and Hooligans Steak & Ale, drawing more than 10,000 people every day.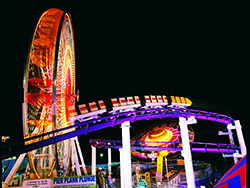 4. See the Lights at Pacific Park, California
Another historic pick with a modern twist is Santa Monica Pier and its vibrant amusement area Pacific Park. Millions of visitors come every year for rides, midway games, live music, and plenty of tasty food options like funnel cakes and burgers with everything. The park is especially spectacular at night because the 85-foot Ferris wheel features LED lights that change in a dynamic, all-night show.
5. Take in Sea Views in Ocean City, New Jersey
Part of the appeal of any boardwalk is the natural blend of sun, surf, and sand. Whether you're in California or New Jersey, those ocean waters can be instantly calming. "The sea is a big draw," says Enderle. "Who doesn't like sitting at a restaurant with a view of the water? Or having some beach time along with seeing other attractions? That's what makes boardwalks really stand out when it comes to places worth visiting."
Elizabeth Millard is a freelance writer whose work has appeared in Entrepreneur, BusinessWeek, and Delta Sky Magazine, among other publications.