Your Life
Travel
Fill Summer Days With Items on Your Sand Bucket List
By
Dawn Allcot
Posted: 07/08/15
Updated: 11/10/17
When people refer to a bucket list, it's usually a list of things to do before you die. A sand bucket list, on the other hand, includes all your short-term to-do's for summer.
"We start every summer by creating a list of things we want to do and tasks we want to accomplish before Labor Day," says Rachel Davis, a Long Island, N.Y. mom of three.
The list may include individual goals, such as learning to ride a two-wheeler or catching a fish, or family activities like going to a museum or enjoying an outdoor concert. "Some favorite activities make the list year after year, like catching fireflies or making s'mores," Davis says. "But we also add new adventures."
Whether you're looking to bond as a family, reconnect as a couple, meet someone new or get to know yourself better, here are some ideas to fill your "sand bucket" list – and your summer days.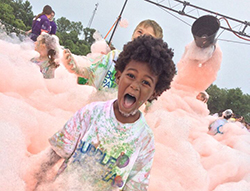 For Families
Experience Bubbles Like Never Before
Enjoy bubbles in a whole new way at Bubble Palooza, a kid-friendly obstacle course that promises three miles of smiles. "Run through walls of bubbles and come out looking like a rainbow," says event organizer Dean Del Prete.
The event, held in several U.S. cities this summer, including Philadelphia, Chicago and Long Island, N.Y., is geared toward putting smiles on the faces of children and adults of all ages. "Bubbles equal smiles. It's as simple as that."
Ride One of the World's Biggest Slip and Slides
The Urban Slide measures 1,000 feet long. Look for this wet and wild adventure in a city near you, or pack your bags and make the slide the main attraction for a weekend's worth of fun. Host cities include Denver, Dallas and Lawrence, Kansas, all places with plenty to offer in the way of sightseeing and family fun.
For Couples
Visit Random Cities
One of your goals for the summer might be to see new places, the more obscure the better. "My wife and I are going to take advantage of airfare specials to travel to some random location and find enjoyment there," says Brian Russell, a personal-empowerment coaching firm.
One potential on the couple's adventure agenda is New Haven, Connecticut, a city rich in museums and historical sites, as well as the home of Escape New Haven, a live adventure challenge where a team of people work to escape a room by solving a series of puzzles. The couple is also considering Boston, Washington and Topeka.
"We believe we can find fun things to do anywhere," Russell says. "Some places will have rich history to explore. Others will have adventures in cuisine or scenery, or attractions that may seem mundane to residents but will be exciting for us as we experience them for the first time," says Russell. It's all about valuing what's in front of you, he says. "Life doesn't need to be extravagant to be well-lived, and we never know when it will end, so it's time to start living now."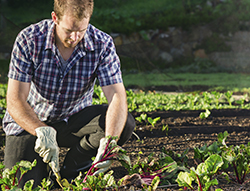 Volunteer on an Organic Farm
Worldwide Opportunities on Organic Farms offers a chance to travel on a budget while making a difference. Volunteers trade four to six hours of labor on a farm for room and board at the host location. Trips can last from three days to a few weeks or longer, with destinations that include Australia, Turkey and many U.S. states, including Alaska.
If you can't get away, you can also look for co-op farm volunteer opportunities in your area, which provide an opportunity for you to sow, till and harvest crops, as well as milk cows and complete other farm chores, while helping to provide your area with affordably-priced organic food. If you're interested in specific tasks like wine- or cheese-making, ask before signing up.
For Singles
Run an Obstacle Race
Gather a group of your friends to test your strength and endurance as a team. Don't worry if you're not the competitive type. Races like the WipeOutRun feature fun, challenging and colorful obstacles. This one's lineup is based on the TV series Wipeout, with obstacles like "Wrecking Balls," which challenge racers to balance across an inflatable balance beam while trying to avoid two big swinging balls poised to knock them into a shallow pool. This summer's schedule extends to Seattle, Boston, Washington and other cities.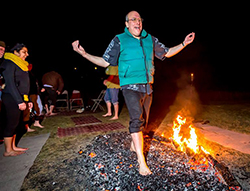 Participate in a Firewalk
If you prefer your adrenaline rush with a side of personal development, sign up for a firewalk workshop. Participants join in a series of discussions and challenges exploring their fears, strengths and limiting beliefs, culminating in a barefoot walk across hot coals.
"You need not be 'new age-y' to get value from firewalking," says Tony Simons, a professor of leadership at Cornell University and founder of the LifeCourage Firewalk Workshops in Ithaca, N.Y. "It's fun to work with people who are new to the introspection game and see the light go on." You'll leave with the feeling you can do anything, a pin to commemorate your accomplishment and an amazing story to tell."
Illustration by Mike Austin | Dawn Allcot is a freelance writer whose articles have appeared in Mint.com, AOL Careers, Yahoo! Finance and more. Her writing credits cover diverse topics from paintball to personal finance.