Community
Developing Global & Local Communities
From Brownsville to the White House: A Photo Goes Viral
Humans of New York Campaign Raises More than $1 Million for Local School
By
Glynnis MacNicol
Posted: 06/26/15
Updated: 10/19/18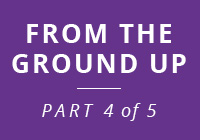 This is one in a series of articles and videos about the revitalization of Brownsville.
Brownsville has gone viral.
While even some longtime residents of New York City may have a hard time pointing out the Brooklyn neighborhood on a map – it's barely more than one square mile and has for years been known for crime and poverty among a high concentration of public housing – chances are if you spend any time on the Internet, or watch daytime television, you've heard about Brownsville.
So, by the way, has the President of the United States.
It all started with a photograph.
Brandon Stanton, who runs the popular Humans of New York photo blog, posts pictures of everyday New Yorkers along with their quotes about themselves. Back in January, he photographed 13-year-old Vidal Chastanet, whom he had encountered walking out of a local deli. Chastanet, a resident of Brownsville, had this to say:
"When you live here, you don't have too many fears. You've seen pretty much everything that life can throw at you. When I was 9, I saw a guy get pushed off the roof of that building right there."
Chance Meeting Becomes a Powerful Story
When Stanton asked who has influenced him most, the boy said it was his school principal and explained her unusual, positive ways of handling students who got into trouble. "She tells us that each time somebody fails out of school, a new jail cell gets built. And one time she made every student stand up, one at a time, and she told each one of us that we matter."
Chastanet's photo and testimony exploded online. Stanton contacted Nadia Lopez, the principal and founder of Mott Hall Bridges Academy, where Chastanet is a student. Then he went to the school and began photographing students and teachers there.
He quoted Lopez as saying, "This is a neighborhood that doesn't necessarily expect much from our children, so at Mott Hall Bridges Academy we set our expectations very high. We don't call the children 'students,' we call them 'scholars.' Our color is purple. Our scholars wear purple and so do our staff. Because purple is the color of royalty. I want my scholars to know that even if they live in a housing project, they are part of a royal lineage going back to great African kings and queens. They belong to a group of individuals who invented astronomy and math. And they belong to a group of individuals who have endured so much history and still overcome. When you tell people you're from Brownsville, their face cringes up. But there are children here who need to know they are expected to succeed."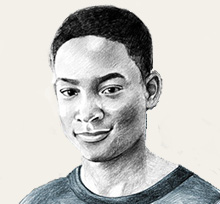 From Brownsville to Harvard to Washington
Stanton launched a fundraiser to support Lopez' plan to take students to visit the Harvard University campus. In just a few hours, $180,000 was donated. Within one week, the fund had hit more than $1 million, which Lopez said was enough to fund the Harvard trip for at least a decade.
It didn't stop there.
Ellen DeGeneres picked up the story and invited the trio to appear on her show, where she also announced that Target would fund new electronic equipment for Mott Hall Bridges Academy and support other schools in the area.
And then the White House called. Stanton, Lopez and Chastanet were invited to meet with President Obama, who said this:
"You don't do things alone. Nobody does things alone. Everybody always needs support. For a young man like you, you should never be too afraid or too shy to look for people who can encourage you or mentor you. There are a lot of people out there who want to provide advice and support to people who are trying to do the right thing. So you'll have a lot of people helping you. Just always remember to be open to help. Never think that you know everything. And always be ready to listen."
View all five parts in this series:
Illustration by Alexandra Compain-Tissier | Glynnis MacNicol is a journalist based in Brooklyn, N.Y., whose work has appeared in Forbes, the New York Daily News, Marie Claire, The Daily Beast and other publications. She has been an editor at Business Insider, Mediaite and The Huffington Post and is a cofounder of TheLi.st.