Your Money
Celebrate Life Moments
How this millennial woman bought a home on her own
More American single women are independently buying homes
By
Mai Nguyen
Posted: 03/05/18
Updated: 01/29/20
Presented by Chase Home Lending, this article is part of "The Evolution of Homebuying," a new Chase series that showcases industry insights and evolving trends to support your home buying experience.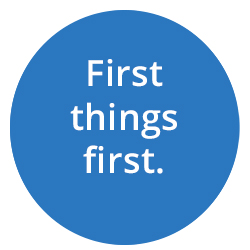 The night before Aisha Blake bought her first house, she rode her bike to the property. She simply wanted to see it up close. To most people, the old brick duplex in Detroit's Virginia Park neighborhood, wouldn't stand out. The porch was crumbling, some windows were broken, and the interior needed a major face-lift.
But when Blake saw kids playing on the lawns of nearby homes, she was sold. "I loved the first impression I had of that community, and it cemented my decision to buy it and fix it up on my own," says Blake.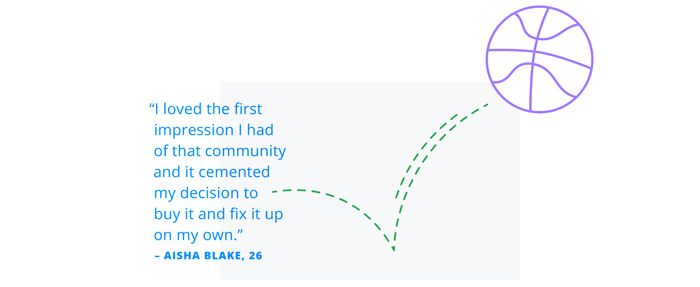 The 26-year-old's journey to home ownership represents a growing trend of single American women buying homes by themselves. According to a report from the National Association of Realtors (NAR), 17 percent of all homebuyers last year were single women. That's double the number of single men scooping up homes, despite earning more than women. It's also part of a larger trend of Millennials coming of age to buy homes. According to the 2017 Chase Slate Credit Outlook, 33% of Millennials plan to buy a home in the next four to five years. The study also found that Millennials are very proactive about the home buying process. They check their credit scores regularly and 79% say that their credit score was a big factor in the type of home they could buy.
"With job growth holding steady and credit conditions becoming somewhat less stringent than in past years, the willingness and opportunity to buy is becoming more feasible for many single women," the NAR's chief economist, Lawrence Yun, said in the October 2016 report.

For Blake, buying her house has been a dream come true. She found it while browsing an auction website run by the Detroit Land Bank Authority, where residents can bid on abandoned homes. In May 2015, Blake won the bid to her home at $13,700—a steal for a 2,700-square-foot house near the city's Midtown section, which in recent years has been revived by artists, young professionals transplanted from more expensive cities, and longtime Detroit residents. There's even a relatively high-end grocery store in Midtown Detroit. But like most of the fixer uppers on auction, Blake's home needed serious work. So Blake budgeted $120,000 to turn the 1914 house into a modern-day gem.
Buying decrepit homes at cheap prices and spending tens of thousands of dollars to get them up to code is common in Detroit. During the Great Recession, many residents were forced to leave their homes. And in an effort to revive the housing market, the city launched an online auction site in 2014 for people to buy empty homes for as little as $1,000. One key goal of the initiative is to make homeownership a reality for people who have been shut out of the market.

For solo buyers like Blake, scoring a mortgage at a favorable rate can be tricky, but there are some fundamental steps that can make navigating the home buying process easier. If you're a prospective homebuyer, be sure to take the time to collect all the documents you'll need to get approved, including the last two to three years of tax returns and recent pay stubs. If you're self-employed, like Blake, you'll need to double down on paperwork. Another useful bargaining chip, is to have at least 15 percent of the down payment ready to go. This makes you more likely to get a good interest rate on your mortgage.

Blake immediately paid $1,300 after winning the auction, and paid the rest of her winning bid within six months. Even after she got her financing in order, she wasn't prepared for the rehabilitation process, which had lots of complications.
Since closing on the house in November 2015, she was hit with one unexpected cost after another. The two-tone windows she adored would all need to be replaced, and extra walls had to be opened up to fix the electrical wiring.

"Every time my contractor found something wrong, it meant so much more was taken out of the loan," Blake says. So far, fixing the house has put her over budget by $15,000, which she paid out of pocket.
After a fresh coat of paint, Blake will soon finally be able to move into the home's upper unit. She plans to rent out a room to help pay for additional upgrades, like installing a new deck. Blake's dream is to transform the home's lower unit into a couch surfing space, where travelers can stay overnight and learn more about her community.

"I love hosting, and it really disappoints me when people say they would never visit Detroit because they think it's dangerous," she says.
The one thing that's made her solo homeownership journey less stressful? Having the support of her partner, friends and family. Now wiser, she tells single women who want to buy a home for the first time to pick places they can move into immediately—or else be prepared for a long road of renovations.
"Even after all this frustration, I still love this house," she says.
Mai Nguyen is a Chase News contributor. Her work has appeared in Vox, Wired, and the Toronto Globe and Mail, among other media outlets.