Your Money
Understand Your Finances
What the June interest rate hike means for you
By
Pauline Millard
Posted: 06/21/17
Updated: 11/10/17
This story is part of our Money Matters series to help you to make the most of your money.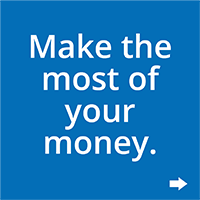 On June 14, the Federal Reserve raised its key short-term interest rate by a quarter-point, bringing it to 1.25%. A number of banks then raised their prime rate to 4.25% from 4%, effective the next day. This was the second rate hike in 2017, and the third in six months.
Federal Reserve Chair Janet Yellen said in a statement that the interest rate hike "reflects the progress the economy has made, and is expected to make, toward maximum employment and price stability objectives."
Low interest rates give consumers more borrowing power. When consumers spend more, the economy grows. Higher interest rates encourage people to save more, and borrow less, and reduces the amount of money in circulation. This slows the rise in prices.
Here's 5 answers to help you prepare for fed action:
1. Why should I care about the prime rate?
It frequently governs the interest rate on several kinds of popular borrowing - credit cards, home equity lines and small business loans. Many of them calculate your interest rate by adding the prime rate to set margin rate.
2. What does rate increase mean to my monthly budget?
Not as much as you might think, especially when the increases are small. A 0.25% point increase would increase your monthly interest costs about $1.05 on a $5,000 balance on a credit card tied directly to the prime rate. That often won't affect your minimum payment.
That same 0.25% point increase would increase your monthly interest costs by $8.33 on $40,000 borrowed on a home-equity line and about $20 on $100,000*.
3. Does the prime rate affect mortgage rates or rates on certificates of deposit?
Not directly. Those rates generally move up when the prime goes up, but they don't move in lockstep like some borrowing rates.
4. Whose prime rate should I pay attention to?
Many lenders use the prime rate as published in the Wall Street Journal. Officially, it's the base rate on corporate loans posted by at least 70% of the 10 largest U.S. banks.
5. What's the difference between the fed funds rate and the prime rate?
The Federal Reserve sets the federal funds rate, and banks set the Prime Rate, though banks frequently move soon after the Fed. Since 2008, the Fed Funds rate has been near 0.0% while the prime has been 3.25%.
Learn more about how interest rates work.
*Varies dependent on specific rate tied to borrower's debt obligation.
Pauline Millard is a Chase News contributor. Her work has appeared in the Associated Press, LearnVest and The Muse.