Your Life
Dining and Drinking
How Chefs Infuse New Flavor to Classic Fare
New Spins on Old Dishes
By
Amanda Mactas
Posted: 07/06/16
Updated: 11/10/17
The following is part of a broader series meant to inspire rewarding and fun summer activities following the recent launch of Freedom Unlimited.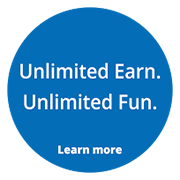 Looking for ways to revamp classic dishes? Follow the lead of these chefs who experiment with "secret ingredients" from orange soda to purple potatoes and crispy cucumbers.
Ceviche That "Pops"
Adding orange soda to a recipe?! It works, says Executive Chef Mauricio Lopez of Hilton Los Cabos Beach & Golf Resort, who has creatively reinvented a popular South American seafood appetizer. The soda makes his Acalpulco Ceviche sweet and less acidic than most ceviches, he says.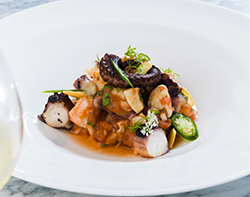 The dish is also unique because it is prepared "Acapulco-style," but is served in Cabo, bringing a regional—and spicier—Mexican flavor to another area of the country, he says.
"What's important with my cooking is to differentiate flavors," says the 20-year culinary veteran. "Not only do we update dishes based on seasonality, but we always try and show we are being inventive when it comes to incorporating highly desired ingredients."
Swapping In Veggies for Starches
Sometimes the best ingredient to use is the least expected. Just ask private chef Sara Lehman. She reaches for cucumbers instead of traditional noodles.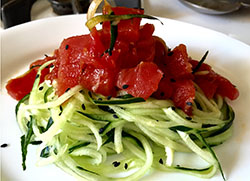 "One of my favorite dishes to make—and a client favorite—is Cucumber Noodles topped with Ahi Tuna." As more and more diners opt for green menu items, chefs like Lehman are making strategic swaps in their recipes, such as replacing starchy pastas with healthy veggies.
Using a spiralizer makes it easy, even for novices, she says. With fruits and vegetables accessible both in cost and variety, add good-for-you food to your menu and have some fun in the kitchen. These reinvented noodles are also a tasty substitute because fruits and veggies soak up the flavors of the sauce they're served in, Lehman adds. "They're simple, delicious and healthy."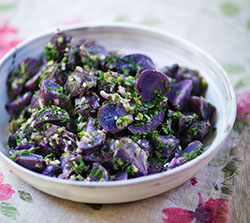 Instagram-Friendly Ingredients
Many chefs these days are also making dishes more photo-worthy by adding lots of colorful ingredients. Among Caroline Byron's favorite food re-creation: purple potato salad.
"Purple potatoes have this beautiful jewel-toned color and a mouthwatering earthy flavor, making them one of my favorites to use," says the gluten-free chef and cookbook author.
To her signature potato salad—now a bright, vivid purple—she adds jalapeños for heat, scallions and red onion for some tang, and fresh lime juice to "give it a little pop."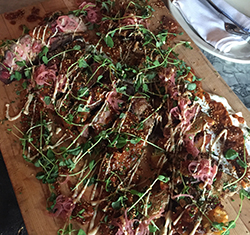 Looking Back to Go Forward
Chef Jared George Falco says he's inspired by the history of food. It's led him to come up with a modern spin on the classic steak pizzaiola, originally considered peasant food.
"Mine is a very refined version of what used to be served," says the Rye Brook, N.Y.-based chef of Fortina Pizza, detailing his dish of heavily charred steak with whipped ricotta and horseradish cream. Traditionally, steak pizzaiola is beef cooked within pizza-style toppings of tomato sauce and cheese. Falco converts the dish into a more artisanal, high-end entree that appeals to a whole new demographic of eaters.
"At the end of the day, no ideas are original," says Falco, but there is plenty of room for reinvention. "Know your history, respect something, love something." That, he says, is the best recipe for making what's old new.
This summer when you are putting a spin on your classic dish, use your Freedom Unlimited card to earn 1.5% cash back on all of those special ingredients.
Amanda Mactas is the Food and Accessories Editor at BELLA NYC Magazine, as well as founder and editor-in-chief of NYC-based lifestyle blog, Manhattan with a Twist. Her work has appeared on sites like The Daily Meal, Joonbug and more.