Your Life
Sports and Entertainment
Life Lessons in Lunging: Tim Morehouse Brings Fencing to Schools
Silver Medalist Says His Sport Will Help Thousands of Kids
By
Bryan Armen Graham
Posted: 06/19/15
Updated: 11/10/17
For most people, winning an Olympic medal represents a culmination, the payoff of a lifetime commitment.
For Tim Morehouse, it was only the beginning.
The New York City native who spent his athletic career defying the odds, transforming himself from unheralded college fencer to silver medalist and two-time U.S. national champion, has taken on an even more formidable challenge.
Morehouse, 36, is bringing fencing to inner-city children all over the United States through Fencing In The Schools, a nonprofit foundation he launched in 2012. If introducing a niche sport with an elitist history to a disadvantaged population seems like a significant challenge, he's not deterred.
"No one has really scaled fencing or used fencing to help tens of thousands of people, so we're basically making the road map," Morehouse says. "That means we're finding the dead ends, trying to blaze a trail that hasn't been there before."
He compares his current endeavor to when he was vying for the U.S. team and people doubted him. "When I tell people I believe we can help millions of kids with fencing, they say the same thing: 'Fencing is so small, it's never done stuff like this before.' That's what interests me. Anything that hasn't been done before, I want to do. I like the challenge too. You have to revel in the difficulties."
Morehouse grew up in Manhattan's Washington Heights neighborhood and took up fencing in seventh grade while attending a private school that offered it.
After high school, he chose to attend the only school that recruited him: Brandeis University, which had a small fencing program. After college he returned to Washington Heights where he taught seventh grade and then worked as a teacher trainer for Teach for America. Only then, while balancing fencing with a full-time job, did he opt for the international stage.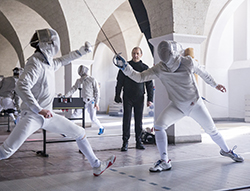 He made his first U.S. team in 2004 and captured silver in the Beijing games in 2008. Now he's trying to leverage his national stature to increase exposure for Fencing In The Schools.
Morehouse says his organization has trained more than 100 physical education teachers and has a wait list with more than 100 schools on it. The program provides equipment for the schools, training for teachers and school visits where athletes share the sport and life lessons with the students.
Such a program is more necessary these days, he says, as some schools have cut funding for physical education programs.
"For low income students, it's becoming more and more expensive to play sports," he says. "They're less likely to go to the park and just play now. You have to join a league ... The barrier to entry for sports is much higher now."
Morehouse compares his uphill climb to fencing glory with the challenge of launching Fencing In The Schools.
"When you get to the Olympics, sometimes you forget how hard it was," he says. "You sort of remember when you talk about the story – how you spent three years of losing every first match at World Cups. But you forget how hard that is when you're actually in it."
Morehouse feels like he's in that same zone now. "It's the hard part – you're taking your lumps, you're losing, you're trying to figure stuff out and success is uncertain. You're sticking with the things you know will work, not deviating from the vision of where you want to go and trying to figure out constantly what's the most important thing for us to be working on."
For Morehouse, who also takes his message to adult audiences as a speaker at business events and conferences, the key is persistence – a life lesson with infinite applications.
"The days when you don't want to go to practice are sometimes the days that make the biggest difference," he says. "Anyone can go in when they're feeling good and well-rested, but how do you go in when you're exhausted, your body's aching and you have a million other things on your mind? But you still go in and focus on this ultimate goal that you have. That's what separates champions from the rest."
Bryan Armen Graham is a sports and culture writer based in New York. He has contributed to Sports Illustrated, The Guardian, The Atlantic, Esquire, The Village Voice and Boxing News.