Small Business
Success Stories
Media Mogul Nely Galan: Driven By Challenges
Latina Visionary Talks About Lessons Learned and "Getting Her Own Chips"
By
Vicki Salemi
Posted: 07/07/15
Updated: 11/10/17
Ask self-made media mogul Nely Galan about success and she'll tell you it boils down to carving your own path.
This former president of Telemundo, Emmy Award-winning producer of hundreds of television shows in Spanish and English, first Latina to appear on Celebrity Apprentice and master's and doctorate degree-holder in clinical psychology credits her Cuban parents with motivating her to make a mark on her own terms.
"They did not bring me all the way from communist Cuba for me not to do something big with my life," Galan explained in a fireside chat with Chase marketing executives.
"I feel a duty to them, and to all my relatives who were stuck in Cuba, to do something extraordinary with my life."
Today, that "something extraordinary" takes shape through The Adelante Movement, an organization Galan launched to help Latina entrepreneurs manage their finances and start their own businesses. It offers events around the country, training videos and an online community, and has attracted support from Supreme Court Justice Sonia Sotomayor, author Sandra Cisneros and others.
Galan's advice to aspiring business owners comes from her own remarkable career path, which started when she got in trouble in school.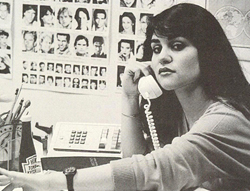 From Ridicule to Reward
After being accused of plagiarism in high school, Galan used her three-day suspension to pen a letter to Seventeen magazine on why you should never send kids to parochial schools. She was quoted in a local newspaper, and her case drew attention. The school eventually apologized for overreacting. Galan graduated early and landed a guest editorship at Seventeen.
On her first day, her boss challenged her to hire five models and book a studio for the following morning. When she asked for instructions, she recalls the supervisor saying, "If I have to explain it to you, I'd rather fire you. Open the drawers and figure it out."
And so she did. "Nothing in life is ever 'Cinderella,'" Galan explains. "You think it's 'Cinderella' for a minute, and then you have to go do the work. … I did open the drawers. I figured it out somehow. And that's [how it has] been the rest of my career."
Movin' On Up
Soon after, Galan landed a job in Texas at a news show for teenagers. After conducting celebrity interviews for two years, she was recruited to a TV station in Boston, where she interviewed Norman Lear, the TV writer and producer known for hits such as All in the Family and The Jeffersons. Lear and his business partner offered her a position as their new Latin TV station manager.
Galan accepted the role at 22 and says it's the best decision she's ever made. "I left the more glamorous job and went to this place that was really rinky dinky. I worked there for three years. It was not rinky dinky when I left."
Getting Her Own Chips
Galan eventually moved on from the station after it was sold. Distraught, she recalls approaching her boss: "You know, this is my baby," she said, to which he responded, "Young lady, those are my chips. Go get your own chips!"
Galan says this was another important turning point in her career, one at which she decided to make her own money.
From Rookie Entrepreneur to "Queen of Content"
Galan launched a production company, which after four years wasn't making money. Then she partnered with media tycoon Rupert Murdoch, who challenged her to launch six TV channels in Latin America. "You'll be the queen of content," she remembers him saying.
In 1998, a joint venture between Liberty Media and Sony Pictures bought Telemundo and named her President of Entertainment.
Then, in 2002, Telemundo was purchased by NBC. "When NBC bought Telemundo, I completely did a whole new deal with NBC and became 'Tyler Perry Latina,'" she says.
During this journey, Galan befriended fear and failure. "I had to own that I was afraid every day." Embrace failure and use it to fuel your aspiration, she says. "People who really succeed have really failed a lot."
And although her "failure resume" is five times longer than her accomplishments, she says, she focuses on something her son once pointed out: "Mom, to make it in the Hall of Fame in baseball, you hit the ball three times out of 10."
Giving Back
"I'm very lucky. From the time I was little, my mother told me that being Latina was an advantage," Galan says, pointing to the value of being from two cultures, speaking two languages and leveraging those skills to "earn double the money."
It's all about self perception, she says. Until you decide you're adding value, "no one else is going to see that. You have to walk through the world like you're special." Galan says this idea of self perception was part of what led her to return to school to complete her master's degree in clinical and cultural psychology.
While writing her dissertation about Latinas, Galan says she discovered that "they were in this crossroads between the 'old school' and their parents" while seeking empowerment, financial literacy and entrepreneurship.
Her findings inspired her to engage the Latina community in a new conversation. "If someone like me who has already made money doesn't do it, who's going to do it?"
"The world is our oyster at this moment, and it's silly not to go get it," she says. "If it's handed to you on a silver platter and all you have to do is show up, ask for it. Choose yourself so that you'll be chosen. Why would you not do that?"
Learn how to strengthen your brand from media entrepreneur Nely Galan. Register for the webinar today.
Vicki Salemi is a freelance journalist and author of "Big Career in the Big City: Land a Job and Get a Life in New York." Her work has appeared in The Chicago Tribune, Forbes, The New York Post, U.S. News & World Report and other publications.