Small Business
Growing Your Business
How the music festival explosion fuels small business
By
Rheana Murray
Posted: 06/20/16
Updated: 11/10/17
Even as artists struggle to get listeners to buy music, fans are happy to pay for the experience of sharing live music with their friends and several thousand strangers. Sound machine, found here and distributed through the Conde Nast Media Network in the New Yorker and WIRED, is an inside look at the people, places, and businesses creating some of the memorable weekends this summer.
Once a simple countryside gathering of jam bands, today Bonnaroo is a cross-genre, ten-stage music festival that grosses $25 million and draws 85,000 music lovers to a farm set up in what appears to be the middle of nowhere. But for the 10,000 people who call nearby Manchester, Tenn. home, the 14-year-old music festival has an outsized economic impact.
As the festival industry has exploded, producers are clamoring to demonstrate that their events bring more than car traffic and illegal drug use. In spite of music festivals' hippie roots, companies like Superfly and Insomniac commission economic studies to show the tax revenue and job creation associated with their events—and endear themselves to future locations.
And Bonnaroo is a unique case study. Because the vast majority of Bonnaroo attendees stay for all four days—and because the location is so remote—the festival has become a major economic engine for rural central Tennessee. A 2013 study by Greyhill Advisors found the average Bonnaroo attendee spends $35 per day outside the festival but within the surrounding county, totaling $36 million in direct and $15 million in indirect sales, income and jobs.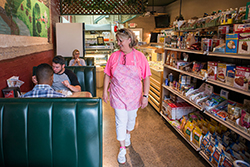 Sharon Holmes, owner of the Health Nutt, a café and store a few miles from the Great Stage Park where the festival takes place, has said she earns about 30 percent of her annual profits during Bonnaroo season. And it's not just concert-goers who are fueling up on green juice and sandwiches, she said.
"A lot of the people who set up the festival come a couple weeks ahead," Holmes said. "And then the people who clean up and stay later, they'll stay a couple of weeks with us. The people who do the ticketing—they might have 30 people and they need breakfast, they need lunch, they need dinner." While Holmes herself is off-site, she also owns a small organic farm that supplies meat and vegetables to some of the vendors who set up shop within the festival.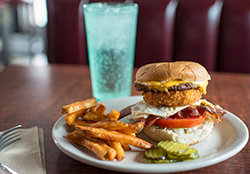 Jiffy Burger is another eatery that lures behind-the-scenes crowds plus ticket-buyers on their way to or from the festival grounds. Already a tourist attraction in its own right for their award-winning burgers and retro memorabilia, the drive-in restaurant offers a Bonnaroo Burger, piled high with lettuce, tomato, mayo, cheese, pickles, bacon, and an onion ring.
"We sell the heck out of them," said former Manchester mayor David Pennington, whose family has owned Jiffy Burger since 1965. "Not just during Bonnaroo, but year-round."
How Bonnaroo Bolsters Community and Boosts Business
Bonnaroo affects the city in other ways, too. Its philanthropic arm, the Bonnaroo Works Fund, has donated more than $5 million to Manchester since the festival's inception, funding local charities, local art projects and, in recent years, retrofitting low income family houses to be more energy efficient. Local groups volunteer to staff Bonnaroo concession booths, which in turn share their proceeds.
Festival organizers also work with local business owners like Pennington. In fact, the idea for the Bonnaroo Burger came directly from the festival, Pennington said. "Now we advertise Jiffy Burger as home of the Bonnaroo Burger," he said. "They have been a really good community partner to Manchester and to Coffee County."
Of course, restaurants aren't the only industry benefiting from the Bonnaroo boom. Retail stores, bars, and gas stations all see an uptick in sales. Hotels get extra traffic from musicians, employees of the festival, and music-lovers who choose not to camp.
In this respect, local businesses have benefitted from the growing popularity of the festival experience beyond fans dedicated enough to camp on site in tents or RVs. Sherry Cook, who owns the Leming House Bed & Breakfast in Manchester, said she starts fielding calls from people who need a place to stay during Bonnaroo in January, six months before the festival kicks off.
"The people who stay with me, they're not the type to stay in tents," she said. "It's an older crowd. They enjoy Bonnaroo for the music. They leave in the morning and don't come back until night, when it's over."
Cook's three rooms are booked throughout Bonnaroo, and she's also seen more business year-round, too. "[Bonnaroo] put me on the map," she said. "I believe it's given me more exposure. When people do come through town any other times of the year, they know me through Bonnaroo."
With the sale of Bonnaroo to concert giant LiveNation this year, it remains to be seen whether the festival will maintain its local reputation. But for now, it's a model of community relations for the many young festivals cropping up in rural location across America.
Rheana Murray is a New York City-based journalist who has written about travel and lifestyle for The New York Daily News, BuzzFeed, Refinery 29, Racked and others.