Your Life
Dining and Drinking
Gourmet Takes on Classic Summer Dishes
By
Amy Howell Hirt
Posted: 06/17/16
Updated: 11/10/17
The following is part of a broader series meant to inspire rewarding and fun summer activities following the recent launch of Freedom Unlimited.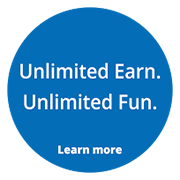 We all have a go-to dish for summer parties. Maybe you always bring a seasoned potato salad or a chocolate dessert, or keep it simple with a pack of hot dogs. This year, why not give the great American cookout a gourmet spin? Whether you're hosting or headed to a picnic, here are a few fresh and easy ways to rethink classic summer party dishes. By using your Freedom Unlimited card, earn 1.5% cash back on all of the ingredients you need for your summer party dishes.
Guacamole Deviled Eggs
Deviled eggs may have roots in ancient Rome, but it took American ingenuity to evolve this picnic staple into an indulgence, complete with its own carrying case and holiday.
If you thought this appetizer couldn't get any more delectable, meet the deviled egg that will raise your expectations for all others. Blogger Joanna Cismaru of Jo Cooks spices up this traditional appetizer by mixing in homemade guacamole—made with avocado, minced red onion, jalapeno, lime juice, and chili powder.
Of course, the possibilities of deviled egg creations are limited only by your imagination. If you've got more time and want to get fancy, sculpt a deviled egg bar that elevates eggs into artwork.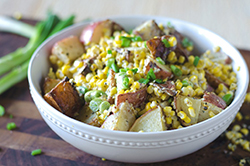 Honey Mustard Lime Grilled Potato Salad
Given the high concentration of temperature-sensitive mayonnaise found in most potato salad, outdoor gatherings in the heat of summer should be a natural enemy. Yet somehow the side dish has become a favorite item for the season.
This revamped summer classic from Jacqueline at Go Go Go Gourmet is made with lemon zest, Dijon mustard, green onions and an extra twist: The dish is served warm, with the potatoes and corn fresh off the grill.
Hawaiian Haute Dogs
The hot dog's spot on the picnic table dates back to at least 1939 when first lady Eleanor Roosevelt purportedly served them to King George VI at a cookout.
Today, the humble hot dog becomes a dreamy destination dish when served with Hawaiian-inspired toppings. This "sweet/smoky/spicy" recipe by Kristen Stevens of The Endless Meal features grilled pineapple, sprinkled with cayenne pepper and drizzled with teriyaki mayonnaise.
Salted Caramel Apple Pie
A discussion of iconic American fare simply wouldn't be complete—or patriotic—without good old-fashioned apple pie. And while it's hard to imagine a dessert that can't be improved by adding salted caramel, pairing it with cinnamon-spiced apples and a deep-dish crust might be the quintessential match made in heaven.
This recipe from Sally's Baking Addiction features a homemade crust and sauce, or you can use store-bought ingredients if you're short on time (or baking skills).
Gourmet Burger du Jour
Grilling up a burger is a natural fit for outdoor dining—and eating, stretching back as far as an 1885 county fair. Lucky for us, the more recent gourmet burger craze resulted in enough variations on a theme to fill every day of summer.
For a taste of the Mediterranean isles, there's a Greek burger made with feta, black olives, oregano, and a splash of white wine. Or you can top your favorite burger with a mouthwatering medley of goat cheese, bacon, lemon aioli, and crispy onion strings. There are creations for mushroom lovers, BBQ chicken aficionados, and even those who don't partake in meat-eating.
With so many flavors to savor, summer hasn't yet officially begun, but it already feels short. Time to strike up the grill and have some fun this summer to bring out your inner chef.
Amy Howell Hirt has covered housewares and home design for 13 years, serving as a reporter, editor, contributor and columnist.