Your Life
Home
Design Inspiration for Your Home
Give Your Spare Room a Makeover
By
Rebecca Dalzell
Posted: 07/07/16
Updated: 11/10/17
The following is part of a broader series meant to inspire rewarding and fun summer activities following the recent launch of Freedom Unlimited.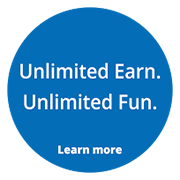 Does your spare room need a makeover? Smart design strategies and versatile pieces can transform these spaces without costly renovations while retaining flexibility to use the room differently over time.
Start by thinking about paint colors that are adaptable. "Neutral or muted palettes are a good backdrop," says architectural designer Rayaan Shums, who provided some of the tips below. "Choose a color scheme that relates to rest of the house, either cool (gray, blue or purple) or warm (beige, yellow or green)."
That palette will help guide your purchases, which can often serve dual purposes as the room evolves. Architect Ian Greenberg created the renderings below to show how to adjust the same space for different uses. Spruce up your spare room and use your Freedom Unlimited card to earn 1.5% cash back.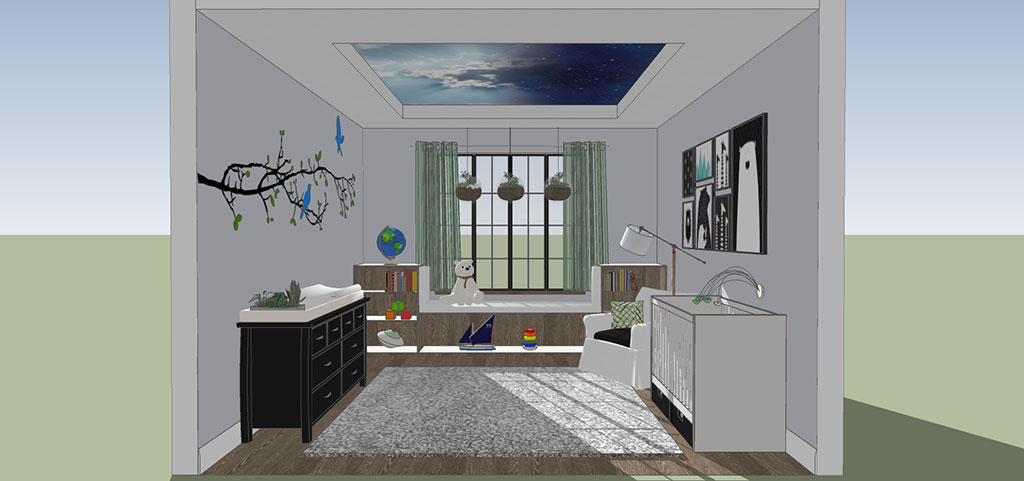 NURSERY
1. Decorate in calming, neutral colors that are not age- or gender-specific, so it can mature with your child. For a playful touch, use colorful decals or blackboard paint on one wall.
2. Opt for a dresser that can double as a changing table. Store diapers and wipes inside -- within arm's reach.
3. Choose a crib that converts into a toddler bed, and bolt or bracket it to the wall to ensure its stability.
4. Add a plush area rug as a design element as well as a soft place for a crawling baby.
5. Create a cozy corner with a rocking armchair, reading lamp and canvas bins for books and toys.
To buy: colorful decals/blackboard paint, dresser with removable changing table, versatile crib, soft area rug, rocking chair, reading lamp, canvas bins.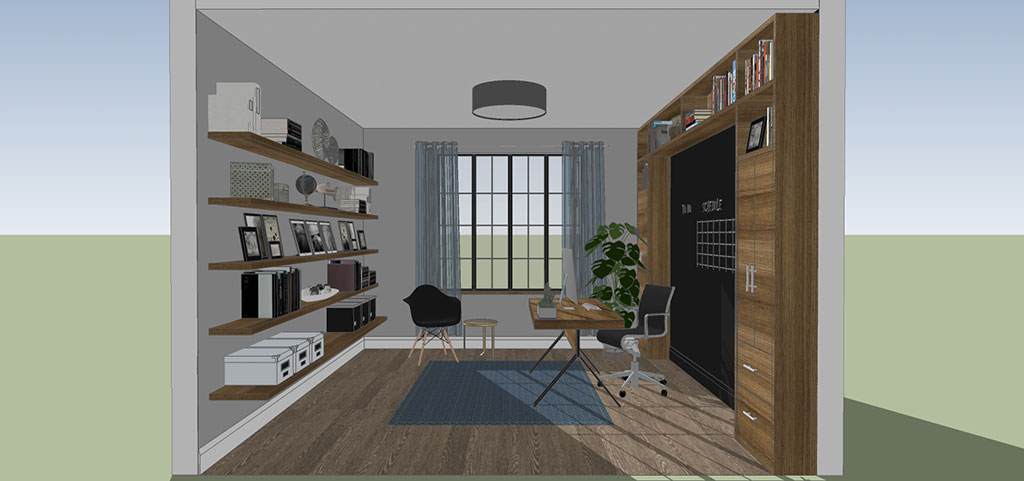 OFFICE
1. A home office should be efficient, comfortable and inspiring. Position the desk next to a window or a piece of artwork, so you can glance up from the computer when you need some inspiration.
2. Consider alternatives to a traditional desk, such as a vintage table; anything at least 24 inches deep will do.
3. Invest in a chair with lumbar support, padding and an adjustable seat, as well as good lighting, so you don't strain your eyes.
4. Keep the room clutter-free: Use wicker boxes for files, trays to organize pens, and install doors on bookshelves for discreet extra storage.
5. Tame the jungle of wires using cord winders or tubing that can be attached to the underside of the desk. Use a single power bar to connect multiple electronics.
To buy: artwork, work table, wicker boxes, desk chair, desk lamp, cord winders, power bar.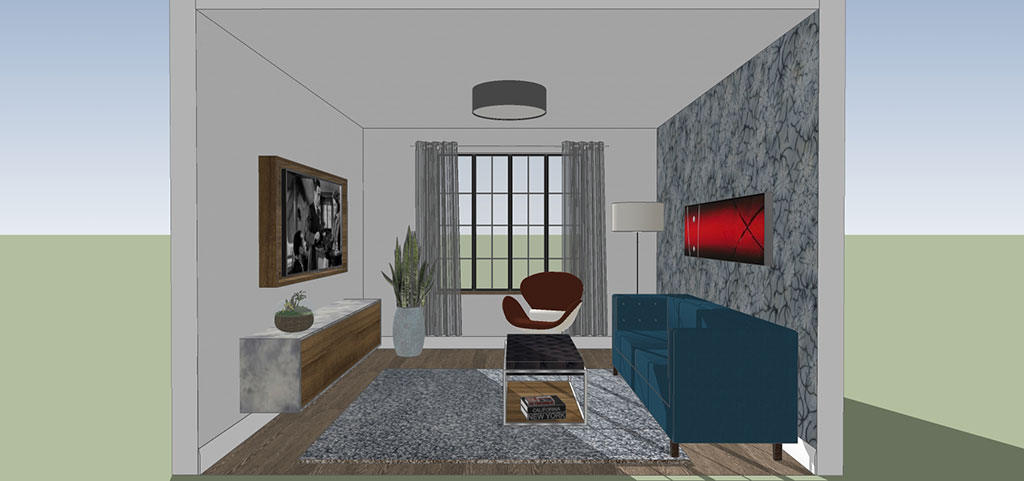 DEN
1. Give the room some character with an accent wall, using bright paint, stencils or wallpaper.
2. Select durable materials, like a synthetic rug and couch covers made of indoor/outdoor fabric.
3. Mount the television on the wall instead of a space-hogging console. It will stand out less if you place it among bookshelves or art.
4. Pick furniture that does double duty as a foot rest and as storage. Ottomans with lids, a coffee table with a lower shelf or an old trunk all could work.
To buy: wallpaper/paint, synthetic rugs, couch with durable fabric, coffee table with storage.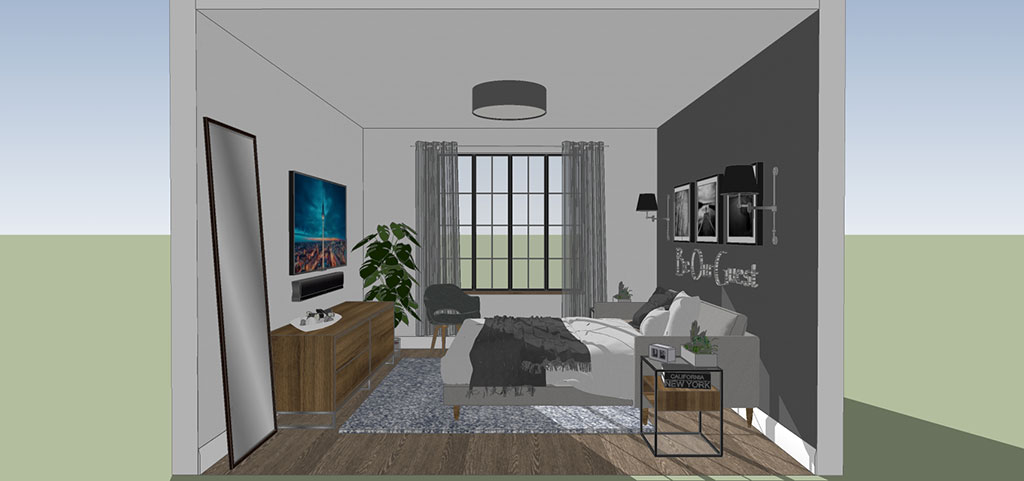 GUEST ROOM
1. Make the space versatile with a comfortable fold-out couch and a dresser to store bed linens and guests' clothing.
2. Place a reading lamp, alarm clock and a tray for jewelry and glasses on the nightstand.
3. Create a mini library of local guidebooks or novels for guests to read, and add a small table and chair if space allows.
4. Hang a mirror to make the room feel larger and give guests a place to freshen up.
5. Incorporate some greenery with low-maintenance succulents or air plants, or convincing fake plants.
To buy: fold-out couch, dresser, nightstand, reading lamp, clock, tray, books, chair, table, mirror, plants.
Rebecca Dalzell is a journalist and historian. Her writing has appeared in The Washington Post, New York magazine, Travel + Leisure, Time Out and other publications.