Your Money
Understand Your Finances
Savings Diaries: When a partner leaves a job, planning—and saving—helps
By
John Schneider and David Auten
Posted: 06/12/18
Updated: 07/17/18
This is part of Savings Diaries, an original series in which people share how they try to reach key savings goals during 2018. It is part of a broader Chase initiative to encourage more Americans to save money.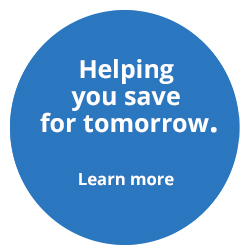 This year has given us a lot of dizzying highs, and challenges. In January, when our business was looking up, we decided to take a big step toward some of our most important life—and savings—goals.
Taking a chance
One reason we went into business for ourselves was because we wanted to be geo-liberated: financially independent, geographically untethered, and able to spend more time together. Two years ago, when our Debt Free Guys website and "Queer Money" podcast started to take off, we took a step in that direction. John left the W-2 world and dove into freelance. Luckily, we had a financial safety net: David had a full-time job, complete with regular pay, health care coverage, retirement benefits and vacation time.
This year's leap is that David quit his full-time job. Whee!
Now, we're both full-time entrepreneurs, and dealing with all the joys—and risks—that come with that. This is more exciting—and scary—than when John quit his job. We're more financially independent, but we're also more responsible for making rent, covering health care, and reaching our savings goals. We used to have the security of being able to rely on an employer, but now, that safety net is gone.
The roller coaster
Benjamin Franklin said the only certainties in life are death, and taxes. We'd add another certainty: Murphy's Law, the rule that says that anything that can go wrong, will. Almost as soon as David quit his full-time job, two deals we'd been working on fell through. They weren't our biggest contracts, but were significant.
We're still processing our emotions. It feels like we're at the apex of the biggest drop on this roller coaster: we're at a point when it's still possible to get off the ride, but we're determined to finish it.
We keep reminding ourselves that, while full-time employment seems to have more certainty than freelance, it doesn't come with any guarantees. Even in good financial times, people unexpectedly lose their jobs every day—and this is especially true in the 29 states where it's still legal to fire a lesbian, gay, bisexual or transgender person for their sexual orientation, or gender identity. Looking at it that way, becoming our own bosses could be the path to giving ourselves even more security.
Hanging in
But that's in the future. Right now, the ugly of our current situation is that it puts our near-term savings goals at risk. As we previously wrote, we want to invest $10,000 in each of our retirement accounts, and save $10,000 in our vacation fund for our trip to Europe later this year.
If we had to choose, we'd give up our 2018 travel plans for the sake of funding each of our retirement accounts. After all, with time and investing, those savings would yield a far larger return than a trip to Europe. We can reschedule our trip for 2019, but we can't make up a year of missed investing.
Achieving our 2018 goals is still possible, and important to us. It means that we have to get more aggressive with finding new business, and cutting more expenses than we expected.
Thankfully, we prepared for this: before John quit his full-time job, we saved more than six months' worth of living expenses. David will probably be unhappy about dipping into savings, but we're grateful the option is there.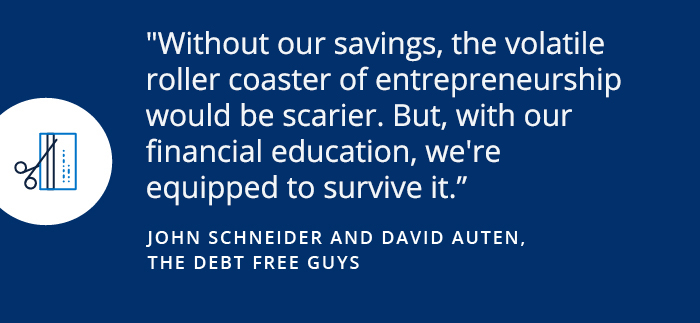 There's a lesson here, not just for us, but for everyone looking to thrive in difficult times. Without our current savings, this volatile roller coaster of entrepreneurship would be scarier. But, with our financial education, we're equipped to survive it.
John Schneider and David Auten are Chase News contributors. Their work has appeared in Business Insider and Forbes.