Your Life
Inspiration
Jon Batiste's Social Music: Jazz for the Sharing Age
Making Music Wherever, Whenever
By
Rebecca Dalzell
Posted: 06/10/15
Updated: 11/10/17
Jon Batiste never sits still at a concert. Even when performing at Carnegie Hall, the pianist jumps into the aisles, riling up the crowd. That's the key to "social music," his term for the infectious, joyful tunes he plays.
Sometimes he and his band, Stay Human, skip traditional venues entirely. With his portable melodica, a cross between a keyboard and harmonica, Batiste can take his music into the streets. Stay Human has played in subway cars, jails, the desert and on ski slopes — anywhere they can bring people together. In late June, they'll take over Manhattan's NoMad Hotel for a week-long residency presented by Chase Sapphire Preferred®.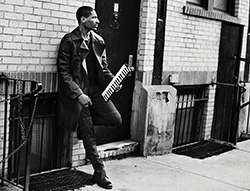 This fall Batiste will take up a long-term residency on late night television: He'll be the bandleader on CBS's Late Show with Stephen Colbert.
Though Stay Human riffs on everything from ragtime to soul to pop, genres are beside the point. "The idea of social music is to create a form of music and an experience," Batiste said recently over dinner in Greenwich Village. "No matter where we are, we can create a sense of community."
It's a feeling he grew up with in New Orleans, where even a funeral can erupt into a brassy second line parade. Born into a family of musicians, Batiste started performing at age 7 and later formed a band with his cousins. His first album, at 17, spanned a variety of styles, reflecting his hometown's global blend.
"The past and present exist as one in New Orleans," he says, noting its specific mix of cultures — French, Spanish, Caribbean, African — goes back 100 years. He points out that it's only now, with the Internet, that the world is as synthesized as turn-of-the-century New Orleans was. That blend created jazz.
Steeped in Jazz History, With a Social Edge
Moving to New York, Batiste studied jazz at The Juilliard School and toured with luminaries like Wynton Marsalis and Abbey Lincoln. But after a few years he says he tired of the formality of jazz clubs, finding the experience outdated. "I felt that my generation couldn't relate to it," he says. "It dawned on me that you have to make it engaging and bring it to people in some way that makes them feel welcome. It's like musical hospitality."
Batiste knew he wanted to create a live experience based in jazz, but it took a while for him to articulate it as social music. Then one night Stay Human left a show on the Lower East Side and started playing as they walked down the street. A crowd formed and swelled to some 300 people, who kept chanting for more songs.
"It was literally kinetic energy, like a riot," he recalls. "People who didn't know each other were just coming together." That was the feeling he had been looking to create. Now he calls these spontaneous concerts "Love Riots," because "it's pretty hard to not love the person next to you when you're dancing and singing along with everybody."
Connecting Fans Too Focused on Technology
Batiste says his generation needs this kind of connection. Lost in their phones, they're distracted and disengaged. "We're communicating at a rapid pace, but what is the actual depth of the content we're sharing? I think there's a lack of understanding of how the arts and their genuine human exchange can create a rich experience for everyone."
Live, instrumental concerts make people look up from their screens, Batiste says: "Once everyone's in the same room, that's when the magic happens." That's not to say he's against technology. He embraces it.
Batiste and his Stay Human bandmates — Eddie Barbash on sax and percussionist Joe Saylor — are friends from Juilliard. They're all jazz musicians, but Batiste doesn't consider what they play to be jazz. Though it's eclectic and improvised like jazz, there aren't the rhythm changes, song forms and standards that define the genre, he says. Instead of preserving jazz, as Marsalis and others do, "we use those elements of jazz that make it special and apply it to every style we play."
Batiste still keeps a foot in the jazz world as artistic director-at-large of the National Jazz Museum in Harlem, N.Y. He lectures about the history of American music, curates concerts and leads a workshop called Jazz is Now, which explores the music in a modern context. When on tour, he stops by schools to teach and mentor students, which will also be an element of the NoMad residency.
Given that the number of people listening to jazz is declining, Batiste says, the challenge for young artists isn't to make more people like jazz but to create a new experience based in its tradition. He points out that jazz has always evolved with the times, like when Miles Davis went electric.
Jazz is here to stay, Batiste says, because it's a powerful part of the culture. But he sees it evolving in the direction of social music – spontaneous, engaging and relentlessly happy.
Let's hope so.
Jon Batiste and Stay Human's weeklong Social Music Residency at the NoMad presented by Chase Sapphire Preferred begins June 23, culminating in the next Love Riot on June 29.
Explore the premium rewards of Chase Sapphire Preferred.
Photo by Betsy Newman | Rebecca Dalzell is a journalist and historian. Her writing has appeared in The Washington Post, New York magazine, Travel + Leisure, TimeOut and other publications.