Your Money
Understand Your Finances
The truth about women when dealing with surprising medical costs
By
Pauline Millard
Posted: 06/06/17
Updated: 11/10/17
The financial resilience of families is critical for the health of the US economy. But for many families, an unexpected health emergency—and the costs associated with it—can cause economic hardships that are difficult to bounce back from.
One in six families makes an extraordinary medical payment in any given year. Often, their financial health worsens as a result, and they do not fully recover, even a year later. This is especially true for women.
Between 2013 and 2015, the JPMorgan Chase Institute looked at 210,000 anonymized Chase checking accounts and compared the financial outcomes of women versus men after an extraordinary medical payment.
Here are some key findings:
1. Most primary account holders were men, but low-income account holders were more likely to be women
Over the three-year period of study, accounts with female primary account holders had lower incomes, lower spending, lower liquid assets, and lower revolving credit card debt.
However, they also had higher debt relative to their income than accounts with male primary account holders.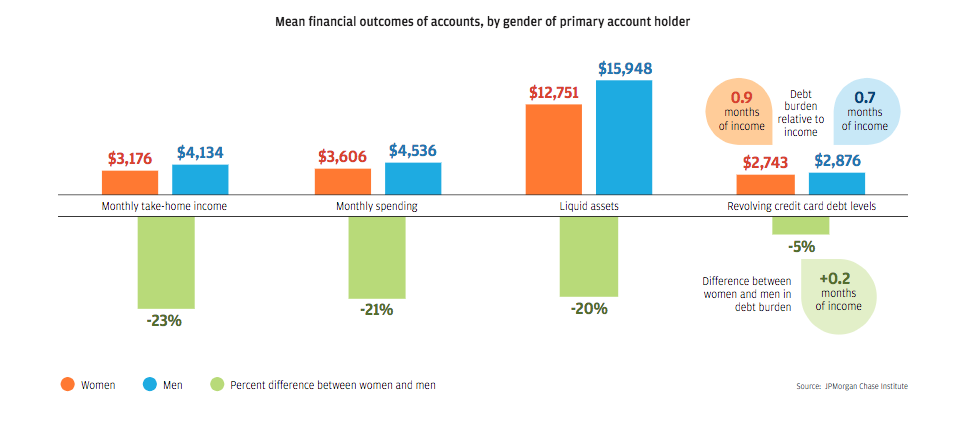 2. There was a gender gap in financial outcomes
Women had roughly 20 percent lower levels of income, spending, and liquid assets, and slightly higher credit card debt than men after an unexpected medical payment.
3. Extraordinary medical payments represented a higher fraction of monthly take-home income for women than for men
Women were in a weaker financial position than men to withstand an extraordinary medical payment. They also had less ability to absorb such payments with their monthly income.
4. Before making an extraordinary medical payment, women would have an increase in liquid assets relative to men
This suggests that women were more likely than men to delay a medical payment until they were able to pay.
5. A year after the extraordinary medical payment, women were left with significantly more revolving credit card debt than men
Women ended up with more revolving credit card balance than men, despite the fact that they often had less before the medical payment.
You can read the entire report here.
Pauline Millard is a Chase News contributor.