Your Life
Arts & Culture
7 American music festivals worth a road trip
By
Rheana Murray
Posted: 06/20/16
Updated: 11/10/17
The following story is part of a series about music festivals, presented by Chase Freedom Unlimited, and is intended to inspire rewarding and fun activities.
As soon as spring turns the corner, it feels like social media is inundated with posts about music festivals. And for good reason: Festivals are great ways to be outside and explore new music or see several bands and musicians you love perform under the same tent.
Festivals aren't only happening in coastal meccas and big cities, either. While you might already be familiar with heavy-hitters like Lollapalooza and Coachella, the success of these larger events has ushered in a new wave of smaller festivals, popping up all across the country.
That also means music lovers have more to choose from. These six festivals have distinct musical personalities and are located off the beaten path—making them perfect destinations for warm weather adventures. When you attend Festivals, don't forget to bring your Chase Freedom Unlimited card with you to earn unlimited 1.5% cash on everything you buy.
Big Ears Festival in Knoxville, Tennessee (March)
If guarding your spot in front of the stage all day isn't your thing, consider Big Ears, which takes place at different venues across downtown Knoxville, Tenn. A combination music and film festival, Big Ears is known to showcase the avant-garde and hard-to-classify (this year: Laurie Anderson, Nico Muhly, and Anthony Braxton), and lacks many of the sponsor gimmicks and promotions of bigger festivals. Complimentary bikes are available, and all events are within cycling distance of Knoxville hotels, many of which offer a special Big Ears rate.
Tortuga Music Festival in Fort Lauderdale, Florida (April)
Who says you have to choose between a beach vacation and a music festival? The Tortuga Music Festival is a three-day bash held every April on the white sand at Florida's Fort Lauderdale Beach Park. There's no camping, but there's no shortage of hotels, restaurants, and bars catering to out-of-towners. The festival draws some of the biggest names in country and rock, like Blake Shelton, Kenny Chesney, and Slightly Stoopid. More good news for beach-lovers: A portion of the ticket sales benefit the marine conservation efforts of the Rock The Ocean Foundation.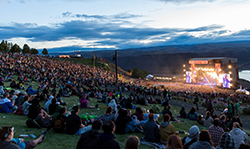 Sasquatch! Music Festival in George, Washington (May)
The draw here is the view of the Columbia River Gorge, a breathtaking backdrop for this Memorial Day weekend festival, and an unparalleled setting to pitch a tent. Pay up for V.I.P. glamping experiences, or rent your own camping equipment in Seattle, about two hours away. Sasquatch! veterans recommend planning out a campfire-friendly menu in advance, as dining options are limited. This year's headliners included Major Lazer, The Cure, and Florence and the Machine.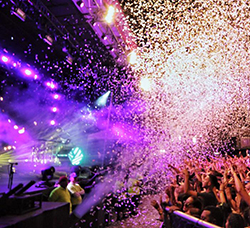 Neon Desert Music Festival in El Paso, Texas (May)
If music festivals evoke images of hippie crowds and open fields, know that Neon Desert breaks the mold—the festival is held downtown in the border city of El Paso, Texas, and the music ranges from hip-hop to electronic. The Memorial Day weekend-long festival draws major DJs like Tiesto and performers from Wiz Khalifa to Daddy Yankee, at a more affordable ticket price than many of their other festival stops. At just $250 for a weekend-long VIP pass (complimentary drinks, tacos, and pizza), and surrounded by affordable hotels, this one might be worth flying for.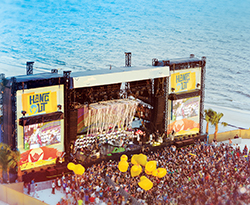 The Hangout Music Festival in Gulf Shores, Alabama (May)
Ideal for beach-goers who want to catch some shows without ever leaving the sand, the Hangout Music Festival will be held for three days right on the coast of Gulf Shores, Ala. Festival-goers stay in condos and hotels, and the vibe is a big spring break dance party on the beach. Water access is limited, but it's easy to cool off with frozen drinks and breezy, oceanside hammocks. This year's acts included Calvin Harris, Alabama Shakes, and The Weeknd. Hangout veterans recommend stopping by Lulu's or Bill's by the Beach for seafood and drinks at better prices. And don't forget a bag for your sunscreen and sandals.
High Sierra Music Festival in Quincy, California (July)
If you're looking for a mellow scene where you can soak up some live bluegrass and folk or catch your favorite jam band, you'll find it in the mountains of northern California. The High Sierra Music Festival is held every Fourth of July weekend in Quincy, about 80 miles from Reno, Nev. This year's lineup includes Ben Harper and Dr. Dog, and insiders swear by the after-hours, limited capacity shows (tickets sold separately). Get there early for a shady campground and visit the nearby public pool if you need a swim and a shower.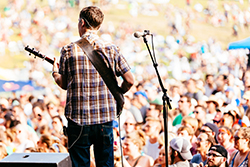 Hinterland Music Festival in St. Charles, Iowa (August)
Marketed as a festival "for all who love both music and the outdoors," Hinterland is a great August escape for Midwesterners, held in a rural area outside Des Moines, Iowa. St. Charles, home to less than 1,000 people, is a serene setting for a campsite and the folk sounds of Hinterland, which this year includes Willie Nelson and Ray Montagne. In only its second year, Hinterland already has a reputation for being family-friendly, thanks to quieter campgrounds and a dedicated Kinderland arts playground.
Rheana Murray is a New York City-based journalist who has written about travel and lifestyle for The New York Daily News, BuzzFeed, Refinery 29, Racked and others.