Your Life
Arts & Culture
How Music Festivals Have Become a Big Business
By
Ilana Kaplan
Posted: 06/20/16
Updated: 11/10/17
Even as artists struggle to get listeners to buy music, fans are happy to pay for the experience of sharing live music with their friends and several thousand strangers. Sound machine, found here and distributed through the Conde Nast Media Network in the New Yorker and WIRED, is an inside look at the people, places, and businesses creating some of the memorable weekends this summer and part of a broader series to explore summer activities that provide unlimited inspiration following the recent launch of Freedom Unlimited.
Woodstock is one of the most enduring images of American pop culture. But following the chaos of its Generation X revival, Woodstock '99, it seemed large-scale, outdoor music festivals were naïve and outdated. Happily, the music festival has been reinvented over the past ten years into a safe, expertly-produced choose-your-own-adventure experience enjoyed by 32 million Americans last year (including seven million millennials).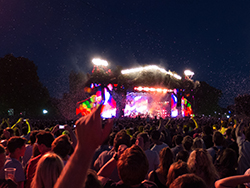 Some festivals, like Governor's Ball and Coachella, promise the biggest acts on the radio—and the best party in town. Others, like jam band-and-camping festivals Hinterland and High Sierra, cater amenities to a particular community. In any case, these events are a representation of how we listen to music now: socially and immersively, skipping between tracks (or stages) as we please.
As record sales decline with the rise of streaming services, it seems likely that festivals will become a pillar of the music industry—and a fixture of the American summer. Venture Festival is a look at the festival phenomenon from the inside out.
First, we introduce six music festivals that are just off the beaten path. Gatherings like Big Ears in Knoxville, Tenn., and the Hangout on the Gulf Shores of Alabama take advantage of beautiful American cities and scenery, making them the perfect summer weekend excursions.
To learn what the festival scene is like from the main stage, we spoke with Grammy-nominated singer-songwriter James Bay. Part of a wave of chart-topping, soulful Brits, it's little wonder Bay played big American festivals for the first time this summer.
Musicians aren't the only people that draw festivalgoers in droves: Essence Festival rounds out performances by Kendrick Lamar and Mariah Carey with empowerment seminars from community leaders Misty Copeland and Rev. Al Sharpton. Essence editor-in-chief Vanessa de Luca explains how the event reflects the changing publishing business.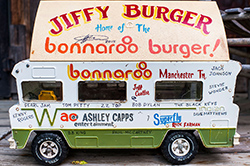 Nor are musicians the only people benefitting from the festival boom: Small business owners in Manchester, Tenn. describe the economic engine that is Bonnaroo, and give us a glimpse of the "Bonnaroo Burger."
Whether you're looking for a new experience or curious about the evolution of the music industry, Venture Festival is proof there's more to these descendants of Woodstock than flower crowns.
Ilana M. Kaplan is a writer living in New York City. She has written about music for Rolling Stone, New York Magazine, Pitchfork and others.