Your Life
Innovative Technology
Home Makeover Tips: Remodeling Your Kitchen
You Don't Need to Spend a Fortune to Give Your Kitchen A Modern Feel
By
Kara Wahlgren
Posted: 07/08/16
Updated: 06/27/18
In partnership with Chase Home Equity Line of Credit offerings - This series called Home Makeover Tips, discusses the most common home improvement topics. Renovation projects can be both daunting and expensive for homeowners. To properly pull off an upgrade, one should have an understanding of the scope of the work, have options to afford materials, and have a good understanding of the best types of DIY projects to take on. So, with the help of home renovation experts, get ready to paint and hammer your way through a dream home makeover.
Your kitchen is the heartbeat of your home. From that morning cup of coffee to cooking your favorite meal, a great kitchen is one of the main factors in making your house feel like a home. That's why it is usually a priority on the list of home improvements for many homeowners.
Of course, renovations can be daunting and costly. And you certainly do not want to break the bank or your fingers in the process.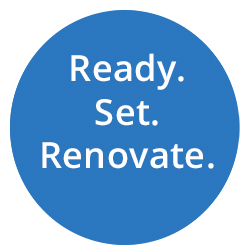 A Home Equity Line of Credit is one way to create a kitchen upgrade fund. "Whether investing in your dream kitchen or simply replacing an old roof, a home equity line of credit could be the right financing option," says Serhat Oztop, Chase Home Equity Executive. "The first step, prioritize your home improvement wish list. Then, speak with a Home Lending Advisor to learn more about your financing options. Our goal is to have your family enjoying their new kitchen instead of worrying about debt. Ensuring our customers can comfortably repay is a critical part of our process ."
Once you've created a plan to pay for the project there's just that little task of actually getting it done. With the guidance of Danny Lipford, a remodeling expert and host of the TV and radio show Today's Homeowner, here are smart and easy ways to create the culinary nook of your dreams.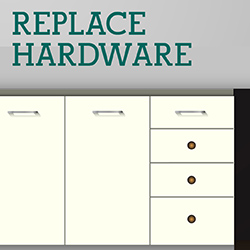 Replace Hardware
Switching out the knobs and handles on your cabinets is probably the easiest way to change the look of your kitchen. Take your current hardware to the store and look for a new style that'll cover up the existing holes. "You can get adventurous and go with polished brass or stainless steel," Lipford says. "With just a screwdriver and an hour, you've really done something to bring your kitchen into 2016."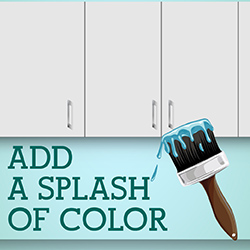 Add a Splash of Color
A can or two of paint can change the whole look of your kitchen in just a few hours. If your cabinets are so outdated that no amount of scrubbing will save them, consider painting them off-white for a clean, timeless look. Then remove any dated wallpaper, and paint your walls with a light, neutral color to make the space feel instantly bigger. Opt for moisture-resistant paint—semi-gloss works well for cabinets, and easy-to-clean eggshell is typically best for walls.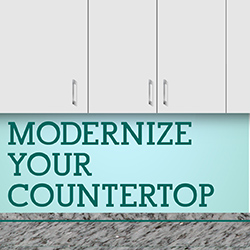 Modernize Your Countertop
Investing in a countertop that you love is one of the most noticeable changes that you can make to your kitchen. Kitchen counters become a major focal point as they are for meal prepping and serving guests. You can spring for granite or alternatively, simply re-coat your laminate countertop with paints specifically formulated for the task, including products that look strikingly similar to granite. "This is such a DIY-friendly weekend project," Lipford says.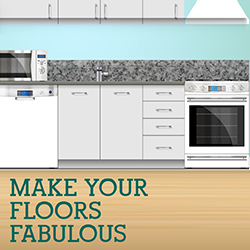 Make Your Floors Fabulous
Your floor is one of the biggest surface areas in your kitchen, so updating it will make a huge difference. Floating laminate floors are easy to install—even if you're a DIY novice—and come in a wide variety of colors and styles. Peel-and-stick vinyl planks are another simple and surprisingly durable solution. "All the tools you need are a tape measure and a razor knife," Lipford says.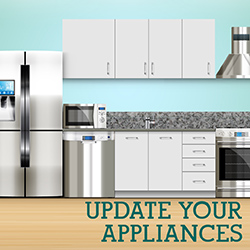 Update Your Appliances
Upgrading to stainless steel appliances can make your whole kitchen space feel modern. Home improvement stores have plenty of affordable stainless options, and Lipford recommends replacing everything at once to take advantage of package deals. "You can get a tremendous bargain buying them together," he says.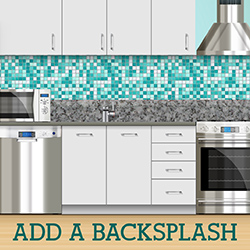 Add a Backsplash
While many may want to invest in marble countertops or a limestone range hood, you can also achieve the high-end look of natural stone or glass tiles with a backsplash behind the stove or sink. Because the area is relatively small, it's far less expensive than tiling an entire floor or accent wall, but can still add a luxe feel to your kitchen. Lipford recommends peel-and-stick products that let you quickly adhere tiles to the wall before grouting. "In a few hours worth of work, you've got a backsplash," he says.
Bright, modern renovations can make you feel great about entering your kitchen, but they don't have to drain your finances. You can mix and match these updates to transform your kitchen into a space you love.
Kara Wahlgren is a full-time freelance writer based in New Jersey. She specializes in health writing, entertainment coverage, and personal finance. Her work has appeared in Women's Health, HGTV, Fine Living, MSN, Yahoo and more.