Your Life
Home
The Do's and Don'ts of Home Improvement
Tips & Tactics for Renovation Projects
By
Elizabeth Millard
Posted: 06/10/16
Updated: 02/10/20
In partnership with Chase Home Equity Line of Credit offerings - This series called Home Makeover Tips, discusses the most common home improvement topics. Renovation projects can be both daunting and expensive for homeowners. To properly pull off an upgrade, one should have an understanding of the scope of the work, have options to afford materials, and have a good understanding of the best types of DIY projects to take on. So, with the help of home renovation experts, get ready to paint and hammer your way through a dream home makeover.
Home improvement can cover everything from small changes to major renovations. Unfortunately, projects of any size can come to a halt due to unexpected roadblocks. Make sure your home improvement path is clear by following some proven tips.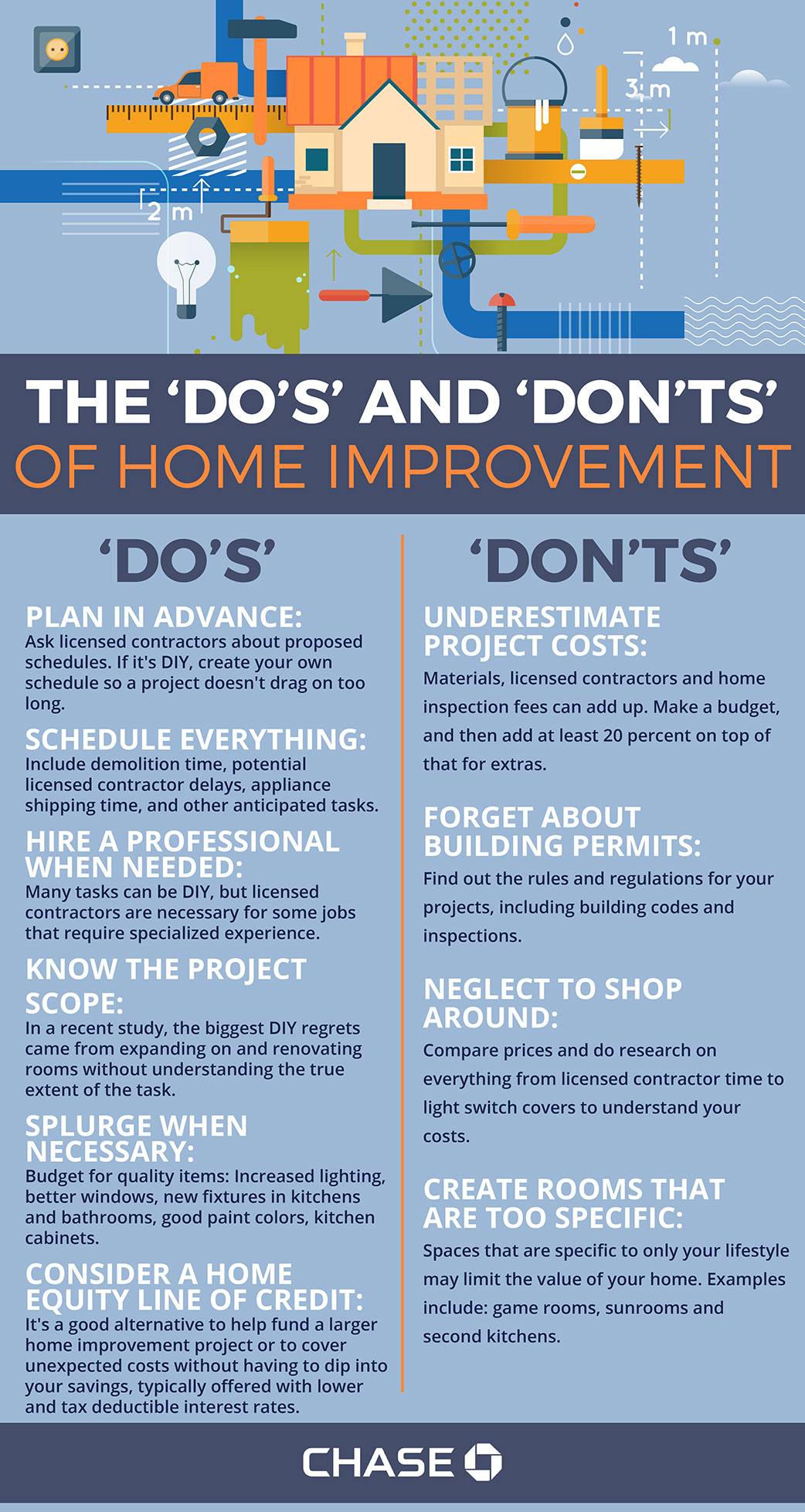 Home Renovations: Dollars & Sense
When it comes to making the most of your home improvement project, it's important to ensure that you spend no more on each room than the value of that room as a percentage of your overall house value.
Setting a budget begins (and often ends) with properly allocating work to be done. For the most part, you can DIY for painting, appliance installation, minor demolition, trim and finish work, but consider licensed contractors for electrical work, plumbing, framing and drywall, HVAC, gas lines, venting, major structural repair, and concrete pouring.
Ultimately, you'll want to think about cost of improvements versus value, which will change according to where you live. Talk to a home equity or mortgage professional about how to determine how much equity is in your home. Often, you end up with a lower interest rate with a home equity line of credit compared to other funding options like credit cards or personal loans.
In closing, don't lose focus of your goal. Sure, there's mess and a bit of chaos during the renovation process, but if the project is finished properly, it should be worth the trouble. Improving your home will raise its value, but most importantly, it will turn spaces into areas that you and your family can love.
JPMorgan Chase does not offer tax advice. Please consult your tax advisor regarding the deductibility of interest for home improvements.
Elizabeth Millard is a freelance writer whose work has appeared in Entrepreneur, BusinessWeek and Delta Sky Magazine, among other publications.