Your Life
Arts & Culture
Live from the Artists Den: Panic! at the Disco
By
Elise Hennigan
Posted: 06/03/16
Updated: 07/10/18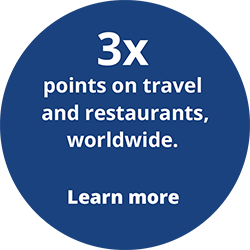 In March, Panic! At The Disco played a secret show to 500 lucky fans at the historic Mayan Theatre in Downtown Los Angeles. The crowd cheered with excitement as lead singer Brendon Urie broke into each song, even roaring in response to his chorus of the band's latest hit "Victorious"—"All my friends, we're glorious, tonight we are victorious." A sea of heads bobbed in approval, shoulders bouncing in tempo and glowing smartphones thrust high in the air captured every moment.
And, when Urie landed a flawless backflip from an upper platform of the stage during fan-favorite "Miss Jackson", the crowd went wild.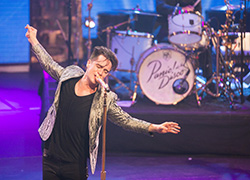 Artists Den recorded the performance for its popular Live from the Artists Den PBS series, which matches artists with unique, often historic settings. Among the VIPs in attendance for this special night were winners of the Chase Sapphire® cardmember VIP ticket sweepstakes and their guests, who enjoyed the memorable concert from a reserved viewing area, received evening memorabilia, and attended the after-party.
"I never win anything, so when I got an email from Chase, I [thought], 'This is awesome!'" Paul Celebucki said before the show. "I was having a pretty stressful day, but this turned it around." He brought along his friend, Jessica Gutierrez, who said she also loves the band.
"I've been a fan for years, so there is a sense of nostalgia," Gutierrez said. "But their new stuff is great, so it's also really exciting to hear what they are doing now."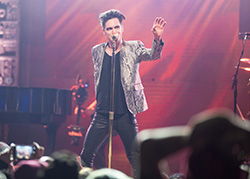 While some superfans in the crowd have seen Panic! perform countless times, the unique venue made this show a night to remember. "It's gorgeous, it's absolutely gorgeous," raved Monica Clason, another Chase Sapphire VIP guest.
"It's really awesome," Celebucki agreed, "I like the vibe."
The Artists Den often showcases a new architectural landmark with each episode. Past venues include Graceland, the first art museum in America, a Masonic Temple, the world's oldest merchant sailing vessel, and The Metropolitan Museum of Art.
With its breathtaking 1920s Mayan revival architecture, The Mayan has played a key role in the much-talked-about revitalization of Downtown Los Angeles. A number of historic theaters built nearly a century ago have sat empty and unused until recently.
Entrepreneur and business owner Sammy Chao had a vision when he took over operations of the Mayan in 1988. He restored the original interior, invested in lighting and audio equipment, and has attracted artists like Moby, Muse, Daft Punk, and Jack White since the '90s.
"Sammy was one of the first to come downtown and turn an old, empty theatre into a cultural destination," his daughter, Susan Chao, explained. She is now vice president of the family-run theater.
The Panic! At The Disco show introduced a new generation of music lovers to this historic place. "It genuinely means a lot to us that the Artists Den appreciates this venue," Chao said.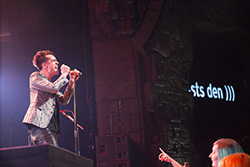 The band played several tracks from their critically-acclaimed new record, Death of a Bachelor, including "Hallelujah" and "The Emperor's New Clothes," but also rewarded longtime fans with classics like "Time to Dance" and "Nine in the Afternoon." Urie hit sky-high falsetto notes, rocked an unexpected drum solo, and landed another backflip. The crowd absorbed his energy and expelled their own, limbs flying, faces smiling.
"I've been a big fan since they first started, when I was in high school," said another Chase Sapphire VIP guest. "Listening to their music brings me back to when I was 15, super happy and innocent. Brendon is one year older than me, so we basically grew up together!"
By the time the band began the night's final song, "I Write Sins, Not Tragedies," the crowd had reached their happy place. Blue rays of light illuminated intricate carvings on the walls and bounced off beaming faces. No doubt the fans would've landed ecstatic backflips of their own, if they'd had room to try.
Elise Hennigan is a Los Angeles-based journalist. She writes about culture, community, music, and art.