Your Life
Inspirational Thinking
7 Unforgettable Moments With Your Kids
Because Time With Them Means Everything
By
Kara Wahlgren
Posted: 06/06/16
Updated: 11/10/17
The following is part of a broader series meant to inspire rewarding and fun summer activities following the recent launch of Freedom Unlimited.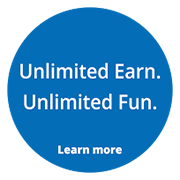 Kids just want to have fun—and parents just want to share in those happy moments. But when simultaneously juggling priorities like a career and parental duties, finding time for fun can be a challenge. In fact, according to a recent Chase survey, 97 percent of respondents believe fun is an important part of their day, but only 53 percent feel like they're actually having enough of it.
This "fun gap" probably doesn't come as a surprise to busy parents. When your calendar is already jam-packed, it can be hard to find time to create those magical childhood moments for your kids, no matter how much you want to. But some parents manage to make the work-life balance look easy-peasy—so we asked two of them to share their secrets.
Don't overlook the early hours.
By waking up a few minutes earlier, you can turn the morning rush into a family-bonding opportunity. Coltrane Curtis, founder of the creative agency Team Epiphany, values the crack-of-dawn quality time he shares with his 4-year-old son, Ellington. "I cook breakfast for him every morning, and we prepare his lunch together," he says. "It might take a little bit more time, but he's an early riser anyway, so we might as well do that instead of watching cartoons."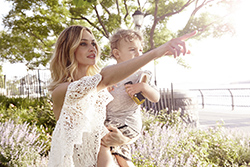 Go exploring.
Traveling with your kids can be enriching, exhausting and unpredictable—but it's never boring. "For me, it's so important to bring the kids," says Esther Houston, a New York City-based model, creative director, fashion blogger and mom to 2-year-old Zion. Family getaways will give everyone a break from the routine—even if you're just exploring your hometown together.
Rediscover your local library.
Online streaming isn't the only way to enjoy free books, movies and music—your local library has all of the above, plus an array of educational activities for kids. "You can just go and read stories, and they love that," Houston says. Libraries often host kid-focused community events like story hours, craft projects, gaming get-togethers and even yoga classes.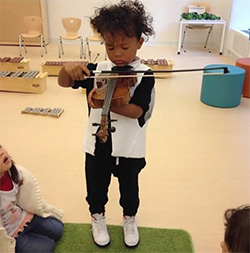 Have family jam sessions.
There's a strong link between music and memory, and studies have shown that many people develop their lifelong music preferences during their childhood. Coltrane cultivates Ellington's love of music by exposing him to a broad range of styles. "As much as he loves the Nae Nae, we also try to sprinkle in a lot of roots music, and let him find the genres that he likes," he says. "Every night before we go to bed, we play Bob Marley. We've been doing it since he was in the crib."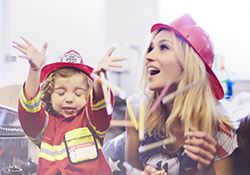 Make housework fun. (No, really.)
If you feel like housework is sucking up all your free time, you're not alone—but with a little creativity, you can turn chores into memorable family moments. Houston found that when she framed chores as "missions," her son was happy to help and she didn't have to nag. "I made unloading the dishwasher a game: 'Captain! Can you find any mugs? How many mugs?'" she says. When it's time to tidy up, she challenges him to find toys that are in the wrong place.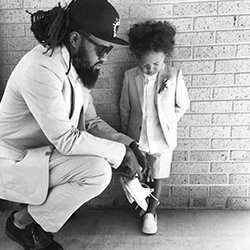 Share your interests.
Think you might lose your mind if you have to watch another kiddie cartoon? Introduce your kids to something that you love, whether it's a book from your childhood, a favorite sports or a hobby about which you're passionate. Before Ellington was even old enough to walk, Coltrane channeled his own love of fashion into choosing his son's outfits. These days, Ellington helps with the style choices. "We have this thing we do called #thelayup," he says. "Every morning, I take a picture of his outfit. He loves looking through pictures of past outfits. He's starting to really like clothes."
See the "boring" stuff through their eyes.
Public transportation may be monotonous to you, but for your kids, it can be a fun—and inexpensive—day trip. "Ellington loves the subway," Coltrane says. "He loves boats, so sometimes we'll get lost on the ferry system in New York for half a day, just going around and looking at things."
Even if you don't have a ton of extra hours in the day, you can still find time for fun—you just have to get a little creative. And it doesn't matter what you do, as long as you make a point to carve out time for togetherness. "Put it on the calendar. Leave work. Commit to it," Coltrane says. It's not easy, but you'll be rewarded with happy memories for the whole family.
Kara Wahlgren is a full-time freelance writer based in New Jersey. She specializes in health writing, entertainment coverage, and personal finance. Her work has appeared in Women's Health, HGTV, Fine Living, Good Housekeeping, Yahoo and more.