Your Life
Dining and Drinking
5 Fun backyard games with a twist
Innovative games that evoke nostalgia
By
Janene Mascarella
Posted: 06/03/16
Updated: 11/10/17
The following is part of a broader series meant to inspire rewarding and fun summer activities following the recent launch of Freedom Unlimited.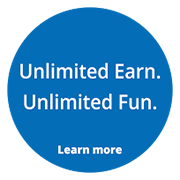 In today's increasingly digital age, is it any surprise that most of our children are missing out on the outdoor fun many of us grew up with? Compared to the 1970s, kids now spend 50 percent less time in unstructured outdoor activities, according to the Alliance for Childhood. That same study reports that those age 10 to 16 spend 12.6 minutes per day in vigorous physical activity vs. 10.4 waking hours each day relatively motionless.
That's what inspired many "playful" entrepreneurs to start businesses that are all about fun and games. If you're looking for some outdoor activities this summer that channel those nostalgic games of yesteryear—and get your family movin'—check out these five brilliant ways to have fun right in your own backyard.
Spikeball: What's Old Is New—and Popular
Can't decide between volleyball and foursquare, the popular schoolyard game from your childhood? Don't! Instead, gear up with Spikeball, a portable game that can be played indoors or outdoors. Group-friendly and accessible to all ages and fitness levels, Spikeball calls for two teams of two players to serve and hit the ball off a net for a series of volleys until one team reaches 21 points. The object is to hit the ball onto the net in such a way that the opposing players cannot return it.
Spikeball has taken the nation by storm since founder/CEO Chris Ruder appeared on "Shark Tank" in March 2015, but it wasn't something they developed overnight. It was actually a game Ruder, his older brother and friends played in the late '80s and early '90s. Everyone from families in their backyards to college students are now playing Spikeball, as evidenced by weekly leagues, tournaments, even competitive events among "elite" Spikeballers held in cities across the country.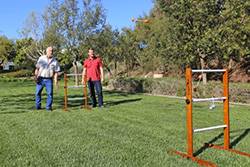 Ladder Golf: Steady Climb to Success
Can't make it out to the links? Enjoy a game of skill and precision with Ladder Golf, which pits two or more players or teams against each other with three golf ball "bolas." The object of the game is to wrap your bolas—two golf balls attached by a nylon rope—around the steps of the ladder. Space the game ladders apart and start tossing the bolas. You get three points if you land on the top rung, two for the middle and one for the lower. The first player to 21 wins.
Ladder Golf was originally created in 2003 by entrepreneur Brent Doud, a San Diego resident who was looking for a fun and unique way to enjoy some of the challenges of a round of golf (accuracy, competition, the outdoors) without having to hit the links. Doud had been using his father's garage and tools to build the first Ladder Golf prototype.
Rollors: Military Roll Call
On his downtime between deployments in Iraq and Afghanistan, Matt Butler would dream about games. In fact, it was upon his return from support of combat operations that he first visualized the concept of what's now known as Rollors. The object is for players to "roll" disks at the goal; points are awarded to the player or team that positions their disks closest to it. If it sounds like a hybrid of bocce ball and horseshoes, it's because it is.

Butler developed the prototype in his garage based on that inspiration, and it was well received at BBQs, parties and other get-togethers with friends. A few months later, when Butler saw that many of the local veterans out of work had woodworking skills, he saw how his invention could entertain—and help. He began employing veterans to construct the wooden disks and cone-shaped targets. The games were handcrafted, packaged and sold through Butler's website and at churches, craft fairs and other such venues.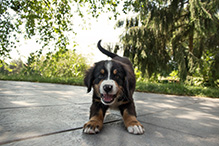 Kurgo's Outdoor Dog Toys: Fetching Family Throwbacks
For brothers Kitter and Gordie Spater, creating a line of toys for dogs meant more than just fun for Fido. Their goal was to encourage interactive games between people and their pets. "The Wapple Ball" encourage families to get active with their pups by putting a twist on the 1950's favorite, Whiffle Ball. The Wapple Ball uses a bat, tennis racquet, lacrosse stick or Kurgo's Chuckit Stick. There's also the Badminton-inspired "Backyard Birdie," with racquets for the humans and a birdie for their bird-loving pups.
The mission of the Spater brothers' company, Kurgo, is to innovate products that let people and their dogs explore the world together. The brothers thought nostalgic, traditional summer games would be a great way to highlight that goal.
Giant Tumble Tower Game: Tenacity's a Game Changer
If you enjoy Jenga, you'll get a "big" thrill out of the Giant Tumble Tower Game from Victory Tailgate. The game, which includes 54 solid pine wood game pieces across 18 vertical rows, challenges players to see how high they can get the tower to stand. It can reach up to five feet or so before tumbling!
In 2008, Scott Sims founded Victory Tailgate, while attending University of Florida. He saw the huge potential for team-branded outdoor games and began hand-making custom cornhole boards to sell on eBay. It would take him at least two days to complete one set. Today, the Giant Tumble Tower Game is only one of hundreds of game sets Victory Tailgate manufactures each day in its Orlando, Florida facility.
Fun can be had anywhere and everywhere! All it takes, as these toy makers have demonstrated, is a little imagination and a big sense of fun.
Janene Mascarella is a New York-based lifestyle journalist. Her work has appeared in a variety of publications, including The Washington Post, CNN, Cosmopolitan, BELLA, Parade, Self, Glamour, Health, Parenting, Working Mother, USA TODAY and more.