Your Money
Celebrate Life Moments
Money moves for every new family
By
Maggie Dickman
Posted: 06/01/17
Updated: 01/08/18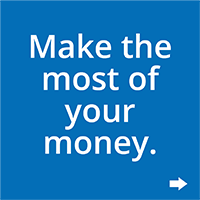 Many new parents face some sticker shock when their new bundle of joy enters the world. The costs of caring for a newborn can add up quickly, but not to fret: nothing is impossible with some adequate preparation. These five tips will help you prepare for your big next step as parents and get life with a newborn started on the right note.
Make a budget
Starting out on the right financial note will make for a happy family. Check your credit and pay down your debt to ensure that your family is starting off with the best fiscal foot forward. Approaching your finances with a regular plan and measuring against this plan allows a new parent to adapt their spending towards realistic levels. This transition is not easy, but using a budget eases this transition and don't forget to save some of your money.
Buy in bulk
You'd be shocked at how much you can save when you buy in bulk versus shopping at a traditional retail store. Purchasing everything from diapers to food will help trim your monthly budget—and save you from repeat trips for more. Not everything will make sense to buy in bulk, but where possible, this will help you meet your new budget goals.
Spend less and do more
It's possible to have a day out and about with the baby and not spend a fortune. Lots of places are free or low cost—like libraries, community centers and parks—that'll give you plenty to do without tapping into the piggy bank.
Pay your bills with automatic bill pay
Having a baby will mean you're sleep-deprived, and therefore, you may be a little forgetful. But no worries. Setting up automatic bill pay ahead of time will remove any possibility of forgetting to make a payment, making it one less thing you have to cross off your list.
Start saving early
When you're a new parent, the last thing you'll want to think about is your child heading off to college. But they'll be grown up before you know it, so saving early will help make that next step all the easier.
Learn more about other Chase credit cards.
Maggie Dickman is a Chase contributor who lives in Des Moines, Iowa. Her work has appeared on MORE.com, Track 7 and CLRVNT.