Your Money
Real Estate
Homebuyers Say They're Ready, But Anxious
Survey Finds Some Homebuyers Nervous About the Mortgage Process
By
Elizabeth Millard
Posted: 05/18/15
Updated: 11/10/17
When Hazel Lauer and her partner decided to leap into buying their first home in Minneapolis, they knew exactly what they wanted, including space for urban chickens, raised garden beds, guestrooms and early 20th-century charm. They managed to find a property with everything on their must-have list, but there was one item they didn't count on: anxiety.
Even though they found a home being sold by a friend, they were still surprised at the level of stress involved in the process. "We weren't nervous about making such a large purchase, but it turned out that the financial stuff was nerve-wracking," says Lauer. "We didn't expect that at all."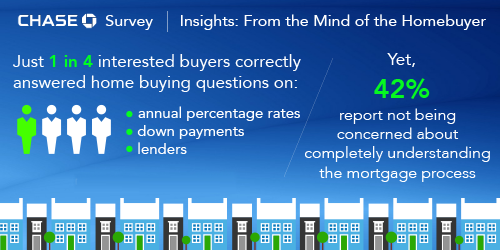 They aren't alone in being surprised by today's level of homebuying anxiety. In a recent Chase survey, researchers found that three in 10 potential homebuyers say they plan to purchase a home in the next 18 months, taking advantage of low interest rates and turning away from the rising cost of rent. But interested buyers in the survey said they were more anxious about the buying process than they would be about getting a root canal or speaking in public.
Those worries incorporate several factors: 73 percent of survey participants expressed concern about being outbid by others, 69 percent fretted about not getting a home at the best price, and 62 percent had apprehension over loan qualifications based on their current credit scores.
"The amount of stress and anxiety was interesting, and shows that people are worried that they've missed out on buying at the optimal time," says Lynnette Khalfani-Cox, a personal finance expert who is a spokesperson for Chase. "It just shows that preparation makes a big difference for those who are ready to buy right now."
In addition to more anxiety, the survey uncovered other facts about how homebuyers are feeling in the current market: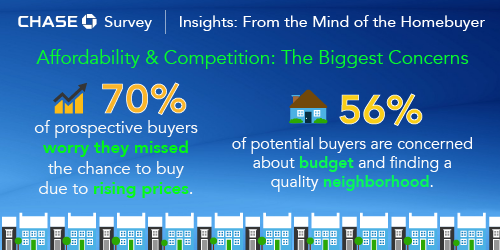 Confusion over loan terms: The survey revealed misunderstandings of what's involved in the loan process. Many people were surprised by differences and nuances in their loan options.
"It began to feel like a mysterious process," Lauer says. "There seemed to be so many weird little charges and fees that I didn't understand. It was helpful to have someone explain them, but it still felt as if I was paying more in closing costs and other fees than I had estimated."
Couples aren't always aligned: In the survey, one-third of homebuying couples admit to bickering with a partner during the process.
Men and women differed in their feelings on how important it is to stick to a budget, with more women (49 percent) than men (39 percent) saying they didn't want to go beyond an agreed-upon home price. "Some couples do well if they each recognize individual strengths and then 'assign' different tasks to each other," says Khalfani-Cox.
Affordability looms large: Although the economy has improved in recent years, a majority of potential homebuyers in the survey – 56 percent – said they're concerned about finding a home that fits within their budget. "People are aware of the risks and pitfalls of stretching their definition of affordability," says Khalfani-Cox. "They either overextended themselves in the past, or they know someone who was underwater on a mortgage and struggled because of it."
Buyers may be less choosy: Homebuyers are likely to consider compromising, turning the "must-have" list into a set of "would be nice to have" factors instead. About three out of five homebuyers anticipate that they may need to consider smaller homes or different neighborhoods, according to the survey.
Another factor driving compromise is the intense competition for properties in some areas. That means buyers who want the right house at the right price may have to be well prepared to act quickly when they find an available property they love.
But even with the challenges of anxiety, affordability concerns and potential compromises, the survey found a sense of optimism, with 62 percent saying that now is a better time to purchase a home than last year.
"We're glad we took the time to get some expert help, and to understand the process, because that gave us the ability to get our dream home," says Lauer. "Even our chickens seem happy about it."
Elizabeth Millard is a freelance writer whose work has appeared in Entrepreneur, BusinessWeek and Delta Sky Magazine, among other publications.