Your Life
Dining and Drinking
Healthy, Delicious and Convenient: Possible?
Three new food delivery services, reviewed.
By
Claudine Ko
Posted: 05/17/16
Updated: 06/27/18
Chefs and food lovers have long been some of America's loudest health and environmental advocates. But over the last ten years, farm-to-table dining has spread from the elite tables of Northern California to the counters of national burrito chains. Today, even casual diners are expected to understand their lunch's impact on their health and the health of the planet. That's why we've created a series called conscious cuisine found here and distributed through the Conde Nast Media Network in Bon Appetit and WIRED. This series explores the complex relationship our meals have with the ecosystem at large. Be warned, you may never look at an apple the same way again.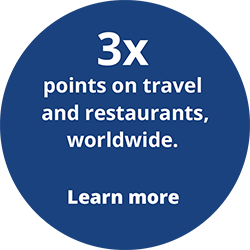 On a busy day, an interesting meal that won't clog my arteries can be hard to find—even as a food writer living in New York City. Until recently, that is. Where time-strapped eaters like me once resorted to endless slices of buttered toast, technology-aided delivery services are suddenly promising a healthier alternative, prepared by top-tier chefs using high-quality, seasonal ingredients—at affordable prices to boot. Can buzzy food startups Munchery, Maple and Blue Apron pull it off? I tapped, clicked, cooked and ate to find out.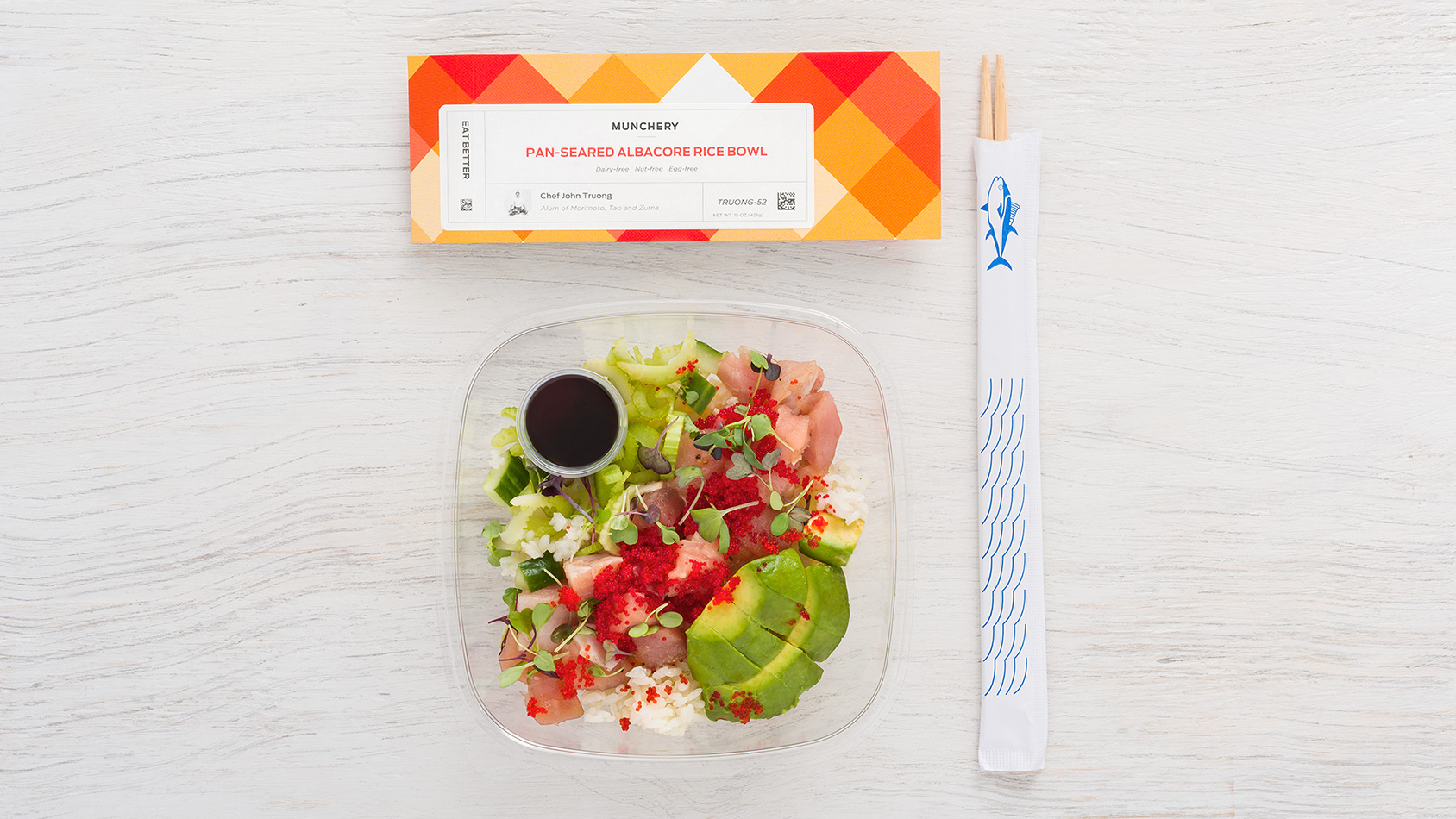 Where: San Francisco; Seattle; Los Angeles; Orange County, Calif.; and New York (Westchester and Long Island), with plans to expand.
What: Over 40 options of prepared dinner entrees, kids' meals, sides, desserts, breakfast and beverages that are delivered cold, available on demand or prescheduled. Customers finish the cooking process in a microwave or oven in under 15 minutes. Plenty of vegan, vegetarian, gluten-free, nut-free, paleo and/or dairy-free options.
Who: Dishes designed and created by celebrity chefs like Charles Phan (Slanted Door) and Roy Choi (Kogi Korean BBQ food trucks) as well as alums of top-tier restaurants like Daniel and Le Bernardin.
How: Order using the app or online, up to one week in advance (with a one-hour delivery window) or on demand.
I had just gotten back from two weeks of travel, was in the middle of stressful work deadlines, and had nothing to eat at home. Since I had no time to grocery shop and already had dinner plans my first night back in town, I ordered a Munchery meal that was set to arrive the next evening, which it did, right on time and in a boutique paper bag.
Both entrees, the shiitake and pea fried rice ($8.95) and the pan-seared albacore rice bowl ($15.95), were solid choices. The former only needed to be microwaved for 2 to 3 minutes and, since it was vegan, was filling without being heavy. The rice bowl was ready to eat, and the mostly raw tuna tasted remarkably fresh. As a bonus, I also ordered a side of Smoked Gouda Creamed Spinach ($5.95 and unfortunately, not as much of a guilty pleasure as I had hoped), as well as my favorite coconut water from Harmless Harvest ($4.95 and a nice surprise to find on the menu). The highlight, however, was chef Gabriel Dilone's butternut squash soup with a condiment of pumpkin oil and candied pumpkin seeds ($5.95). The color and flavors were so vibrant, it could have easily been served at Rouge Tomate, where Dilone worked as a sous chef.
Pricing: From $1.95 (for kids' beverages) to $15.95 entrees, plus delivery fee and sales tax.
Good for: Young families or busy couples/roommates, ordering family-style so they can share entrees to balance out their meals.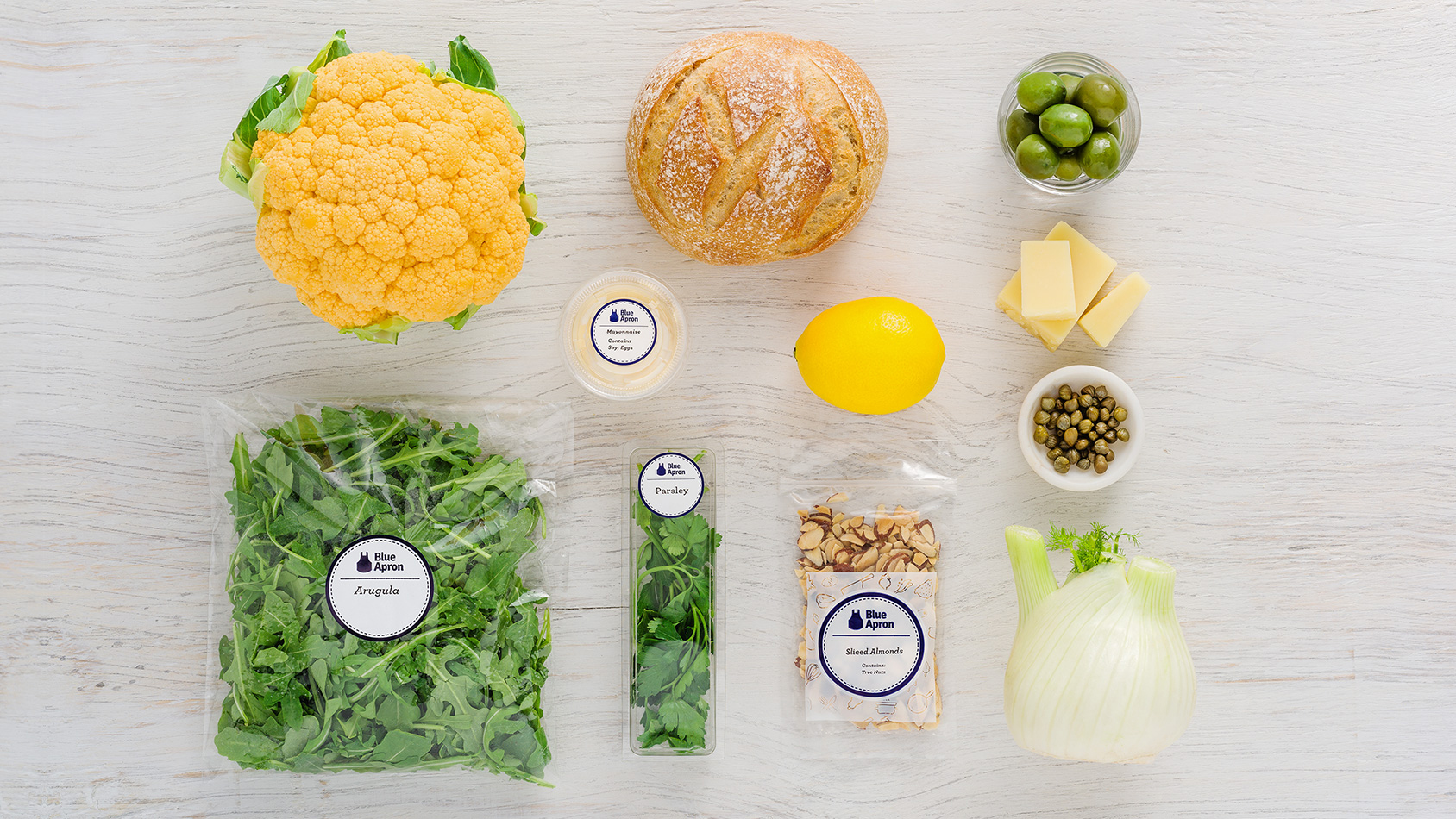 Where: Nationwide.
What: Choose three of six seasonal meal options weekly (serving sizes available for two, four or six people), delivered to your home in a cold box filled with pre-portioned ingredients and step-by-step recipe cards. Average cooking time is 35 minutes, and video tutorials can be found on Blue Apron's website. Orders can be customized for dietary restrictions. Recipes are never repeated within a year.
Who: Blue Apron has built a network of sustainable farmers who yield unique seasonal produce (e.g., fairytale eggplants, fiddlehead ferns, watermelon radishes and micro-basil) and partnered with specialty purveyors like Sun Noodle, supplier for acclaimed restaurants like Momofuku and Ivan Ramen.
How: Order meal kits from their website blueapron.com for the delivery date of your choice.
The ingredients for the roasted cauliflower panzanella arrived exceedingly fresh and neatly packaged: Little plastic bags and containers inside foil bubble wrap with giant ice packs, all inside a big cardboard box. In fact, the produce looked much better than what I usually find at my local grocery market.
Even with the convenience of a full meal kit, I was too busy to actually prepare it. Luckily, the instructions were as easy going as my dinner guest, who was more than happy to take over cooking at a moment's notice. The recipe called for a decent amount of cookware (two roasting pans, a skillet, bread knife and bowls for mixing the dressing and salad—I did the dishes later), required meticulous observation (the croutons cooked much faster than directed) and took nearly an hour to make. But, in the end, it was a healthy, satisfying meal with unusual ingredients (plenty of fresh fennel, arugula, heirloom cauliflower and parsley) that I would have never imagined was possible to make at home. To my surprise, there were some leftovers, which made for a great next-day lunch. The leftover packaging from each individually wrapped ingredient, on the other hand, stressed me out. But after a quick search on Blue Apron's site, I found easy directions for how to recycle it all.
Pricing: $9.99 per person per meal. Free shipping, no tax and no membership fees.
Good for: Newbie home cooks who are looking to learn new recipes without the usual pitfalls of trying new dishes, like investing too much time looking for hard-to-find items or spending more money than necessary on excessive quantities of ingredients.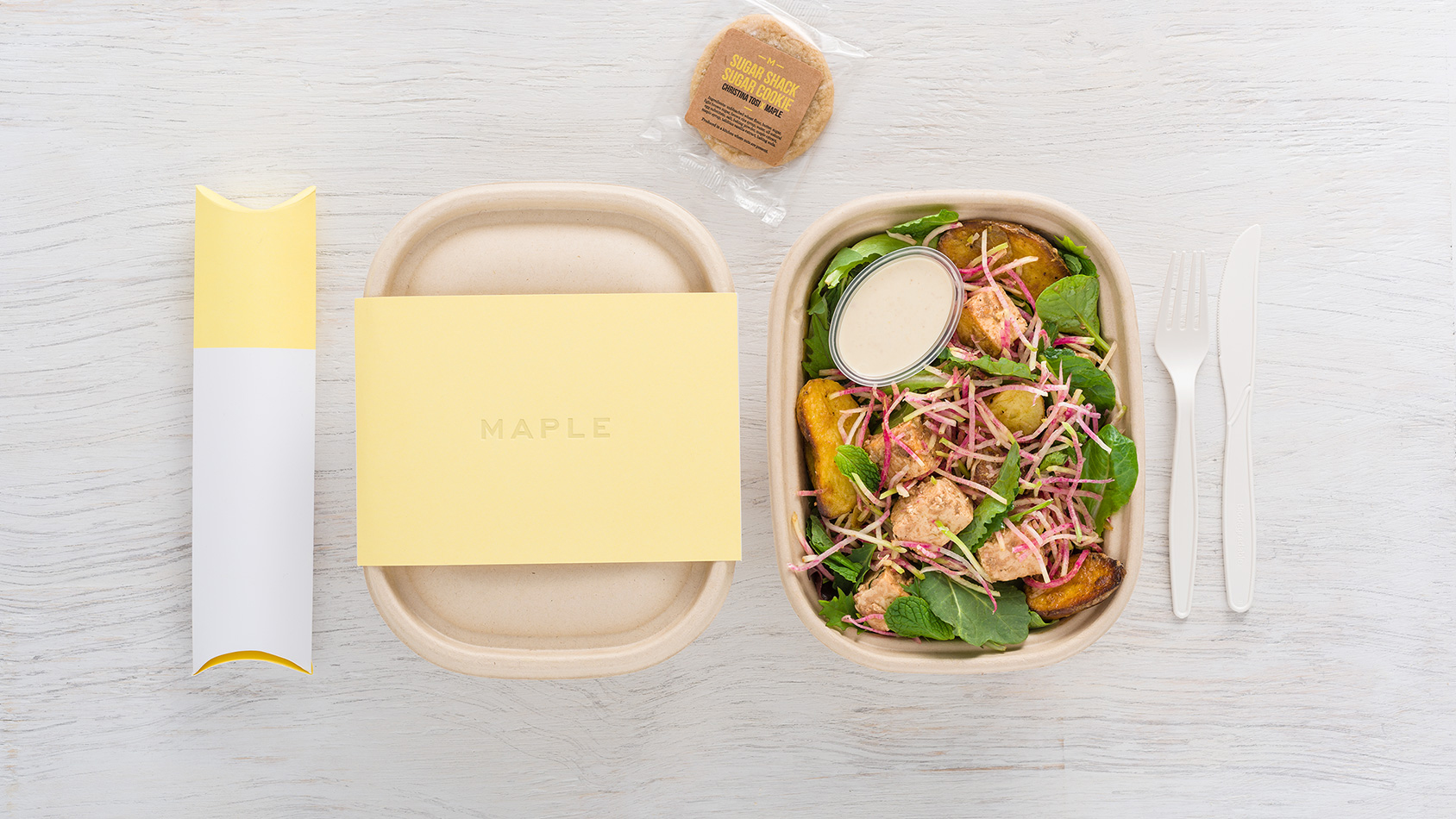 Where: New York City – in Midtown, between Eighth and Park Avenues, and below 14th Street (Manhattan only).
What: Choose from five freshly prepared lunch and dinner entrees ($12 to $15, which includes tax, delivery and tip) complemented by locally made desserts and drinks (various prices), delivered hot within 30 minutes.
Who: Momofuku's David Chang helped assemble a star-studded culinary staff including Executive Chef Soa Davies (Le Bernardin) and advisors Christina Tosi (Milk Bar), Dan Kluger (ABC Kitchen), Mark Ladner (Del Posto) and Brooks Headley (Superiority Burger).
How to order: Use the app to order lunch from 11 a.m. to 4:30 p.m. or dinner from 5 p.m. to 11 p.m. Weekdays only. Menu changes daily, with some dishes in heavy rotation.
First thing to know: I live about three miles away from the northernmost edge of Maple's very limited Manhattan delivery perimeter. But similar small menu, chef-prepared local food delivery services have emerged in San Francisco and Chicago, like Sprig and, until recently, Spoonrocket. So, with the extra allure of chef David Chang curating their daily lineup, I decided I to had to try Maple. I set my delivery location to a bookstore near where I was running errands downtown. But I missed the lunch hours, so I went to my last appointment before checking out the dinner menu, which goes online at 4:30 p.m. for 5:20 delivery at the earliest.
After skimming the five dinner options, I chose the coconut green-curry chicken thighs accompanied by roasted parsnips, sautéed kohlrabi with crispy shallots and coconut rice. Then I used Google Maps to pinpoint an address that was exactly 20 minutes walking distance from where I was standing when I tapped the phone app to confirm the order. The delivery guy texted his arrival time (he was a few minutes early) and was waiting for me on the sidewalk to hand over a neatly designed Maple bag filled with two (compostable) boxes of hot food, as well as a complimentary Milk Bar sugar shack sugar cookie.
But my plans suddenly changed and I had to head home. At my dining table 25 minutes later, my meal was still warm, the chicken skin was still crispy, and the meat was still moist and flavorful. Chunks of coconut scattered on the rice were a little hard to chew but the rice itself was delicious—in fact, there could have been more of it. The fresh kohlrabi gave a sense that the meal was balanced with a seasonal and healthy vegetable. And the cookie was a welcome treat, since the actual dessert options were a bit decadent ($10 pints of Ample Hills ice cream or 10-packs of the Milk Bar cookies, also $10).
Pricing: $12 for lunch, $15 for dinner—tax, tip, and delivery included.
Good for: On-the-go New Yorkers who live or work in Manhattan below 42nd Street, are tired of eating unhealthy takeout, and if they had the time, would be dining out at the latest trendy restaurant.
Munchery, Blue Apron and Maple don't replace the social experience of dining out, or the service. But they're a revelation for busy people who want to eat healthy, professional-chef-driven food in the comfort of their own homes.
Claudine Ko, formerly a food columnist at Jane, has written about dining and food for the Los Angeles Times and the New York Post. She serves as writer and reviewer for Conde Nast in this series.