Your Life
Dining and Drinking
A Go-To Guide for Farm-To-Table Restaurants
By
Claudine Ko
Posted: 05/17/16
Updated: 11/10/17
Chefs and food-lovers have long been some of America's loudest health and environmental advocates. But over the last ten years, farm-to-table dining has spread from the elite tables of Northern California to the counters of national burrito chains. Today, even casual diners are expected to understand their lunch's impact on their health and the health of the planet. That's why we've created a series called conscious cuisine found here and distributed through the Conde Nast Media Network in Bon Appetit and WIRED. This series explores the complex relationship our meals have with the ecosystem at large. Be warned, you may never look at an apple the same way again.
The everyday choices we make about food—buying the cheap, frozen peas, say, instead of shopping seasonally at our local farmers market—have a wide impact. They affect our dinner menu, our personal health, the environment, the bottom lines of farmers and supermarkets and every employee in between. It's almost too much to think about.
In 1993, a forward-thinking group of chefs including Alice Waters (Chez Panisse), Rick Bayless (Frontera Grill), and Michael Romano (Union Square Cafe) was having the same revelation from their own kitchens inside some of the country's most respected restaurants.
As an industry that earns $1.8 billion in sales each day and makes up 4% of the GDP, restaurants can affect much more than their customers' special occasions. They could change lives at every point of the food chain, the chefs realized, through decisions as simple as where they sourced their vegetables or what brand of refrigerator they used.
They founded the Chef's Collaborative and, twenty-three years later, it's a thriving nonprofit that promotes humane and environmentally sound practices in restaurants around the country and gives chefs a place to collaborate.
Since its founding, the definition of what makes a sustainable kitchen has expanded beyond which vegetables are on the menu. "We have a more holistic outlook in 2016," says executive director Sara Brito. "We're exploring all different facets of what it takes to run a good food business, workers rights, paid time off, tipping, mental health issues."
Here, Chef's Collaborative founding member Rick Bayless and current board chair, Dig Inn culinary director Matt Weingarten, share tips on how to feed yourself and your guests without exploiting the planet or other people—all while staying within your household budget.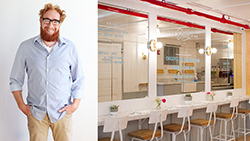 Start small. For the farm-to-table movement to take hold, its leaders needed to demonstrate staying power, like the 45-year-old Chez Panisse. "The number one rule for running a sustainable restaurant is creating a financially stable model," says Weingarten. It's often too costly to make everything sustainable all at once, and people give up or fail. So Weingarten recommends focusing on one menu item—or aspect of your life—at a time. "In short, use a wide lens but focus it on one spot."
Buying a share in a local farm or C.S.A. can encourage home cooks to incorporate seasonal produce, —and nobody has to know you're balancing them out with your existing refrigerator staples.
Educate. Like any new leaders, sustainable restaurateurs learned fast that they needed to delegate. "From sous chefs to line cooks and servers—a crew connected to the mission is your most valuable asset," says Weingarten.
Similarly, your green principles aren't worth much if your spouse overloads the fridge with perishable groceries that go bad before being eaten.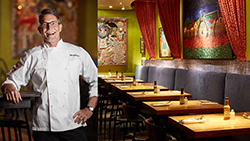 See the light. Switching from yellowish incandescent bulbs to bright, blue-white—and energy-efficient—LED bulbs was one of the sustainable restaurant movement's biggest challenges. "Restaurants with a clean and austere feeling like an operating room or doctor's office always go out of business," Bayless says. "We're looking for the warm glow of the hearth."
Restaurateurs took a cue from the theater industry, using colored gels to soften harsh LED light. Now, warm white LED light bulbs are available at hardware stores, and your dining room can look like a sustainable restaurant. "The savings in energy is tremendous," Bayless says.
Recycle. It sounds obvious, but all of us produce more waste than we realize. "Restaurants are notorious producers of waste," Bayless says. His strategy is to go to the source: "Look at every channel of waste and deal with that in an appropriate way and makes sure it doesn't go into a landfill."
Restaurants use a lot of glass and cardboard, so Bayless focuses there. Identify the biggest source of your own waste—the newspapers or seltzer bottles you're going to be tempted to toss when you're tired or the house is cluttered—and create an efficient recycling system.
Get to know your local farmer. "People who grow organic tend to grow plants more gently and carefully and grow more interesting things and pick them when they're really ripe," says Bayless. "That makes my business sustainable—it makes my product taste better." Adds Weingarten, "Ask your farmers what they would like to sell you—maybe they have a fresh crop at a great price, or are trialing an incredible heirloom."
Cultivating relationships with farmers at the market will elevate your own meals, making you more likely to cook again soon. Plus, by enlisting your farmer in your food decisions, you'll turn a chore into a shared mission.
Freeze your favorites. One thing many successful sustainable restaurants have in common is a small menu based on what's in season and what looks good at market. As a result, specialties are a liability that require longterm planning. "If your business is built on your special strawberry cheesecake dessert, you're not going to be buying them local," Bayless says. "Or during strawberry season, buy a whole lot and freeze them during the summer."
For home cooks accustomed to buying any vegetable, any time, at the grocery store, this is one of the hardest part of transitioning to sustainable eating. Identify your go-to fruits and vegetables, figure out their growing season, and get freezing. The summer memories associated with every frozen, local blueberry are worth four shipped from Chile.
Claudine Ko, formerly a food columnist at Jane, has written about dining and food for the Los Angeles Times and the New York Post. She serves as writer and reviewer for Conde Nast in this series.