Small Business
Managing a Small Business
The Ultimate Business Merger: When Work and Life Become One
How Entrepreneurs Weave Business and Family Together
By
Michelle Seitzer
Posted: 05/15/15
Updated: 11/10/17
For those juggling the ultimate business merger between work and family, no two days are ever the same. The concept of "work-life balance" is yielding for some people to the idea that work and life are woven tightly together and happen simultaneously.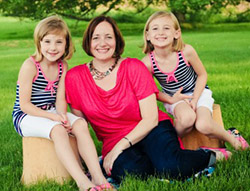 Choosing 24-7 Over 9-5
Three years ago, Shawn Fink founded The Abundant Mama Project, an online wellness community for mothers around the world, so that she could be more readily available for her children's needs after school. "The older my kids get, the more I realize how important it is to just be there, ready and waiting for when they need to share something important," says Fink.
Rejecting the 9-to-5 office formula involves its own set of sacrifices. Having the freedom of flexibility often means getting up early and staying up late, or doing work in the car while waiting for the bus or an after-school activity pickup.
Fink's formula for the seamless blending of family and work includes "a good night's sleep, consistent boundaries and a really great set of systems in place," but snowstorms, summer break and sick kids can quickly derail those plans.
"On these days, which seem to happen more often than seamless days, I anchor myself to the fact that I chose this messy life and everything always gets done. And it does – just not how I envisioned it," Fink says.
So, how can you maintain that delicate balance when many days are messy?
"I say no to a lot of things," says Hayley Croom, sole proprietor of Paintbox Soapworks, an online shop selling handmade soap. "My idea of a good life isn't one where I've got 15 plates in the air at once. I think we get ourselves into trouble with our work-life balance when we try to cram too much into our days. One small hiccup and the whole cart comes off the rails."
Focusing on the work-life things you can control – while preparing for the inevitable bumps – is a sound strategy, says Croom. "If you assume that your plans will be interrupted, it's not so bad when they are. Especially when that interruption comes in the form of a 9 year old who really just wants to give you a hug."
When Blending Isn't Better
Work-from-home parents like Croom and Fink say they're frequently misunderstood by those who picture a leisurely morning in a bathrobe, watching the kids board the bus with a hot cup of coffee in one hand while dialing into a client conference call with the other.
Truth be told, the home and work merger presents many challenges. For Croom, it's the sense that she'll never catch up after a winter rife with snow days, sickness, delayed supply orders and other productivity problems.
"I sometimes long for the luxury of an 80-hour work week, where I could go to a stand-alone studio and just work, order in food and not talk to anyone for days," she says. Instead, she's come to terms with the fact that she'll only ever get one-third of the way through her to-do list in any given week.
Fink says that putting her work on hold when the kids get sick or something else comes up is the most difficult challenge.
Aspiring artisan freelancers often reach out to Croom for business startup advice. "They think it's all soft-focus artiness and coffee dates with a Mumford & Sons soundtrack; in reality, it's often more AC/DC, with boiling oil, endless burns and paper cuts, and trying to keep track of which spoon is for soap and which is for vegetable curry while I help my son with his math homework."
The Perks of Putting Family First
Keeping her own needs in mind is critical for Fink, especially on the not-so-seamless days.
"I have to remember that I am a woman who has needs beyond caring for my family and home and running my business. [But] I always have the motivation to get my work done so I can be 'The Mom.'"
On the perks of a work-life merger, Croom describes it this way: "Life is much more satisfying when you have time built into your day to breathe, to eat and to take a few minutes to just sit with your kid and watch the clouds."
For everything your business needs in one place, from news and expert tips to valuable products and solutions, visit chase.com/forbusiness.
Illustration by Mike Austin | Michelle Seitzer is a freelance writer whose retirement/elder-care focused content has appeared on USNews.com, ReadersDigest.com, HuffingtonPost.com and AARP.org. She also writes about her international adoption experiences on ParentSociety.com.