Your Money
Understand Your Finances
Savings Diaries: This family had a setback—but will still reach its savings goals
By
Mary Sauer
Posted: 05/14/18
Updated: 05/29/18
This is part of Savings Diaries, an original series in which people share how they try to reach key savings goals during 2018. It is part of a broader Chase initiative to encourage more Americans to save money.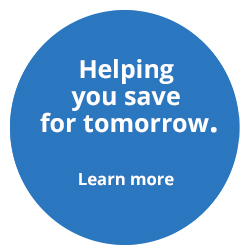 At the beginning of 2018, when I set a year-long savings goal for my family, I felt really positive. Between my work as a freelance writer and my husband's full-time job in email marketing, we started the year with a healthy income. We're on track to save $6,000 for a family trip by the end of 2018, and we've also made progress on our debt payoff goals.
In late January, however, I learned that our strong start might be hitting a roadblock.
As a self-employed worker, I'm used to income fluctuations. But I wasn't expecting my income to take a drastic hit early this year. So when I learned that I'd be losing one-third of my monthly income because of a client's budget cuts, I was taken aback.
I'm still looking for replacement work. It's been frustrating. Sometimes I have more work than I can handle, but there are times when work feels scarce. It's especially frustrating because I want to stick with our goals, and keeping my monthly income high was my plan for making that happen.
Adjusting our everyday budget
When I didn't quickly find more work, it became clear that I was going to need to cut our budget in order for us to stay on track with our other goals.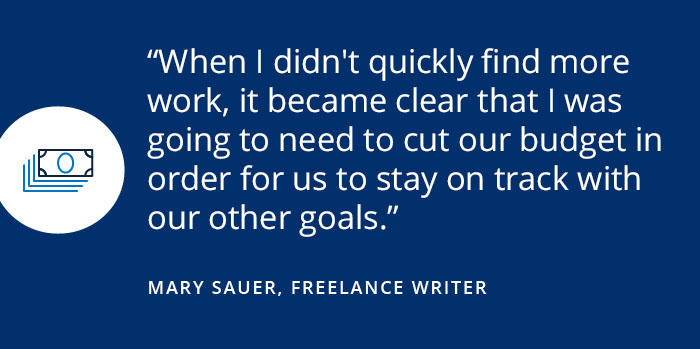 My first step was to cut grocery spending. This is one of our biggest expenses as a family: we spend $800 each month, sometimes more. That's reasonable, given that we have three kids and two adults to feed, but I'm often taken aback by how quickly we go through $200 worth of food. By switching up my shopping habits and avoiding food waste, I could save $150 a month. This isn't much, but it is a start.
Second, I discovered that we had overshot our monthly $1,000 debt repayment goal by $400. I'm really excited about getting out of debt--but I'm also OK with sticking to the original goal so we can keep saving.
Putting new expenses on hold
I was happy to find a little wiggle room in our budget, but it wasn't enough to make up for the income I'd lost.
My husband is getting a bonus soon. We'd originally planned to leave that money out of our monthly budget. We were going to earmark it for a long-neglected home repair and use the little that was left for a night to celebrate our anniversary. We decided to put off the repair project a little longer.
I hoped to start renting a small cubicle in a co-working space as a home base for my freelance business. But I'm putting it on hold, until I can find a way to maintain a more consistent baseline income for the long term.
Most disappointing, I'd planned to increase my child care this month. I spend a lot of time burning the midnight oil so I can be home with my kids much of the day. I'd recently decided to get a little more help so I can get more of the rest that I need to be a good worker, and mom. For now, it looks like I have to wait until I replace my lost client before I hire more help at home.
In review
Despite the loss of income, we still managed to scrape together $500 to save toward our travel savings goal.
I'm glad that we stuck with our savings commitment. It's easy to lose sight of what's important in the long term when facing short-term sacrifices. Hopefully this is just a temporary set back, and I'll quickly replace the income I've lost so that we can get back to the budget we created at the beginning of the year.
Mary Sauer is a Chase News contributor. Her work has appeared in The Hairpin, and Romper, among other media outlets.