Your Life
Discover New Destinations
The best of Banff: A guide to Canada's Alpine wonderland
By
John Newton
Posted: 05/17/17
Updated: 05/23/19
Up in Canada's Rocky Mountains, among the ancient glaciers and bright blue lakes, the resort town of Banff and Banff National Park (Canada's oldest), are being discovered, or rediscovered, by a new generation of travelers. One of the birthplaces of Canadian tourism—"if we can't export the scenery, we'll import the tourists," the president of the Canadian Pacific Railway declared, back in 1886—the Banff Springs Hotel, nicknamed "the castle in the Rockies," drew turn-of-the-century visitors seeking the outdoor life, one with all the comforts of afternoon tea and grand banquet halls.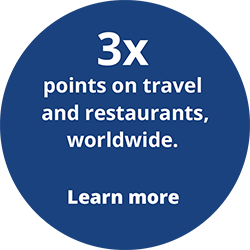 Flashier alpine resort towns may have emerged since then, but the town, and the hotel, now a Fairmont, draws new visitors each year with its perennial appeals—majestic peaks, wildlife sightings, and a low-key, old world, welcoming atmosphere.
Part of what gives Banff a distinct atmosphere is its wide array of activities. To call Banff a ski resort would be wrong, though there are plenty of downhill skiers. Instead when après hour arrives, you'll also meet people who have spent their days snowshoeing, cross-country skiing, dog-sledding, ice-skating, or driving along the Icefields Parkway, which winds through the valleys, lakes, glaciers and peaks of Alberta. Unlike many alpine towns, winter is Banff's quiet season. Most visitors come in the summer to enjoy the long days and crisp alpine air. A number of attractions open in the spring and close in the fall, including the Glacier Skywalk, which opened in 2014 and lets you stroll out on a glass platform 918 feet above a valley carved by glaciers, and the Jasper Skytram, Canada's highest aerial tram.
In whatever season you visit, after taking in the natural scenery—UNESCO designated the region's four national parks a World Heritage Site—you can end the day at one of Banff's restaurants, ranging from casual microbreweries to white-glove options. After dinner, back at your hotel, enjoy a nightcap of Canadian whiskey or hot cider by a roaring fire.
What to do
In the winter, Banff's three ski resorts are covered by one lift ticket: the Lake Louise Ski Resort, Sunshine Village, and the much smaller Mt. Norquay. The ski season here is often among the longest on the continent. If downhill skiing isn't your passion, in January and February, Lake Louise freezes and it becomes a stunning ice skating rink. From mid-January to early February, Banff embraces winter's charms with its annual SnowDays celebration that includes ice-carving competitions and other events. After sunset, the park's dark skies make it an ideal place to observe the Northern Lights.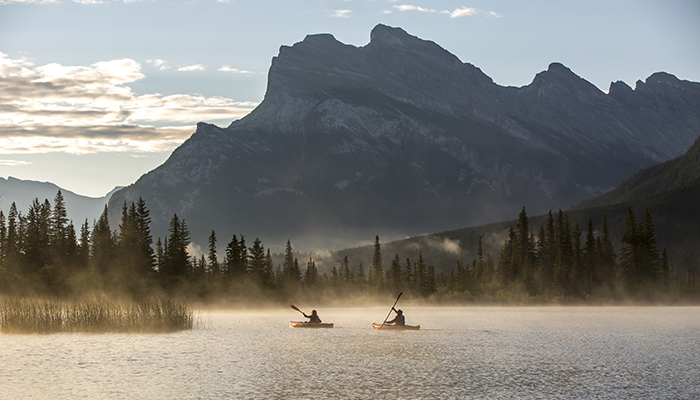 Summer in Banff has its own long list of activities: white-water rafting, canoe and kayak tours, and guided wildlife excursions. If you want to take a hike, the park has more than 900 miles of trails. The best fly-fishing is on the Bow River, famous for its enormous trout. In neighboring Jasper National Park, cruises on Maligne Lake pass Spirit Island, one of Canada's most photographed sights.
Another highlight in every season is the Banff Gondola which climbs 2,900 feet from the town of Banff to the summit of Sulphur Mountain. A good rainy day option is the Whyte Museum of the Canadian Rockies which covers the area's history from the First Nations to the ski industry.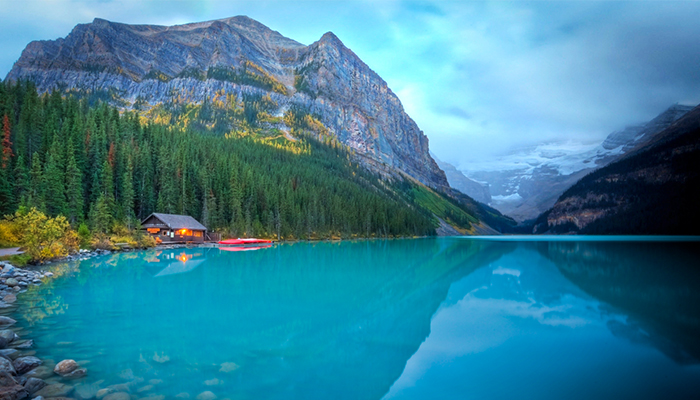 Where to eat
The Banff Gondola's summit station is also home to one of the area's top restaurants: Sky Bistro where chef Terry Carmichael's menu celebrates Canadian cuisine from Nova Scotia lobsters to Alberta-raised beef.
At the Sleeping Buffalo Dining Room at the Buffalo Mountain Lodge, chef Kelly Strutt focuses on local ingredients—bison, elk, and wild berries. Juniper Bistro is a favorite for brunch; Park Distillery serves comfort-food favorites like roast chicken and macaroni and cheese; and the Three Ravens Restaurant and Wine Bar is a good special occasion choice. At the Fairmont Banff Springs, diners can choose from seven restaurants including Italian (at Castello), German (Waldhaus), and Japanese (Samurai Sushi) options.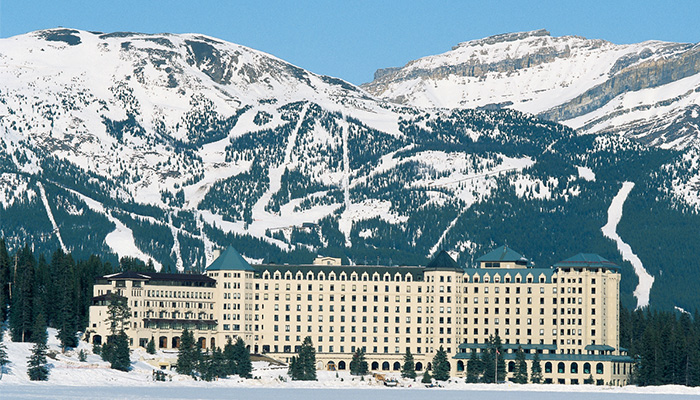 Where to sleep
Banff National Park is home to two of Canada's historic railway hotels, grand dames that date from the golden age of travel. The Fairmont Banff Springs has a dramatic setting and design inspired by Scottish baronial architecture. The Fairmont Chateau Lake Louise, an hour north of Banff, overlooks the stunningly blue waters of its lake. At both you will find nods to tradition, but also renovated guest rooms and decidedly contemporary lounges and spas.
Hotels don't open often within Banff National Park, so the debut of the 174-room Moose Hotel and Suites in fall 2016 was big news. It's a good four-star choice complete with two pools, a spa with ten treatment rooms and a location convenient to downtown Banff.
John Newton is a Chase News contributor. His stories have appeared in AFAR, Condé Nast Traveler, and Travel+Leisure, among other media outlets. He is also the founder of Signal Custom Content.