Your Life
Enjoy Dining and Entertaining
Destination: San Diego
Check out these Sapphire Six spots on your next adventure.
By
Jake Emen
Posted: 05/07/18
Updated: 05/23/19
We know our Chase Sapphire Reserve cardmembers are pretty savvy when it comes to knowing great places to grab a bite, have some fun, or enjoy a drink…or two. So we took a cue from where our Sapphire Reserve cardmembers visit to develop our Sapphire Six Lists. The best part? You earn 3X points when you use your Sapphire Reserve card on travel and dining at restaurants. Check, please!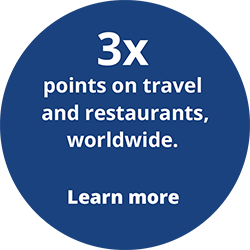 From the first wave of Spanish explorers dating back to the 16th century, to modern-day tourists embracing sunny California culture, San Diego has always had more to offer than sweeping ocean views and beautiful beaches.
Case in point: Its food scene. San Diego's proximity to Mexico and abundance of fresh ingredients from both California and the Pacific Ocean influence its array of delicious dishes. Plus, it's quickly becoming the country's unofficial craft beer capital.
The next time you're soaking up sunshine in San Diego, make it your mission to find the best food and drinks in town, starting with these six standouts: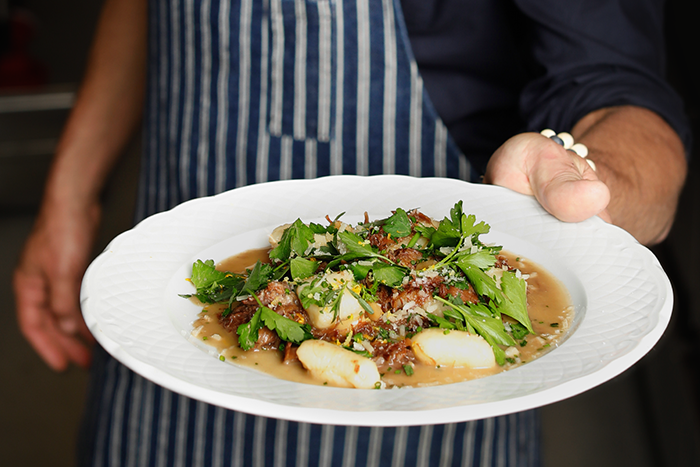 Herb & Wood
In the two years since it opened, Herb & Wood has transformed from a hidden gem to the toast of the town.
Located in a former woodworking shop, the Little Italy spot features a spacious dining room and the Lavender Lounge, an indoor-outdoor patio that welcomes guests for post-work cocktails and continues buzzing into the evening with a late night dinner crowd.
As the name suggests, Herb & Wood's menu places a heavy emphasis on its selection of herbs—and everything is cooked over the kitchen's open wood fire. Homemade breads and pastas are staples, while a bevy of craft cocktails add a punch to any meal. Be sure to save room for dessert, too. Highly touted Pastry Chef Adrian Mendoza has more than few tricks up his sleeve, including height-defying soufflés and an innovative take on baked Alaska.
Menu Must-Have: Chef Brian Malarkey says everyone orders the oxtail gnocchi. As for drinks? Treat yourself to the Rye & Rye, a variation of a Manhattan.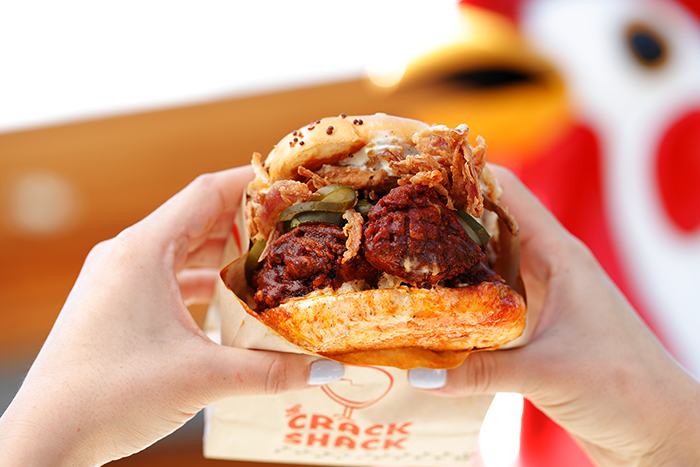 The Crack Shack
You'll know you're in the right place when you see a massive chicken statue fenced inside a concrete backyard. Opened in November 2015, the fast casual hot spot is the perfect place to indulge in some mouth-watering comfort food. It's also close enough to the airport, so you'll likely see travelers toting luggage as they pop in for a can't-miss bite.
The Crack Shack is known for its juicy, fried chicken doused in its signature Crack Spice, a proprietary seasoning blend. From a spicy Firebird sandwich to the Señor Croque's savory take on the breakfast sandwich, there's something for every palate. Not in the mood for fried chicken? The Crack Shack's robust salads are just as tasty.
Menu Must-Have: It doesn't get better than the Firebird sandwich, which is served on a potato roll and topped with homemade Ranch dressing.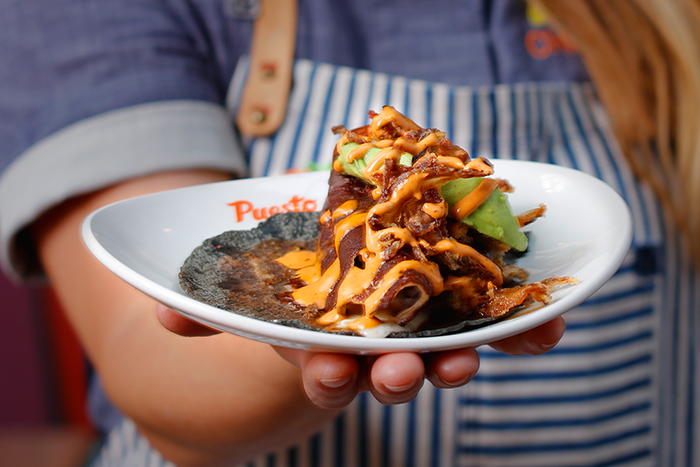 Puesto
Though San Diego is known for serving up amazing tacos at every corner, brothers Alan and Eric Adler and their cousin Isi Lombrozo wanted to add the authentic flavors they grew up eating to the dining scene. Luck struck when they happened upon Chef Luisteen González's take which features a griddled layer of cheese inside each taco.
Soon after, the family opened Puesto and named González its executive chef. Since its 2012 debut in La Jolla, Puesto has expanded across California. One to note is its Seaport Village location, which reimagined San Diego's former police headquarters into a cool hangout packed with vibrant murals.
Filet mignon tacos, served with crispy, melted cheese and a flavorful pistachio serrano spread, are a house staple, while Puesto's Perfect Guacamole should accompany any smart diner's order. Be sure to add Taco Tuesdays to your calendar: All tacos are $2.50, which is about half their original price.
Menu Must-Have: Fish or meat? Have both with the Hero Taco, Puesto's secret menu item that's a creative take on surf and turf.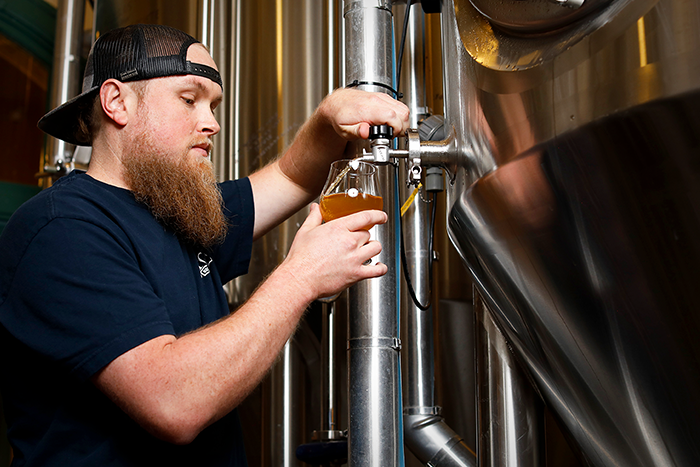 Stone Brewing
The second location of the local craft brewing king, Stone Brewing World Bistro and Gardens is tucked in Liberty Station, which was once a U.S. Navy mess hall.
This 60,000 sq. ft. space includes two 125-barrel systems operating all day and all night. Visit on Tuesday nights from Memorial Day to Labor Day to enjoy outdoor movie screenings—the space can hold up to 150 people and you're more than welcome to bring your own picnic blanket or beach chair.
Though you might come to Stone Brewing to try its variety of beers, you'll stay for its innovative bar food. From its Spicy Texas Quail Knots prepared with a Sriracha-honey glaze to its hemp seed pretzels with a Stone IPA-gruyère fondue sauce, the menu is packed with bites that will pair perfectly with your lager or pilsner.
Stone Brewing also has a scaled-down World Bistro outpost in the San Diego International Airport, so you can even enjoy a pint of something special before your next adventure.
Menu Must-Have: You really can't go wrong with any of its brews, but staff favorites include Witty Moron, Spacebar Friends, and the Lifeblood.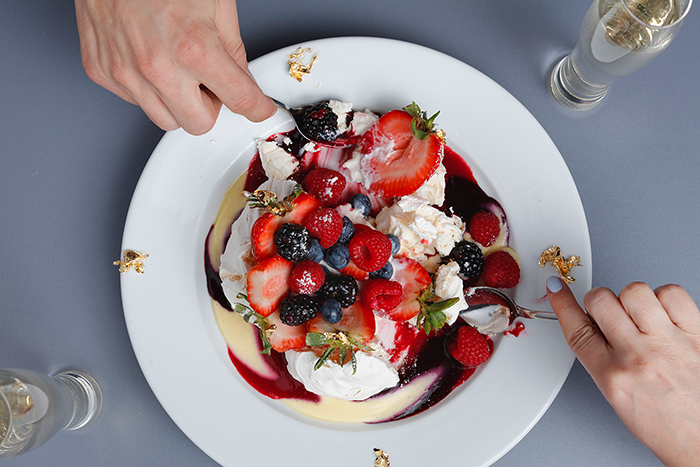 Extraordinary Desserts
Torn between sweet and savory? At Karen Krasne's Little Italy hot spot, you can have your cake and eat it, too.
While cakes remain the calling card of the eatery, Extraordinary Desserts boasts a full menu of savory dishes, including four grilled cheese sandwiches as well as a lineup of paninis, salads, and spreads. Everything is made with organic produce, while the wine list showcases entirely biodynamic or sustainably produced vino.
Between its Instagram-famous metal wall outside the restaurant to its intimate interior, the restaurant is a must for first dates and anniversaries alike. In fact, Extraordinary Desserts is so popular, it's been known to regularly have hour-long lines. But trust us, it'll be worth the wait.
Menu Must-Have: Anyone with a sweet tooth will love the Shangri-La, a layered cake of white chocolate mousse, guava mousse, fresh berries, whipped cream, and Kirsch-infused vanilla cakes.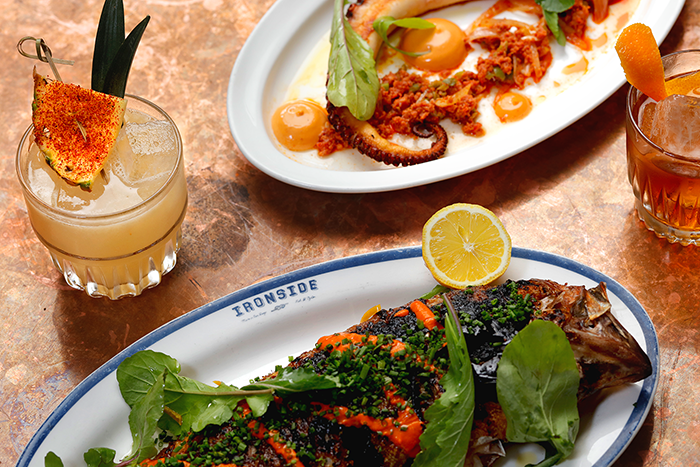 Ironside Fish & Oyster Bar
Focused on fresh, local seafood and a constantly evolving menu, Ironside Fish & Oyster Bar is bringing Little Italy back to its fisherman roots.
Grab a seat at the bar to admire Ironside's so-called "Titanic steam punk" aesthetic, complete with antique diver's helmets, hanging global lights, and a wall decked out with 2,000 piranha heads. Other popular seats are by the hot kitchen or lined up in front of the raw bar, which is perfect for getting a recommendation on a brand-new oyster varietal.
Though lobster rolls and oysters are crowd-favorites—Ironside sells about 1,600 oysters on slow days—the menu is bursting with innovative seafood dishes, including octopus and chorizo as well as an uni-scrambled toast. Pair it all with a lineup of light, refreshing cocktails meant to play nicely with the vibrant, bright flavors of the seafood.
Menu Must-Have: For the ultimate meal, pair the San Diego-caught petrale sole with the Man in the Yellow Hat, a cocktail with pineapple cayenne and Mexican agave-based spirits.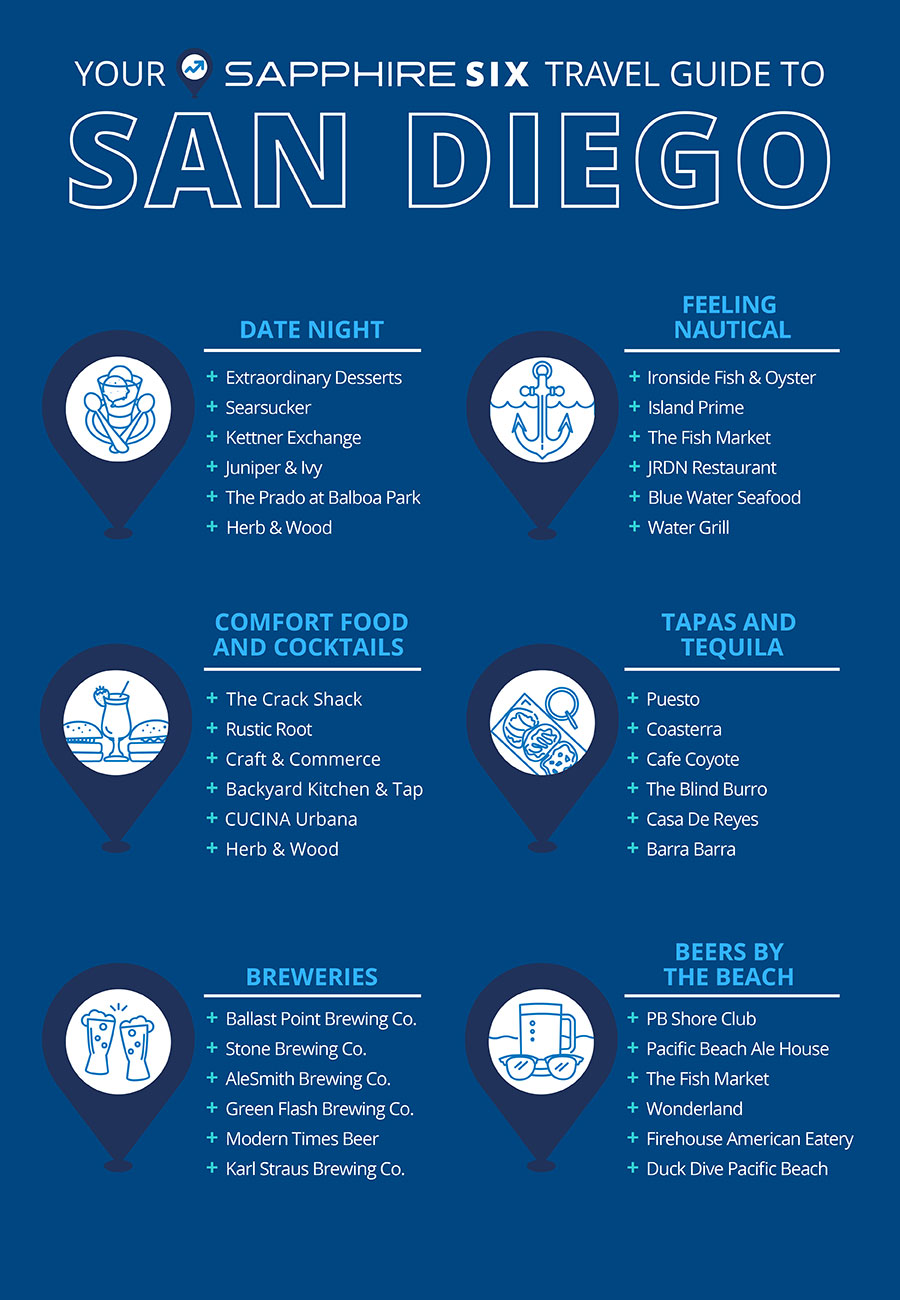 A quick note on methodology:
So how did we come up with the Sapphire Six? By pairing anonymous Sapphire Reserve cardmember spend data with feedback shared on social media, we were able to determine the most popular restaurants by unique visitors and category.
Inclusion on the Sapphire Six is not an indication of an affiliation or endorsement by JPMorgan Chase. The words or symbols used to identify the source of goods and services of a third party may be the trademarks of their respective owners.
Jake Emen is a Chase News contributor.