Your Life
Home
DIY Homebuyers balance research with broker advice
New Chase survey highlights spring homebuying trends
By
Rebecca Dalzell
Posted: 05/11/16
Updated: 11/10/17
Digital tools have drastically changed the way Americans shop for a home. They scour online listings, research the market, and can quote local valuations before meeting with a professional. Though buyers are initially self-reliant, they still get professional guidance during the process, a new survey from Chase reveals.
The nationwide survey found that 45 percent of Americans begin their search on the computer and 13 percent use a mobile phone. Only 17 percent actually call a real estate agent first. Forty percent of homeowners even found their property themselves.
To find an apartment in New York City, Rotem Moscovich started by browsing sites like Zillow and Trulia. This research gave her a sense of what apartments sold for in different neighborhoods, and narrowed her search to affordable areas. Then she contacted realtors active in her target locations and walked into real estate offices.
After four months, Moscovich found the perfect sunny apartment through a broker. "She could show me things I wouldn't have seen through my online site filters," Moscovich says.
The Chase survey also shows that many homebuyers—not just millennials—take a similar route, and use digital tools in conjunction with professional advice. Though they prefer to lead the process themselves, 77 percent of buyers think a real estate agent is essential.
Using Research Wisely
Leah Tozer, real estate professional at Engel & Völkers in Long Beach, N.Y., has noticed that people are more informed about the real estate market today than they were just three years ago. Technology has made public records easily available, arming buyers with valuable information—such as historical sale prices—that was previously hard to find. However, Tozer cautions that some buyers searching online might not realize how involved buying a home can be.
Priscilla Toomey, an associate real-estate broker at Julia B Fee in Bronxville, N.Y., agrees. "There's a lot of misinformation out there," she says. "My role is to be the expert, know the inventory, and guide them through the process."
Toomey helps buyers navigate the head-spinning details of negotiations and appraisals. "One of the roles of the realtor is to check out whether the house is likely to appraise out or not," she says, because if not, the sale price may get renegotiated. She also suggests that buyers get pre-approval for a loan before making a bid, because "if you don't have a pre-approval you may not actually know what you can afford."
Beginning with a Banker
Homebuyers still value mortgage bankers as well, with 73 percent of survey respondents wanting them involved in the process from the very beginning.
Sean Grzebin, head of retail mortgage banking for Chase, says consumers are wise to seek advice from professionals. He points out that the process of getting a mortgage has changed since the 2008 housing crisis, as banks now have to follow a number of new policies and regulations.
"The documentation requirement to buy a home has become more specific—and therefore can be confusing to a consumer," he says. "There's definitely value added to having a strong mortgage banker to help you navigate the process."
The Chase survey, which polled 1,852 people in ten cities, also found that Americans are optimistic about the value of their homes, viewing the purchase as an investment that will appreciate within a few years.
"Clearly the recovery of the housing market is creating a sense of optimism," says Grzebin. "And with the rise of technology, there's a fear of missing out. People are looking for the next best deal."
Americans no longer view a house solely as a place to raise a family, but as an investment. Grzebin thinks that the mindset has changed over the last two generations, as people grew more attuned to market swings. Owners invest in home improvements to raise or maintain the value of their property. According to the survey, they're willing to take out a home equity line of credit in order to finance renovations.
The housing market is finally getting back to normal. "For many Americans, buying a home is the single largest purchase they will ever make," Grzebin says. "It's important that we're helping them get it right."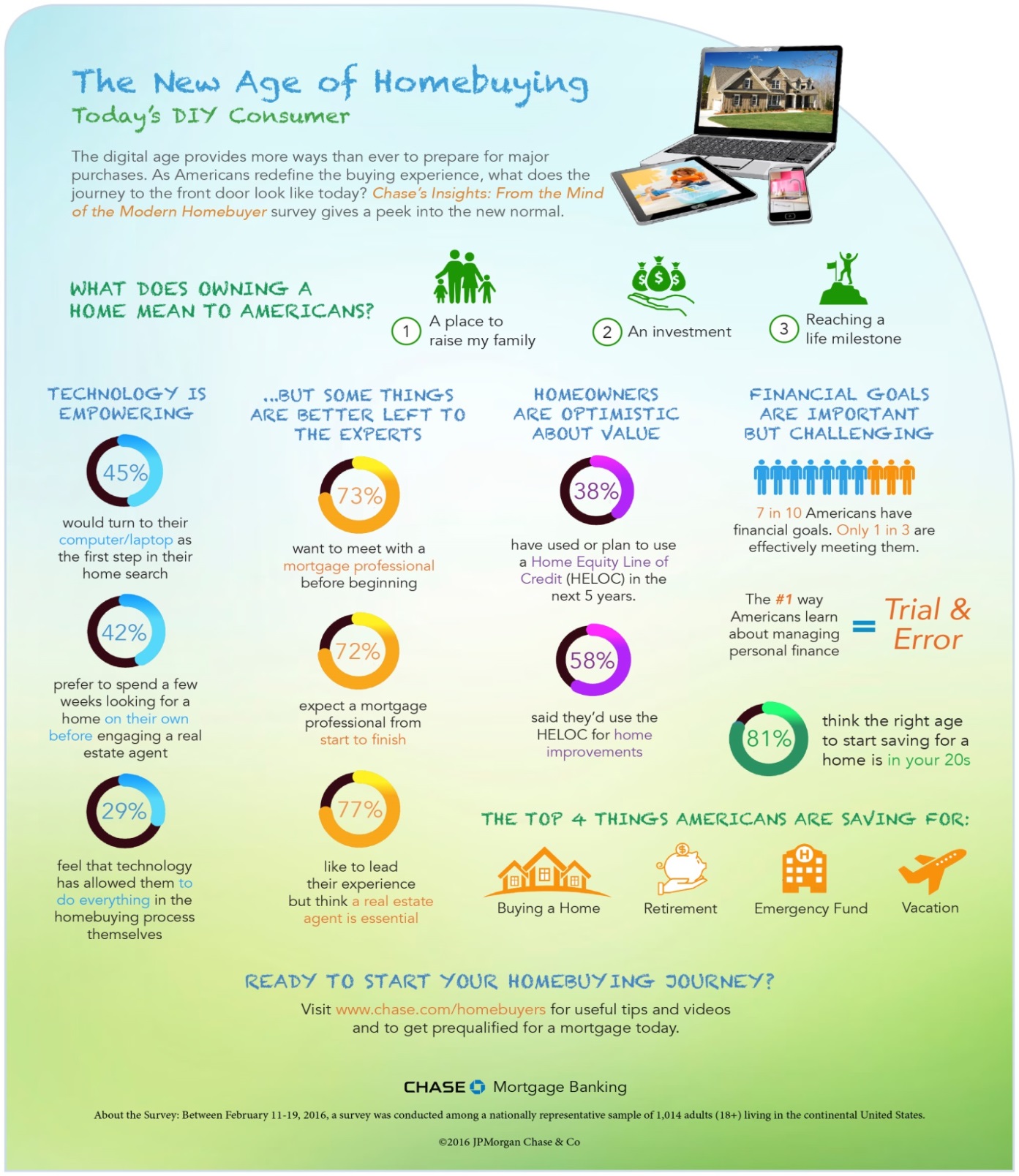 Rebecca Dalzell is a journalist and historian. Her writing has appeared in The Washington Post, New York magazine, Travel + Leisure, TimeOut and other publications.