Bold Leaders
Innovative Technology
How SUVs Have Become America's Preferred Ride
The reasons why more drivers continue to choose SUV's over cars
By
Adam Johnson
Posted: 05/11/16
Updated: 11/10/17
Maserati's new partnership with Chase Auto Finance serves as the exclusive private label provider of purchase and lease options. The company plans to market a full range of options. See your Maserati dealer for details.
Car or SUV? Americans have chosen light trucks and SUVs more often than cars for the last three years running, according to Autoalliance.org.
One main reason for the change is cheaper oil and fuel efficiency gains. It seems as if consumers no longer feel penalized by purchasing larger vehicles. The findings by Auto Alliance explain furthermore—total U.S. truck sales rose 12.7 percent in 2015, while car sales actually fell 2.1 percent. And, recent data from Edmunds.com suggests the trend will continue. In its February survey, 17 percent of SUV shoppers qualified as "serious buyers" whereas the midsize and compact buyers scored below 11%.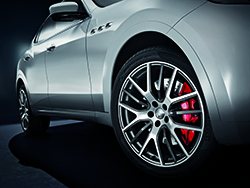 The Shift
Naturally, domestic and import car companies are embracing the trend wholeheartedly. SUVs are no longer made to simply be heavy-duty utilities that can handle off-road driving. One prime example is being displayed by Italian sports car producer, Maserati. The 100-plus year-old company well known for sleek convertibles and gran tourismo racers of the 1950s has just unveiled its first-ever SUV at The New York Auto Show, the Levante.
This evolution for Maserati is intended to introduce the brand to a larger consumer-base by prioritizing two areas of appeal: safety and price. As with nearly all new models at the auto show, on-board sensors protect passengers from lane drift and can even apply the brakes if following distances become unsafe. Smart gearboxes sense potential slippage and shift power to wheels which have better traction. Safety is not unique to SUVs, but it's what customers demand and automakers are following suit.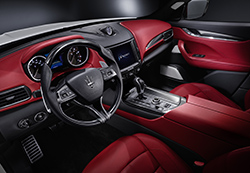 The challenge that many companies face when targeting a new segment is to do so while staying true to their brand.
That's why Maserati, known for unique design, has partnered with ultra-premium clothing manufacturer Ermenegildo Zegna to offer specialized interior design options. Touring the car with lead designer Giovanni Ribotta at the auto show, he emphasizes "Harmony, Purity, Dynamism." Whereas some SUV creators aim to move large families with lots of stuff to take along for the ride, Maserati has clearly gone a different route. Yet, both approaches reflect an important demographic shift in the buying habits of U.S. and even international consumers.
Click here to learn more about Maserati finance options through Chase Auto Finance.
Adam Johnson is a journalist and former business-news anchor at Bloomberg Television. He worked as an investment professional for two decades and writes frequently about business and finance.