Small Business
Managing Your Business
5 Ways to Beat the Heat: A Summer Business Break Employees Will Love
Think Beyond the Corporate Picnic to Inspire Teamwork and Leadership
By
Dawn Allcot
Posted: 05/12/16
Updated: 11/10/17

We're all grateful for the longer days and increased energy we seem to find in summer, but sunny days also make it easy to lose focus. It's especially challenging for small business owners, who may not have massive resources to plan exciting company outings or corporate retreats to find ways to get their employees, and themselves, out of the office so they can return refreshed, invigorated, and ready to focus. Consider these summer outings to keep employees happy, so they can help you springboard your bottom line!
1. Play Ball
Organize a company softball game at the local park. Raise the stakes by challenging another local business to play for charity. Sell tickets and concessions as a community fundraiser.
Save: Look into renting baseball and softball equipment, or ask employees who may have extras to share.
Winner Takes All: Treat the winning team to a minor league baseball game for some team building of their own.
2. Encourage Employees to Bike to Work
Choose a day and invite employees to ride their bicycles to work. Reward them with a breakfast to replenish the carbs they burned during the commute.
Feel-Good Bonus: Organize a drawing for participants for a gift certificate to the local bike shop or sporting goods store.
Save: Barter for "prizes" – gift certificates in exchange for Bike Day sponsorship advertising!
3. Clean Up the Community
Give employees some mid-week time out of the office to take part in community clean-up.
Save: Contact community officials for approval to help beautify your town's Main Street, and they might even provide clean-up gloves and trash bags free of charge.
4. Plant a Garden
If organizing a community clean-up sounds like a logistical challenge you'd rather not tackle, plant a garden on company grounds.
Save: Ask employees to donate used garden tools and assign each department to bring one kind of seed.
Feel-Good Bonus: Donate your harvest to your local food pantry in the fall.
5. Start Training for a Race
Regular physical exercise is linked to improved concentration, better memory, and greater creativity. Some studies even report that exercise during work hours enhances these benefits. Extend the lunch hours of participants so they can start training for a team race, and they'll get more done when they return!
Feel-Good Bonus: Participate in an obstacle course race or 3k or 5k walk/run that supports a charity.
Play Together, Stay Together

Remember, the team that plays together, stays together. Whatever activities you choose to beat the summer heat, they're sure to inspire and energize your team.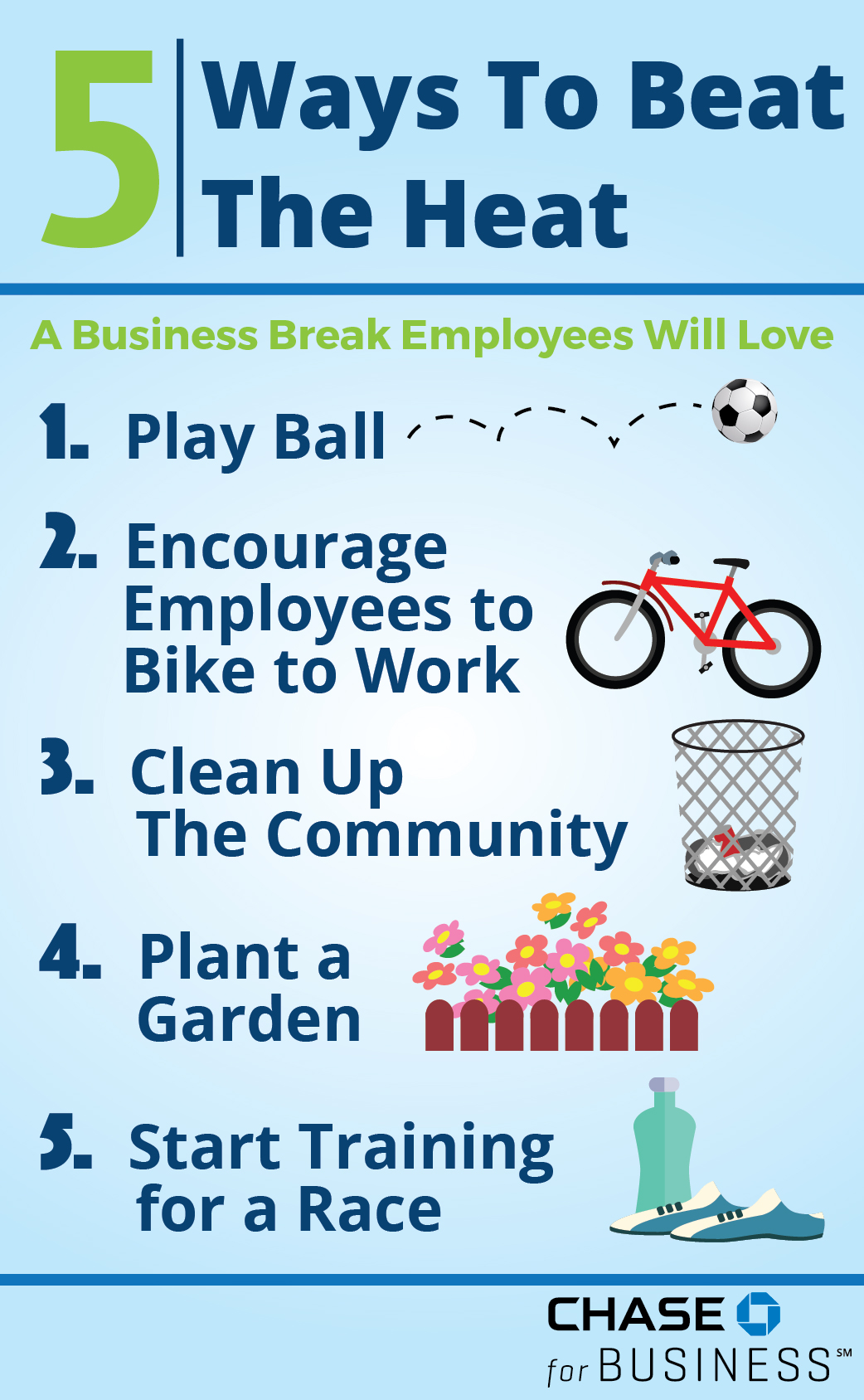 Dawn Allcot is a freelance writer whose articles have appeared on Forbes.com, MSN.com, Mint.com, AOL Careers, Yahoo! Finance, Parent Society and more. Dawn regularly beats spring fever with lunchtime bike rides.