Bold Leaders
Innovative Technology
A New Road for a Luxury Automotive Brand
The Automaker Celebrates Launch of XE and F-PACE with New Buyer Experience
By
Andy Jensen
Posted: 05/11/16
Updated: 11/10/17
Jaguar Financial Group is the private-label partnership formed between Chase and Jaguar Land Rover North America
As today's automotive companies push to explore uncharted territory, a brand can only be as good as its most recent "first". But how do companies that are rich in history create something exciting and new while staying true to their legacies?
The answer is by stepping into new and unfamiliar categories, as being seen this year by the luxury British brand, Jaguar, introducing a new entry-level sedan and their first SUV. Both are aimed to impress a new generation of buyers through creative steps.
Here is how they're taking different roads to offer products in automotive segments new to Jaguar through a competitive intersection of luxury quality and affordable pricing.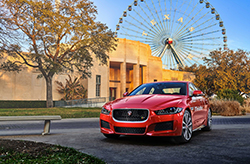 Bridge to a New Audience
"There's the opportunity to just enjoy what you're driving," said Kim McCullough, Vice President of Marketing for Jaguar Land Rover North America. "That's what's important, and that's what our customers expect from a Jaguar, and the XE absolutely lives up to that."
Jaguar pursued a similar strategy with the new F-PACE, its first SUV. The design team faced the challenge of working in a brand new category and at an affordable price-point while reflecting the familiar elements of comfort and performance that Jaguar is known for. "Ian Callum, our Director of Design, does an amazing job," McCullough said. "And that is a challenge when you design an SUV, but try to keep the sporting characteristics of a Jaguar vehicle." Additionally, with Jaguar Elite Care, the new Jaguar models will have the same industry-leading coverage as the current line-up.
Offering Unique Experiences
Jaguar has used the provision of new and unique experiences as a second hook to drawing in the new segment it appeals to with the XE and F-PACE's lower price-point. Jaguar is giving the public a chance to be the first to experience those models with the Art of Performance Tour, an immersive experience for potential customers that goes beyond the typical test drive.
The tour provides a full model lineup on display upon entry, and allows participants to go for a spirited drive around a closed autocross course, letting drivers experience the real-world driving dynamics of Jaguar's vehicles. And, after a professional Hollywood-style makeover, potential buyers can star as a performance driver in their own action films.
"We've gotten tremendous response to that film," McCullough said. "At the end of the day, the Art of Performance Tour is about fun, it's about performance, and this is about enjoying this revitalized brand.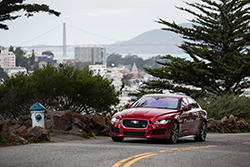 Staying Genuine
"When you look at each vehicle, you absolutely get that Jaguar DNA" McCullough said. Jaguar's goal is to pay homage to their 80+ year history by keeping design and performance as a priority while bringing the bar closer to a mass audience that is looking to step into luxury brand status.
For drivers that want to be first to get into these new models, Jaguar Financial Group, through Chase, has offered a number of financing options. "We are very proud to help support the launch of these two break-through vehicles – through both special offers and events for our customers," said Melinda Welsh, CMO of Chase Auto Finance.
Click here to see more from the Jaguar Art of Performance Tour.
Andy Jensen is a freelance automotive technology writer who specializes in automotive news, technology and culture. He has written for Volvo, Mojo Motors, Haynes Manuals, Zeroto60Times, and more.